New culture brings new success to CCA baseball
Canyon Crest Academy baseball coach Ryan Mikkonen faced a formidable task when he agreed to take over the reins of the Raven program in the spring of 2016. Now in his second full season at the helm, Mikkonen took over at Canyon Crest in the middle of the '16 season and steered that squad to the school's first-ever winning record (18-15).
In year two, the Ravens posted a 21-15 ledger that included a second place finish as the No. 4 seed in the CIF Division III Championships. For an encore, Mikkonen's 2018 charges have raced out to a 14-5 start and were just outside the top 10 (all divisions) in the Union-Tribune's most recent rankings. When asked about the reasons for the turnaround, Mikkonen's initial response was fairly rudimentary and surprisingly had nothing to do with the fundamentals of the game.
"As a young coach, one of my first objectives was to make the experience better for the kids," said Mikkonen, who was temporarily driven away from the game when his own experience was marred by a negative environment. "Baseball is supposed to be fun.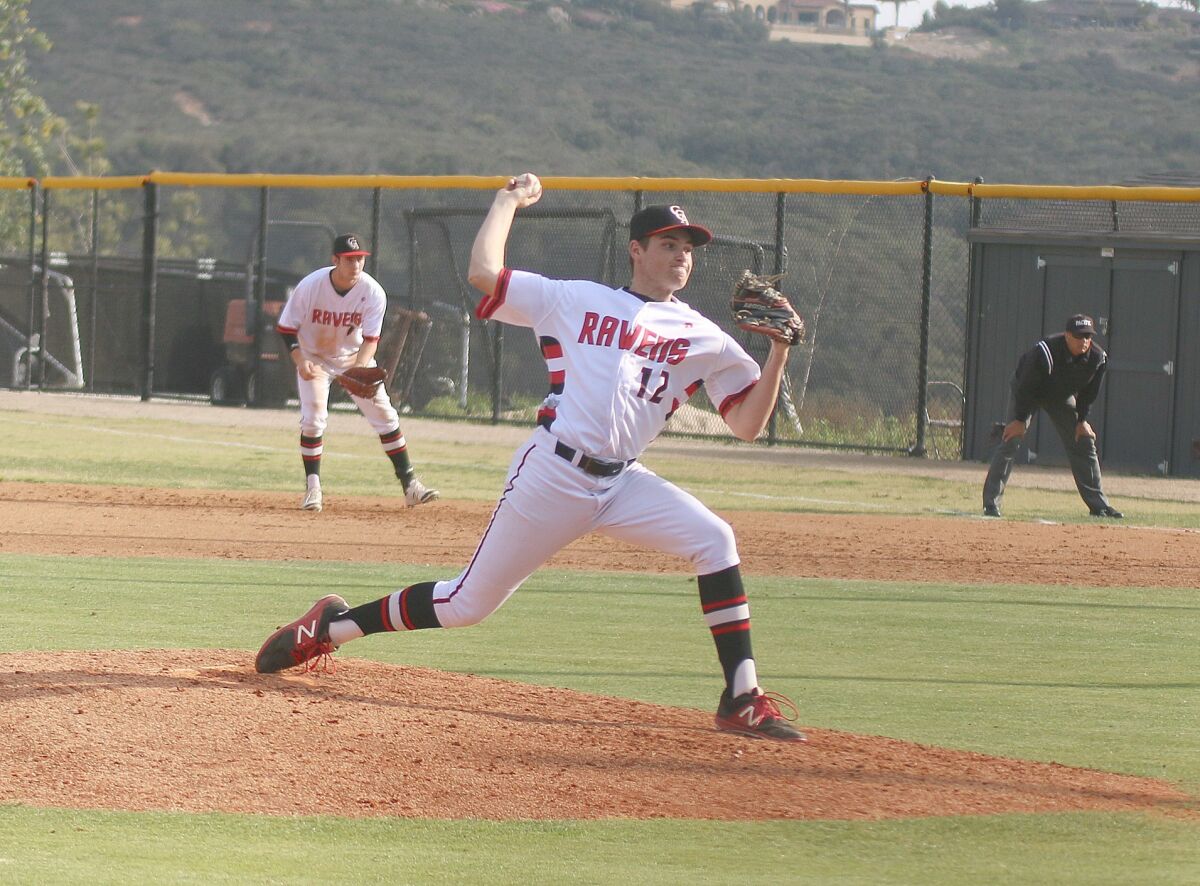 "I was never super responsive to coaches yelling at me and when you get to a certain level, you know when you've made a mistake and don't need it pointed out to you in front of everyone else."
An unplanned opportunity to coach Little League while he was still in high school re-ignited Mikkonen's passion for the game. After graduating from nearby Westview High School and getting his bachelor's degree and teaching credential from Cal State San Marcos, he kept himself engaged with coaching and was mentoring at the youth and travel ball level when his former coach at Westview offered him a position with the freshman team.
Shortly thereafter, Mikkonen secured a teaching position at Canyon Crest that included a coaching slot with the JV baseball team. He became a varsity assistant in 2015 and was elevated when circumstances dictated a change the following year. He has worked hard to develop a culture built around the concepts he felt were missing in his playing days.
"Some players can deal with yelling but I'm more of a thinker, not necessarily in the analytics sense, but maybe a little cerebral in my approach," he said. "I can get upset and sometimes be pretty vocal when we're screwing up from a team perspective.
"But when individuals make errors or need to be doing something better, I'll go back later, use teaching concepts and talk individually with the player. We can discuss what happened, why it happened and what needs to be done going forward." The methods seem to be having an impact, on the field and off.
"Things have obviously changed," said senior MJ Metz who will be playing next year at Division III Trinity College (Texas). "I've been around four years and really seen it come full circle—we've got a group of motivated guys who are here to win, not the kind of program where you just roll the balls out and see what happens.
"The coaches give us the freedom on the field to have confidence in what we can do. Coach Mikkonen is a big figure on campus and he's really close to the players, helping us grow as baseball players and men."
Of course, experience also plays a role in the Ravens' rise and Mikkonen will be the first to tell you that having 11 seniors on the 20-man roster doesn't hurt in the win-loss column.
"A lot of our main contributors have been around two-to-three years," he pointed out. "They understand the coaches' expectations and help teach the younger kids how things need to be done."
Hitting has been an area where this year's club has improved noticeably. After recording a team batting average of just .241 a year ago, the 2018 Ravens are raking at a .303 clip and their .386 on-base percentage is more than 40 points above last season's number.
"We work on hitting all the time, so it's good to see such a huge improvement in that area," said Mikkonen. "We also focus a lot on baserunning, taking advantage of mistakes other teams make and being adept at little things like reading balls in the dirt, off the bat—anywhere we can get an edge." CCA has six starters hitting over .300 and is 32-of-38 in the stolen base department.
Meanwhile, the pitching staff, under the tutelage of assistant coach Matt Malott, has a sparkling 1.59 ERA and has surrendered just 53 runs, compared to the 118 the Ravens have scored themselves. "Matt is a really good pitching coach who's more involved than anyone I've ever come across," praised Mikkonen. "He really takes a load off of me with the pitchers and that's been a big part of our success."
From Mikkonen's perspective, there's still ample room for improvement. "I'd like to see us be better defensively," he said. "We're not necessarily struggling but we haven't been able to make the great defensive play to get our pitcher out of a jam or change the momentum of a game—those things make a pitcher feel like they don't have to be grinding every pitch."
It's difficult to single out individuals but Mikkonen calls the 6-foot-5 Metz, who can handle both shortstop or third base, "easily our best position player." A clutch hitter who can hit for average, power and steal bases, Metz also scored in double figures for the CCA basketball team that was runner-up in the Avocado West League this winter.
Another senior, Cal Lutheran bound right hander Ryan Blakeman, whose first four decisions this spring were "W's," anchors the pitching corps. Mikkonen says, "Ryan is nails. He's composed out there and reliable for six-to-seven innings just about every time out."
An up-and-comer is sophomore Cole Colleran who is delivering at the plate and on the mound in his second varsity campaign. A lefty hitting middle of the order and playing left field when it's not his turn in the rotation, Colleran "has really turned the corner as a hitter (.386 average) and is doing well in both roles," according to Mikkonen.
Next up for the Ravens is the rugged Avocado West League and the third-year head coach knows that will be tough. "On paper, Torrey Pines has to be the favorite and it seems like it's theirs to lose," he assessed. "They're ranked No. 2 in the county but we played them tough (6-5) in the finals of the Kendra Couch Classic, so we're not that far off.
"La Costa Canyon is very good and always competing for the championship. I see those two battling for the top spot. Hopefully, we can shock some people and be there at the end." CCA was fourth in league play last season.
In addition to coaching his team, Mikkonen is working to alter the image of the program to those outside of the Canyon Crest family, particularly potential players. "This is an outstanding academic school, but a lot of people still don't even know there are sports at Canyon Crest," said Mikkonen. "Though it's a public school, I think they see the word 'academy' and have this vision of an Ivy League prep school where there's no time for anything but academics."
Mikkonen says his current club has a cumulative GPA north of 3.5, good enough to open doors at most major universities. "With the baseball team, we are working to build the expectation in our players that you can do both—be a top student and a stud athlete," he continued. "In each of the last three years, we've had multiple guys go on to play college baseball." There's also another vision that Mikkonen & Co. are moving towards—CIF Division I.
"I would hope so and I don't see why not," he said. "We're set up to be a Division I program and I think it's just getting to a point where we're more consistent. We've moved up to Division II after last year's success. If we keep playing the way we are and can put up another 20-win season, we could be D-1 as early as next year. We've got the talent to compete there and just have to play our game, confidence-wise, not worrying about the reputation of these other teams. We want to be one of the premier programs in San Diego."
With two years of prep baseball still in front of him, Colleran, for one, gets excited thinking about those prospects. "We can definitely be a D-1 team," said Colleran. "We barely lost to Torrey Pines a week ago. They're ranked second in D-1, so if we can do that, we have a chance against anybody. We've just got to keep getting better."
Upcoming CCA baseball games:
Tue., April 17 @ La Costa Canyon 3:30 p.m.
Thu., April 19 vs. La Costa Canyon 3:30 p.m.
Sat., April 21 @ La Costa Canyon 10:30 a.m.
Get the Del Mar Times in your inbox
Top stories from Carmel Valley, Del Mar and Solana Beach every Friday for free.
You may occasionally receive promotional content from the Del Mar Times.