Depth key for Canyon Crest netters in Thursday match with No. 1 Torrey Pines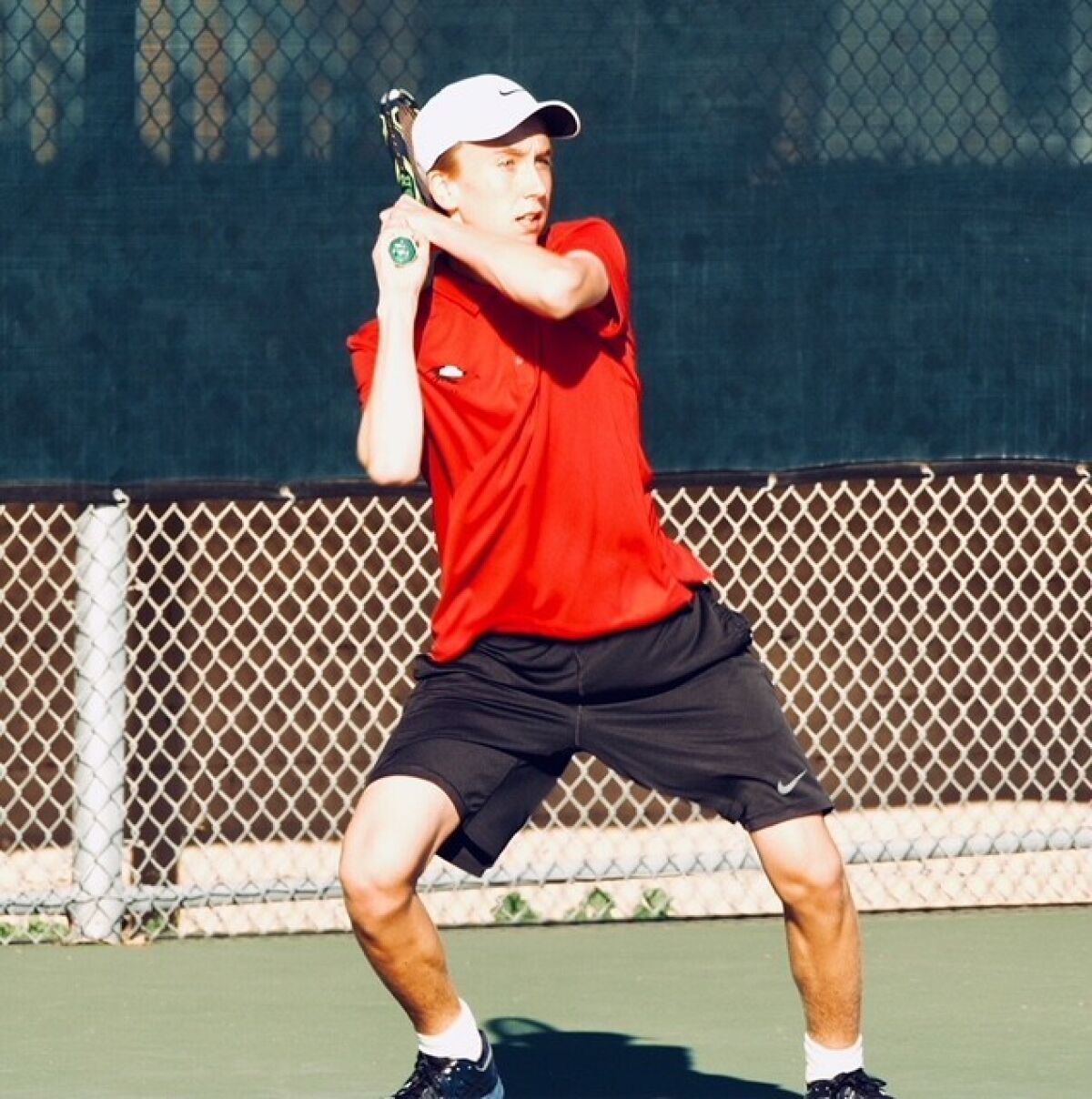 As the well-worn adage goes, "There's more than one way to skin a cat." Turns out that there are multiple ways to build a solid high school tennis team as well. Sixth-year Head Coach Larry Belinsky has been going against the grain at Canyon Crest Academy (CCA) and finding out that it works pretty well.
His CCA boys' squad, after upsetting top-seeded Del Norte, finished second to perennial kingpin Torrey Pines in last spring's CIF Open Division Championships. While Torrey Pines does things in more conventional fashion—relying on a band of elite players to dominate singles and utilizing a stable of reliable players and the law of averages to do well enough in doubles to prevail—Canyon Crest has gone another direction.
In last year's CIF Championships, Torrey Pines had two players, Jacob Brumm and Nic Speshilov, who were seeded third and fourth in the singles competition. Canyon Crest did not have a player among the top 20 seeds.
"You have to respect the talent at a program like Torrey Pines and what they've accomplished competitively," says Belinsky. "As a program still on the rise, we have to look at things a little differently and have taken an approach that fits who we are."
The Ravens rely on depth and a team-oriented ethos to spearhead their attempt to overcome superior talent. Sixty players tried out for the boys' team this season and Belinsky carries a roster of 28. It sounds unsustainable but Canyon Crest has reached a CIF team final five of the last six years. They won the Division II crown in 2012 to kick off that streak under original Head Coach Christopher Black.
Three years into an assistant coaching stint at Canyon Crest, Belinsky swapped positions with Black and the program has progressed from that championship foundation to now compete at the CIF's highest level, the Open Division. For Belinsky, the formula is simple.
"At CCA, I think we have one of the soundest, most unique cultures in high school tennis," he said. "We really take pride in consistency and continuity—there are so many other schools that have a revolving door as far as their staffs and philosophies.
"Of course, we're fortunate that there are a lot of people in our part of the county who are promoting tennis and developing good tennis players. We have kids from very good, solid families. When they get to CCA we're trying to instill really solid values on and off the court and teach these kids life lessons through tennis."
One thing that fits seamlessly into the Canyon Crest system is the idea of player growth. "We try to get as many kids in each match as possible," says Belinsky, "but regardless of what happens, our kids have bought into the fantastic developmental opportunity they have playing amongst themselves in practice. With the large number of teammates, our players get the chance to face all types of styles and tactics on a daily basis."
And all would be perfect in this tennis nirvana were it not for the specter of Torrey Pines hanging over the Ravens from just three miles down the street. Historically able to attract top echelon players based on their winning tradition, Falcons have captured 17 CIF titles since 1994, including 2017's, 12-6, finals victory over CCA. They downed the Ravens again, 11-7, earlier this season, sweeping the singles points and grabbing two-of-nine in doubles. In Belinsky's world, that just means his squad is getting one step closer to the promised land. They'll have another shot at No. 1 when the top-ranked Falcons visit No. 7 CCA Thursday, April 19, at 3:15 p.m.
"Every year we get a little closer to Torrey Pines," says Belinsky who has played tennis since he was 7 and been ranked No. 1 in his age division locally for 20 straight years. "No question, Torrey Pines is a big match that our season is geared around—they're the sun and everything revolves around them."
A win over the Falcons would undeniably be a big deal at Canyon Crest. High school tennis uses an 18-pt. dual match scoring system with nine points available in both singles and doubles. The Ravens' numbers have dictated a focus on doubles and that segment of the game is central to Belinsky's strategy for eventually ending up on the high side of the score against Torrey.
"We have great depth and that's one reason we put so much emphasis on doubles," said Belinsky. "If we could sweep the doubles points and then steal one in singles, that would do it." Essentially the proven method in reverse.
The coach's hopes of pulling off the stunner Thursday were dealt a serious blow two weekends ago when No. 1 singles player, 6-foot-2 Derek Sung, broke his foot, putting an end to his season. A hard worker with poise, a big forehand and a dangerous serve, Sung's loss will make a CCA's task that much more difficult.
Sophomore Zach Delson, a grinder who battled through a number of nagging injuries last season, is likely to assume Sung's role as the one who would need to break the Falcons' singles supremacy. Junior Luke Williams, a tenacious lefthander who hits two-handed off both sides, and junior Daniel Patel are other possibilities for the singles squad but are also valuable doubles options.
As far as doubles, Belinsky's No. 1 pair will be seniors Jonathan Park, a dynamic player that actually transferred to CCA from Torrey Pines after his freshman year, and Joe Altaffer, "a diamond in the rough" who started on the JV team. At either No. 2 or 3 will be sophomore Ty Jones and freshman Praneet Varade, a duo that swept its three sets with Torrey Pines the first time the two teams met.
Whether or not his unit is able to handle the top dog Thursday, Belinsky believes it will be another rung on the ladder of something very unique. "Tennis has the reputation of not being a team sport, but we're doing something that conflicts with that notion," he said. "This opportunity at CCA is very, very special for these kids—the camaraderie, the respect they develop for each other and their opponents, it's like a family. Mix that in with the top-rank academics and it's an incredible experience. "
Get the Del Mar Times in your inbox
Top stories from Carmel Valley, Del Mar and Solana Beach every Friday for free.
You may occasionally receive promotional content from the Del Mar Times.