Volleyball fans should catch the Colla sisters in action while they can
North County volleyball fans hoping to get a look at one of the sport's best local sister acts had better do it quickly before their time runs out.
Separated by four years Amanda and Sarah Colla out of Carlsbad, both 5-10 prep stars at San Dieguito Academy, are rapidly-approaching watershed points in their volleyball careers, if not their lives.
Amanda, the elder, who graduated from SDA in 2014 after garnering All-Avocado League honors three times and collecting league Player of the Year accolades as a senior, has two weeks to go in her fourth and final regular season at UC San Diego before hopefully advancing to the NCAA Division II Playoffs for the second time in the last three years. She leads the 16-6 Tritons in kills (292), aces (22) and digs (343), as well as 17 double doubles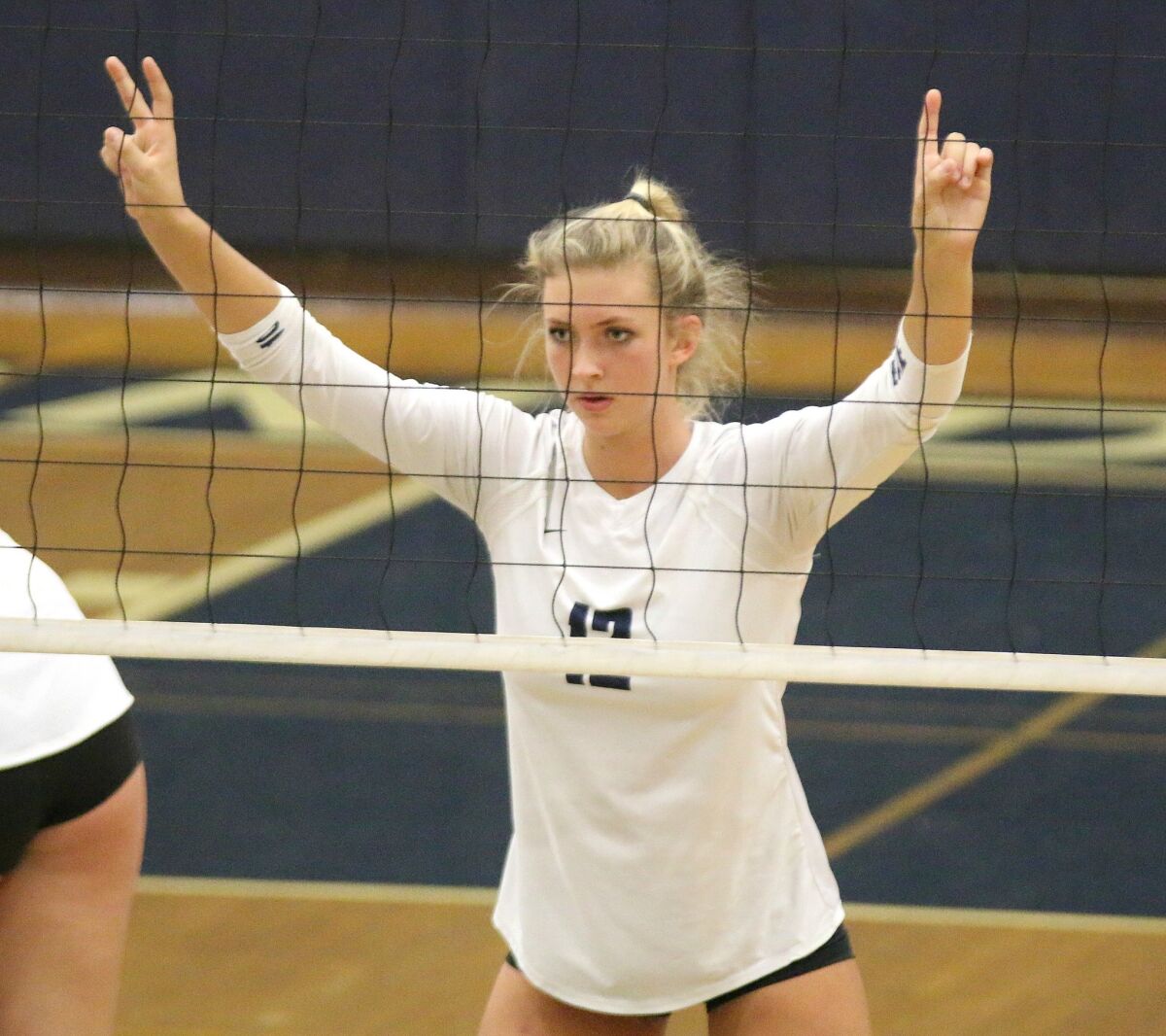 Meanwhile, Sarah, one of the best outside hitters in San Diego County, will be closing out her high school career in the upcoming CIF Division I playoffs which start Wednesday (7 p.m.) against host Our Lady of Peace. At 1,485 career kills and counting, she's already snapped her sister's school record and with 497 putaways in 2017 had her best single season total by more than 100. She'll enter CIF play on a tear with 117 kills in her last four matches, highlighted by an epic 46 kill performance against Carlsbad that included four aces and 10 digs.
Despite the four-year age gap and Amanda's departure to college, the pair have seen their existing sisterly bond continue to develop. "Our relationship has grown so much in the last five-to-six years," says Amanda. "Our brains work very similarly and we've been through the same experiences. I feel like we have a great two-way dialogue and some of the best advice I get comes from Sarah." Her younger sister has gotten a lot from Amanda as well, even when it is just through observation.
"When I look at her, I see a strong, powerful woman," said (Sarah) Colla. "I've always looked up to her as a volleyball player and it's inspiring to watch her play. She's the reason I'm playing volleyball." Older sister has also helped her younger sibling conquer her toughest challenge on the court. A dominant offensive player from early on, passing was a skill Sarah found a bit more difficult.
"Hitting always came naturally, it's the first thing most players want to do," says Sarah. "Passing didn't come that easy. I worked hard on it and struggled for a long time, but I've watched Amanda for more than six years and I always focus on her passing.
"I think she has one of the best passing techniques I've seen. It always seems perfect and definitely helped me improve that part of my game."
Going to UC San Diego, although not pre-destined, was a fairly understandable choice for Amanda. "My parents both went to UC San Diego so it was always in the back of my mind but I never really considered it seriously until the middle of my junior year," she recalls. "I wanted to stay in California—somewhere between Santa Barbara and San Diego—and it was one of the schools that was a fit academically, athletically and location-wise." It's been a choice that's worked to perfection.
"There have been so many positives at UCSD," says (Amanda) Colla. "The sheer number of people I've met who have changed my life is incredible and I have so many great friends.
"My confidence has increased so much. Just knowing that I'm able to play and succeed at this level athletically is something that is going to carry over to the other life opportunities I'll have."
Although the possibility of playing in Europe has been dangled, she's comfortable with the notion that her playing career may soon be over.
"At this point, I've accepted that this is my last season," she said. "As much as I love the sport of volleyball, my body is pretty beaten up and trying to continue would put my education plan on hold." That plan calls for graduating with a physiology and neuroscience degree in June, followed by a year of work/internships and then applications to medical or graduate school. Her ultimate objective could be a physician's assistant or nursing.
For Sarah, the next chapter will also begin after graduation. It includes volleyball but won't be in San Diego. In a move that some might find surprising, this Southern California girl will be continuing her collegiate athletic career in North Carolina, having committed to Campbell University, a private, Division I school in Buie's Creek, about 45 miles south of Raleigh, the state capital.
Talk about divergent choices. For all of their parallels, who would have foreseen Amanda ending up at a public institution with an enrollment of more than 30,000 just 30 minutes away from home while Sarah matriculates to a private institution of 6,200 students 2,500 miles across the country.
"I was never into a big school scene," says Sarah. "I met the coach, looked into Campbell and fell in love instantly. It's small and quaint, kind of like here at San Dieguito. In 10 minutes you can walk across campus." The athletic part of the equation also matched Colla's criteria.
"I wanted to go somewhere where I could make an impact on the court—make a difference," continued Colla. "At a lot of West Coast schools, I wouldn't see the court until my junior or senior year. At Campbell, I expect to be on the court as a freshman." Her coach at San Dieguito, David Savage believes that is a realistic vision.
"Sarah's a very physical, intimidating presence on the floor, a terminator offensively," says the third-year head man. "But she's also a true six-rotation player who can pretty much do anything you want her to. She was recruited by many of the top schools in the country and I believe she's going to be a program changer at Campbell. She has the potential to be the face of the program." Maybe something like her sister, who predictably draws praise from her UCSD head coach, Ricci Luyties.
"I'm nothing but happy with what Amanda's done for us in her four years at UC San Diego," says Luyties, a 1988 Olympic gold medalist and former beach volleyball star. "Amanda's best quality is her court sense—she knows how to play volleyball. But she does everything well—passing, defense, hitting and she's become a good blocker. Amanda's had a really good career and adapted to any role we've needed her to play."
Looking back, how would big sister compare herself to little sister when she was at the same juncture?
"Honestly, I would say at the same point in time, we were very similar," said Amanda. "We played the same position and the way we play on the court is very much the same. We don't let things get into our heads and tend to keep our emotions under control. It seems to have worked for both of us. She's broken all of my records though." And how about Sarah's North Carolina locale the next four years?
"I think it's really far away," smiles Amanda. "She struggled a little bit with the choice. I told her to follow your gut and don't be afraid. I know it can be a little scary. For me, it was the biggest decision I'd made to that point.
"I've never been to North Carolina but I know it's beautiful and am excited about her move-in this summer when we'll get to see what it's like."
For those who have never seen the Colla sisters play, you can make your own decision as to which is the better. But you better do it quick — catch them in San Diego while you still can.
---
Get the Del Mar Times in your inbox
Top stories from Carmel Valley, Del Mar and Solana Beach every Friday for free.
You may occasionally receive promotional content from the Del Mar Times.