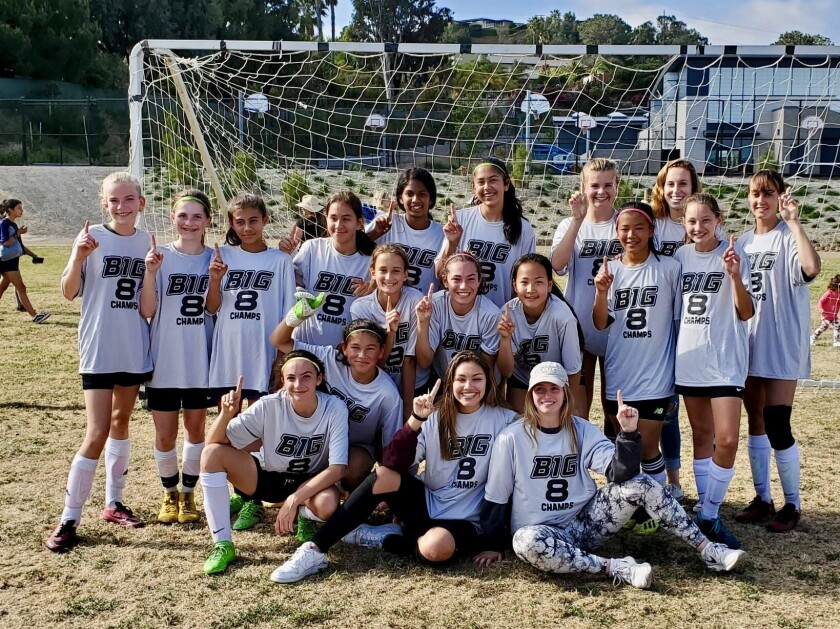 Under the guidance of two spirited Torrey Pines juniors, Jillian Kaplan and Sydney Sanchez, the Carmel Valley Middle School girls soccer team came together to win the season with no losses and one tie and finish out the championship game 5-0 win over Earl Warren Middle School.
Both Kaplan and Sanchez are alumni of CVMS, and when approached to volunteer their time as coaches, it was an easy decision — yes, please! Being able to give back to the community where they've been playing soccer since they were 5 years old just felt right.
"Spending time with girls who genuinely wanted to play soccer, have fun, and who exude a winning spirit, made this experience great for me!" Sanchez stated. While Kaplan said, "Having these girls listen to us made us coaches able to connect with all girls and help them succeed going forward in their futures."
Not only do these two athletic coaches share a passion for soccer, they both maintain strong GPAs, while playing for Torrey Pines High School and traveling with their club team, DMCV Sharks.
Scarlett Taylor, a 7th grader who played for Kaplan and Sanchez said, "Coach Jillian and Coach Sydney were always enthusiastic and made it fun without any pressure. They are coaches who know how to play the game well themselves, and I was so happy to be a part of this team."
Both Kaplan and Sanchez plan on returning as coaches next year and with some hard work and a positive outlook, they're determined to win back-to-back seasons.
---