Bingham, Galluzzi lead No. 1 Torrey Pines to 36-14 romp over El Camino
Senior running backs Mac Bingham and Evan Galluzzi combined for 189 yards rushing and five touchdowns as No. 1-ranked Torrey Pines remained undefeated with a 36-14 home victory over El Camino Friday night, Sept. 14. The result improved the Falcons record to 5-0 (1-0 in the Avocado West League) and dropped the visiting Wildcats to 1-3 (0-2).
"Our goal going in was to play to our standard and in the first half we got what we were looking for," said Torrey Pines Head Coach Ron Gladnick. "I was not happy with our second half and I felt like we kind of lost our edge a little bit, lost our intensity.
"Everything gets harder now. You can't do that too many nights in the Avocado West and get away with it."
The Falcons set the tone from the outset. They took the opening kickoff and embarked on a five-minute, 62-yd. drive that ended with an 11-yd. touchdown run by Galluzzi. Bingham scored two of his three TDs on short second quarter bursts and after El Camino had a touchdown nullified by a penalty with just under three minutes remaining in the first half, Torrey QB Jason Heine passed the Falcons down the field, setting up a six-yard gallop by Galluzzi that sent them into the locker room with a 27-0 lead at the break.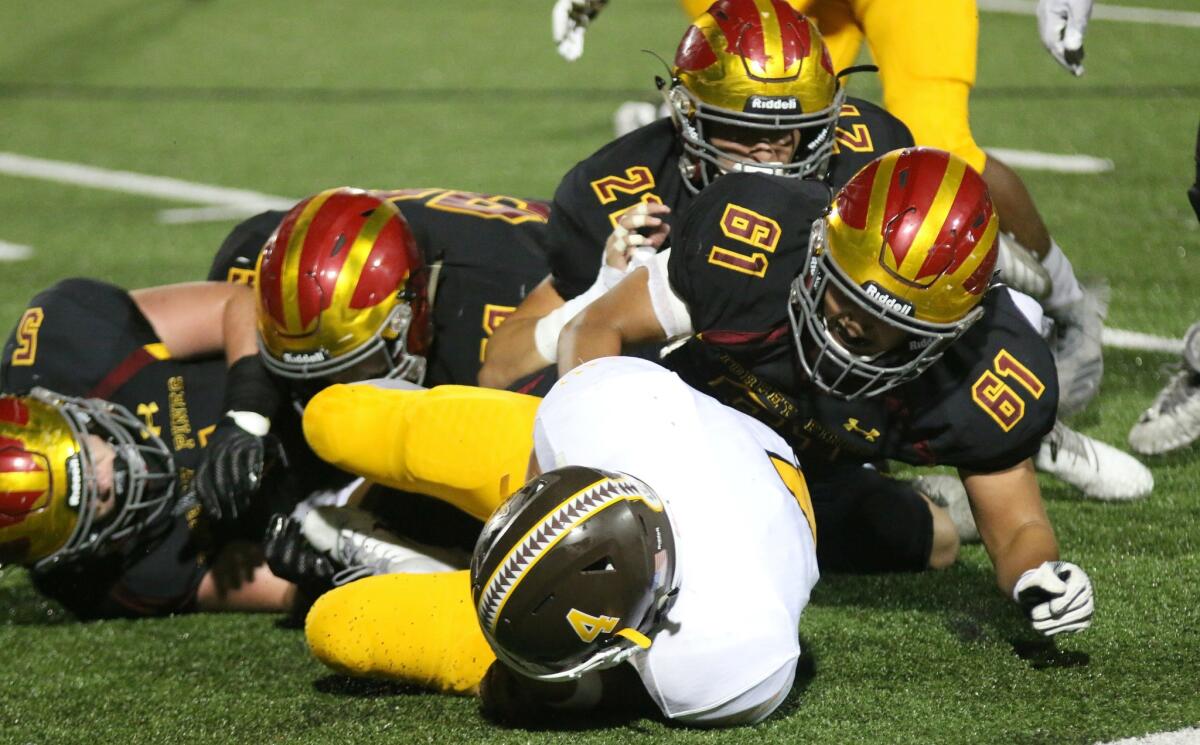 "We were extremely efficient on offense in the first half and when we're playing like that we're a difficult team to deal with," said Gladnick. "It's hard to stop all our weapons. If we distribute the ball well, we're going to move the football on anybody."
A 14-yd. jaunt by Bingham late in the third period and an early fourth quarter field goal from 36 yds. by Ted Merrifield put the Falcons on top, 36-7 and they coasted from there. Bingham, who utilizes a nice combination of power and speed, now has 728 yds. rushing and 11 touchdowns at the halfway point of the season. He was quick to credit those around him for his success.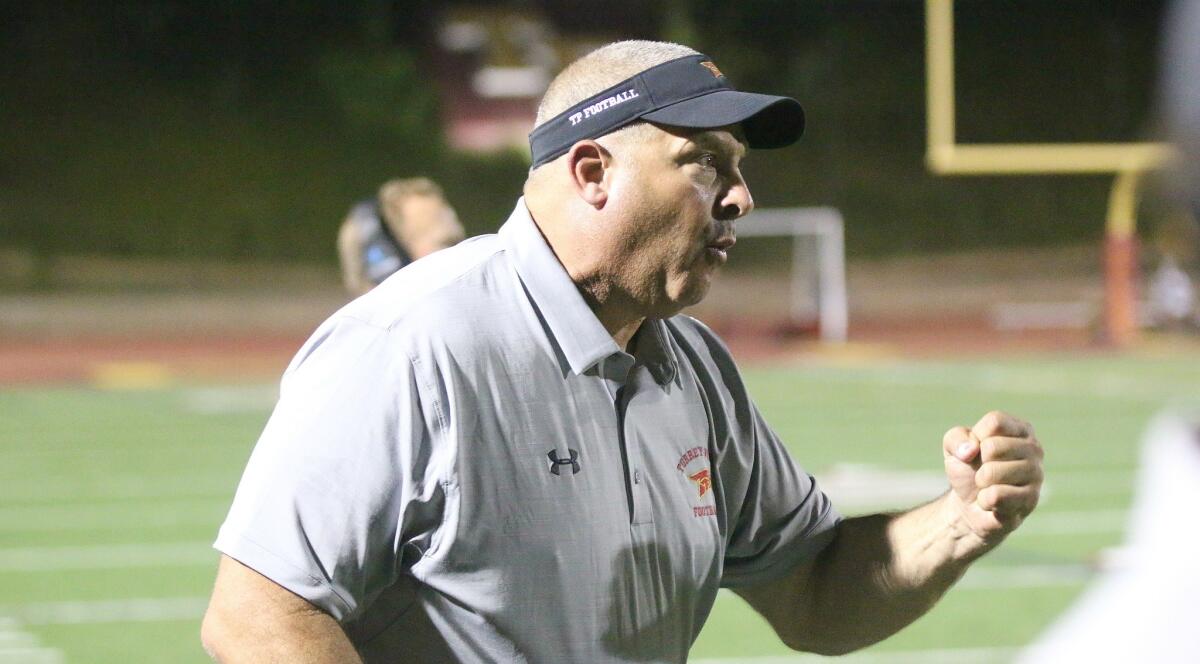 "I feel like over time, I can wear out the defense, but it's really the line," he said. "They get all that push and make all the blocks. They do everything.
"It's also nice to have a guy like Evan who can run outside. That helps me go inside and vice-versa." Gladnick is similarly pleased with what his offense is doing.
"I think when you take Bingham and Galluzzi and pair them with our quarterback, you've got three pretty dynamic guys," said the head coach. "Take away one thing and we'll get you with another."
The Falcons, who have outscored opponents, 166-59 (with 45 of those points against coming vs. San Clemente), will now have a bye week before tackling a very difficult back half of the schedule. Carlsbad is next on Sept. 28, followed by Mission Hills, San Marcos, Oceanside and La Costa Canyon. From Gladnick's point-of-view, the respite comes at a perfect time.
"We're going to give the kids a couple of days off and get healthy," he said. "We'll have more mental practices and work on our conditioning. We've got to get ready for the five-week gauntlet that's coming."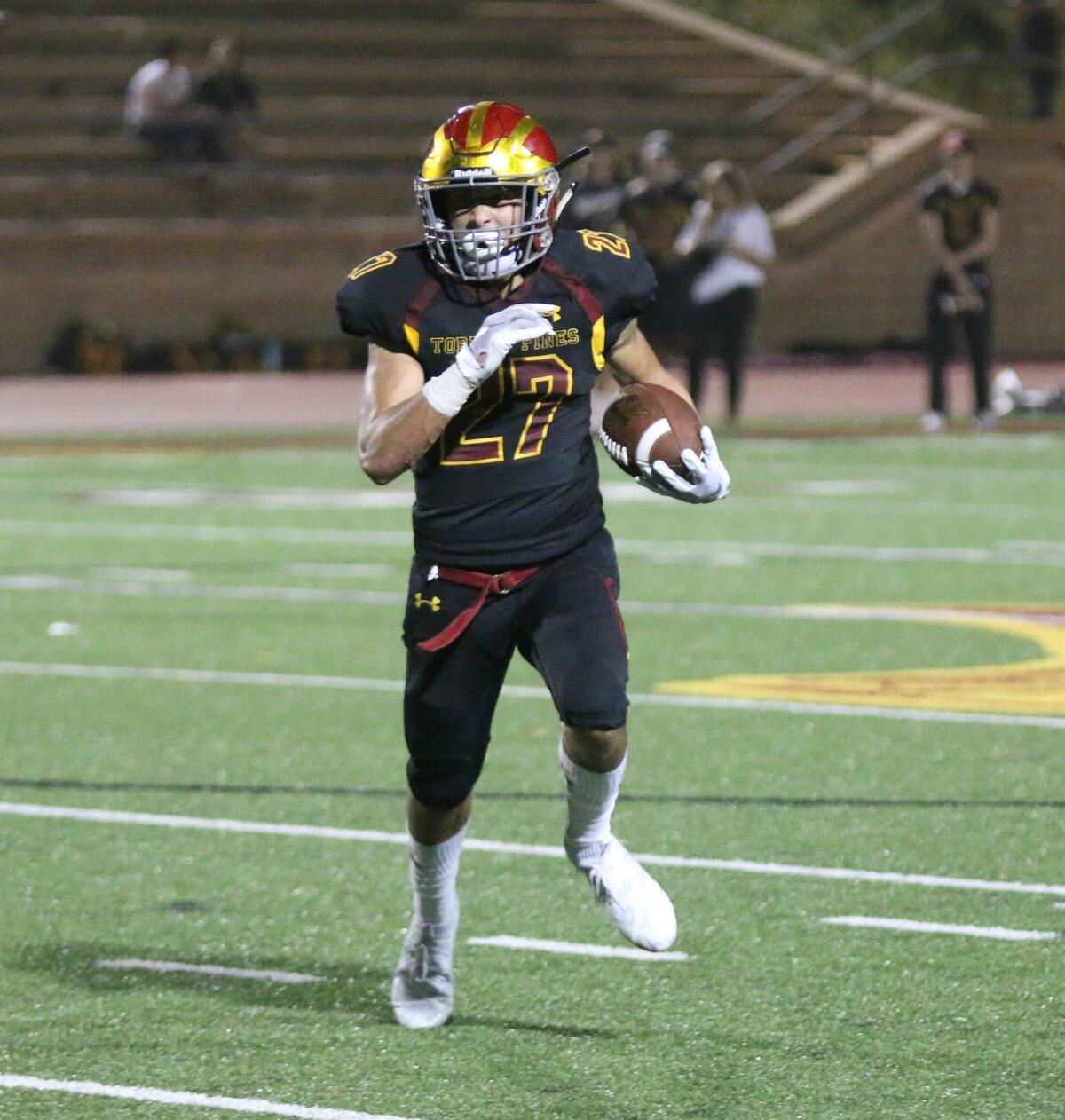 Get the Del Mar Times in your inbox
Top stories from Carmel Valley, Del Mar and Solana Beach every Friday for free.
You may occasionally receive promotional content from the Del Mar Times.