Torrey Pines, La Costa gear up for Friday grid clash
If you're going to turn off the television, get off your couch and check out some high school football on a Friday night, this is the week to do it on the North Coast. At 7 p.m., this Friday, No. 7-ranked La Costa Canyon (6-2) hosts undefeated and top-ranked Torrey Pines (8-0). As far as prep rivalries go, it doesn't get much better than this.
Located just 14 miles apart, both boast prominent comprehensive athletic programs with typically strong football teams. Both are well-coached, hard-working outfits that leave all they've got out on the field. Torrey Pines features the run-oriented wing-T offense while LCC counters with a more balanced run-pass offensive approach. Both have bruising, take-no-prisoners-type of defenses. But, as in most rivalries of this sort—the records, statistics and style points don't mean all that much.
"All of that doesn't matter when LCC plays Torrey Pines," says fifth-year Falcon Head Coach Ron Gladnick. "I expect that they'll play at a level they haven't played at all year and we'll do the same.
"For these seniors on both sides, this is a game they've been waiting to play their whole careers. The sense of rivalry and tradition showcases the best of high school football."
The series has been back-and-forth of late with neither school able to win consecutive games since 2011 when La Costa Canyon prevailed at the end of a dominant six-year run. La Costa Canyon won last year's regular season match-up, 27-21, but two weeks later got routed, 40-0, by Torrey Pines in the first round of the CIF Open Division Playoffs. That's a score that you can be sure Maverick Head Coach Sean Sovacool will be reminding his players about in this week's lead-up
.But the LCC head man will also have his hands full trying to get his own squad right for this showdown. After starting 5-0, the Mavs have hit a rough patch, losing their last two Avocado West League outings, at San Marcos (12-8) and last Friday at Carlsbad (24-7). As both of those opponents are top 10 clubs and LCC is battling the effects of some depth-testing injuries, the losses on their own are hardly catastrophic, but the manner in which his team fell to Carlsbad has Sovacool concerned.
"Unforced errors." Sovacool repeated the phrase three times for emphasis following the game, alluding to the turnovers, penalties and missed assignments that plagued his squad.
"We made mistakes early and it's tough to play with confidence when you give the ball away," he said. "You have to credit Carlsbad, they made it tough on us at the line of scrimmage, but we've got to play better."
For a coach in Sovacool's position, having Torrey Pines in his sights seven days later means there's an immediate chance to cure all ills and get his team re-focused with the CIF Playoffs approaching.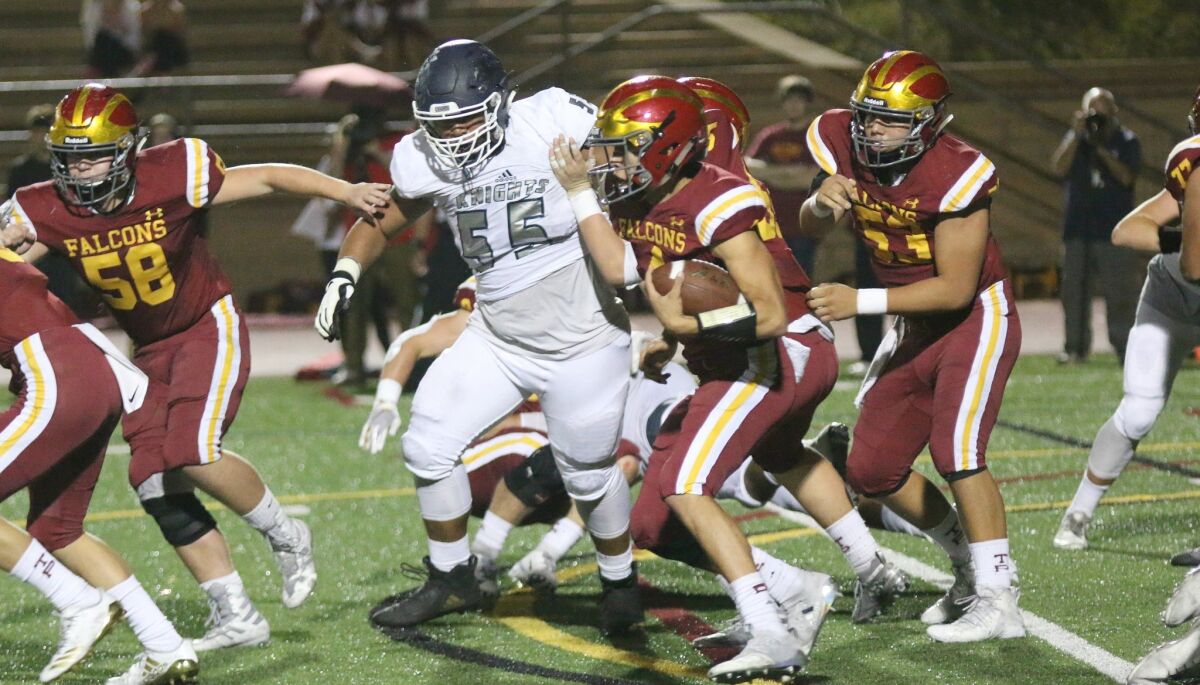 "1-0," said Sovacool. "That's all we want to do right now. It's like we're starting the season over and want to get that first win."
His charges will be facing a Torrey team that clobbered a solid Oceanside outfit, 71-41, last Friday after leading 50-14, at halftime. Senior running back Mac Bingham rolled up 303 yards rushing and scored a section record-tying eight TDs, scoring five of those on runs of 15 yards or more.
Bingham and fellow senior, quarterback Jason Heine, were stars in the Falcons' romp over La Costa Canyon in last fall's CIF Playoffs. Heine completed all six of his passes for 114 yards and a touchdown in that one while Bingham registered 94 yards on 12 carries, hitting paydirt once.
Two of LCC's key offensive performers are underclassmen, sophomores Marshall Eucker at quarterback and speedy running back Aiden Lippert. Lippert has replaced his brother, Karson, who is out for the season after injuring his knee. Regardless of how others might view the match-up, Gladnick is taking nothing for granted and expects a clean, hard-fought contest.
"We have a ton of respect for their players and coaches," said Gladnick. "LCC has one of the hardest-working staffs we face.
"They do a great job of getting their kids to play incredibly hard every snap. I'm proud of the fact that in the time Sean and I have coached in this rivalry, it's been very respectful on-and-off the field without losing its intensity." He doesn't expect to change up much as far as his own team is concerned.
"Stay true and execute," Gladnick declared. "Do that and we'll be fine."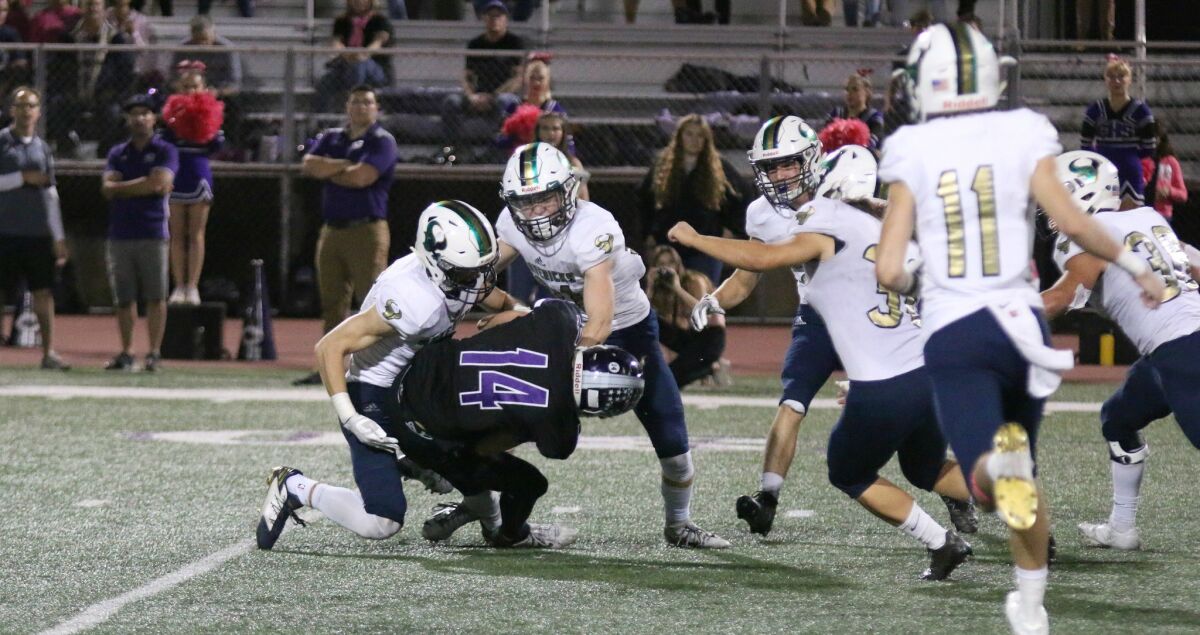 Get the Del Mar Times in your inbox
Top stories from Carmel Valley, Del Mar and Solana Beach every Friday for free.
You may occasionally receive promotional content from the Del Mar Times.