La Costa Canyon defense stifles Cathedral in 19-7 game one triumph
In an opening week match-up of two clubs with big post-season aspirations, a relentless, hard-charging defensive unit powered sixth-ranked La Costa Canyon to an impressive, 19-7, victory over third-ranked visitor Cathedral Catholic Friday night in Carlsbad. Ninth-year Head Coach Sean Sovacool was effusive in praising his defensive unit.
"The best football coach in the county is my brother (Casey, LCC's defensive, coordinator)," said Sovacool in the middle of a jubilant post-game scene. "He coaches that defense and that's why they play the way they do. The kids are coachable and they listen to what he says."
Fueled by dynamic junior linebacker Ozzie Nicholas, the Mavericks shut out the Dons in the first half and after the second of two Jake Schenk field goals, it appeared LCC would head to the locker room with a 6-0 edge. But after the Mavs stuffed the Dons for a fourth down loss on a botched punt in the final minute of the half, junior quarterback Marshall Eucker, solid in his first varsity game, hooked up with 6-5 junior Trevor Gonzales on a game-changing 26-yd. TD aerial with just two seconds remaining.
The third quarter was scoreless. Cathedral came out of the break with renewed energy but a Nicholas sack, one of his five on the night, on fourth and seven from the LCC 23 snuffed what had to that point been the Dons most notable drive. A well-executed quarterback draw showed off Eucker's athleticism on the subsequent La Costa Canyon possession, going for 53 yds. and setting the Mavericks up to potentially eclipse any CC comeback visions. On the last play of the third quarter, Eucker floated a screen to senior speedster Karson Lippert who took it to the end zone but a penalty wiped out the six points and what could have been a dagger gave the Dons renewed hope.
Cathedral finally hit the scoreboard with 4:55 to go in regulation and after stopping LCC's subsequent drive got the ball back trailing by just six. But Sovacool's "D" stood tall when it needed to and forced back-to-back fumbles, recovering the second with less than two minutes left. Seconds later, Lippert broke free off the left side and bolted, 46 yards to paydirt, settling the outcome. Sovacool professed to confidence about the outcome.
"All we were going to do was win that football game," he said matter-of-factly when asked if there were any concerns when the Dons closed the gap. "We kept points off the board, gave a goose in the first half and I'm really proud of our effort against a very talented opponent. If we score on that screen pass, we're not having this conversation." In fact, the inability to finish it off earlier was probably the only thing he had issue with.
"We need to do a bitter job of icing out a game like that," said Sovacool. "We had a TD called back, missed a field goal, gave them some life." With road games at Vista and Orange County power San Clemente on the immediate horizon, Sovacool knows that his team needs to turn its attention forward quickly.
"This was a great win but we've got to do a better job on offense and keep our defense off the field," he said. "Defense wins championships but all we did tonight was win one football game, so it's no time to talk. We can start talking longer when we start hanging banners."
No. 2 Torrey Pines stifles Eastlake, 13-0
Second-ranked Torrey Pines threw the ball just five times Friday night en route to a convincing, 13-0, win at No. 9 Eastlake. Of course, when you rush for 383 yards, who needs a passing game?
Still, Falcon Head Coach Ron Gladnick was not ready to give his offense a perfect report card quite yet. "We did some good things but I'm a little disappointed in our red zone production and we'll have to fix that," said Gladnick. "Moving the ball was not an issue but we had too many penalties and a lot of first game stuff that we'll clean up. Offensively, if we play well, we're a load." Seniors Evan Galluzzi (123 yds.) and Mac Bingham (115 yds.) combined for 238 yards on the ground with Galluzzi and senior quarterback Jason Heine accounting for Torrey's two touchdowns.
If the Falcon defense continues to play the way it did against Eastlake, holding the Titans to a measly 140 yards of total offense (25 rushing), Gladnick may not have to worry about his crew's red zone efficiency. Senior Michael Stearns (8 tackles/1 sack), junior Grant Anderson (7 tackles) and sophomore Marco Notarainni (5 tackles/1 interception) were among the standouts against last year's CIF Division I runner-ups.
"Our defense was outstanding," said Gladnick. "We rallied to the football and were fundamentally sound." Overall, the fifth-year head coach was pleased but with Orange County heavyweight San Clemente coming to Del Mar Friday night, his assessment was tempered.
"We played a top 10 team—on the road—and we won. It was a good first game."
Other Avocado West results:
Carlsbad 41 Steele Canyon 13 – Led by seniors Keoni Quintana and Luke Armstrong, the Lancers routed the No. 10 Cougars, last year's CIF Division II and State 3A champions, with a 27-pt. second half performance. Quintana threw three touchdown passes and Armstrong scored three times.
San Marcos 24 Otay Ranch 21
El Camino 17 Point Loma 16
San Clemente 34 Oceanside 19
Paramount 26 Mission Hills 18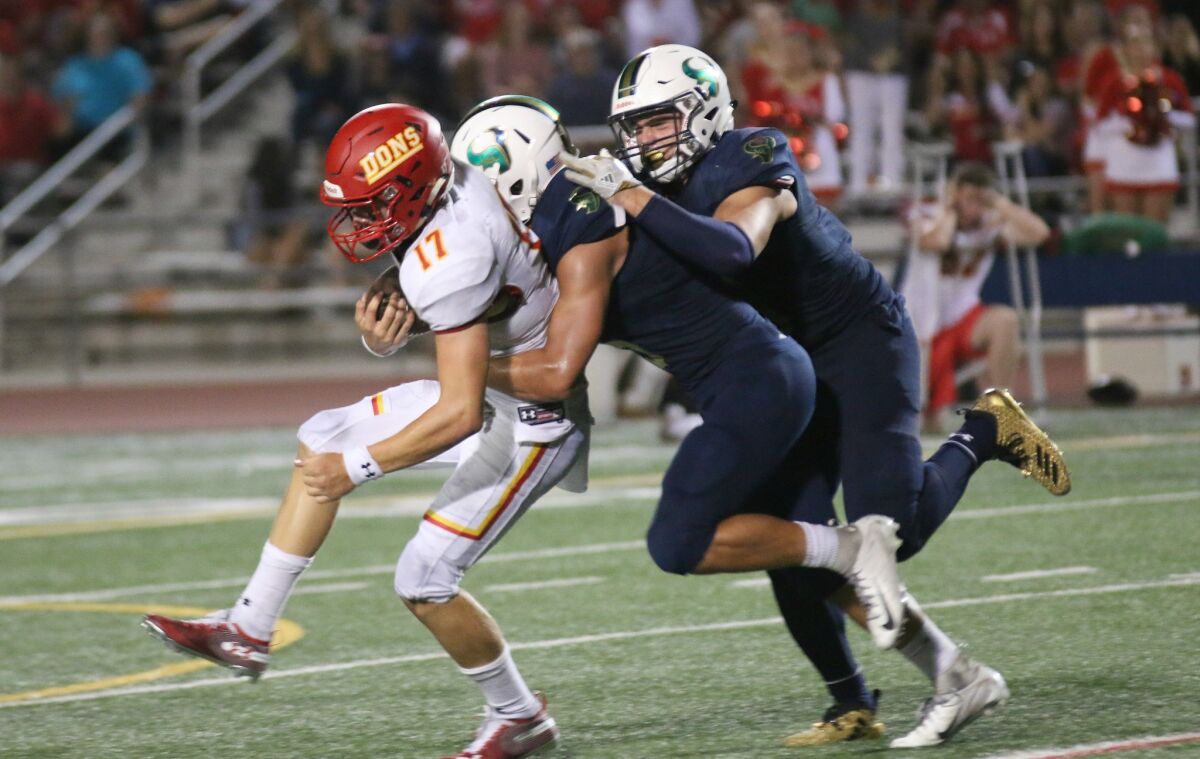 ---
Get the Del Mar Times in your inbox
Top stories from Carmel Valley, Del Mar and Solana Beach every Friday for free.
You may occasionally receive promotional content from the Del Mar Times.