What becomes of the brokenhearted: A San Diego Charger fan's goodbye
Since I lost my San Diego Chargers, I have thought a lot about heartbreak. Because to say I was brokenhearted didn't seem it like said enough. Should it be shattered, wrecked, exploded, a torn ACL of the heart?
The worst ever Charger loss.By the time I officially found out that January morning, I had already cried for most of the night, after word leaked online that it was likely the end for our Chargers. Listening to Judson Richards and Nick Hardwick on the radio, Richards slowly read Dean Spanos' cold farewell to 56 years. Like breaking up via text message. For the last two seasons I had been a jilted yet devoted fan. Now it was really over.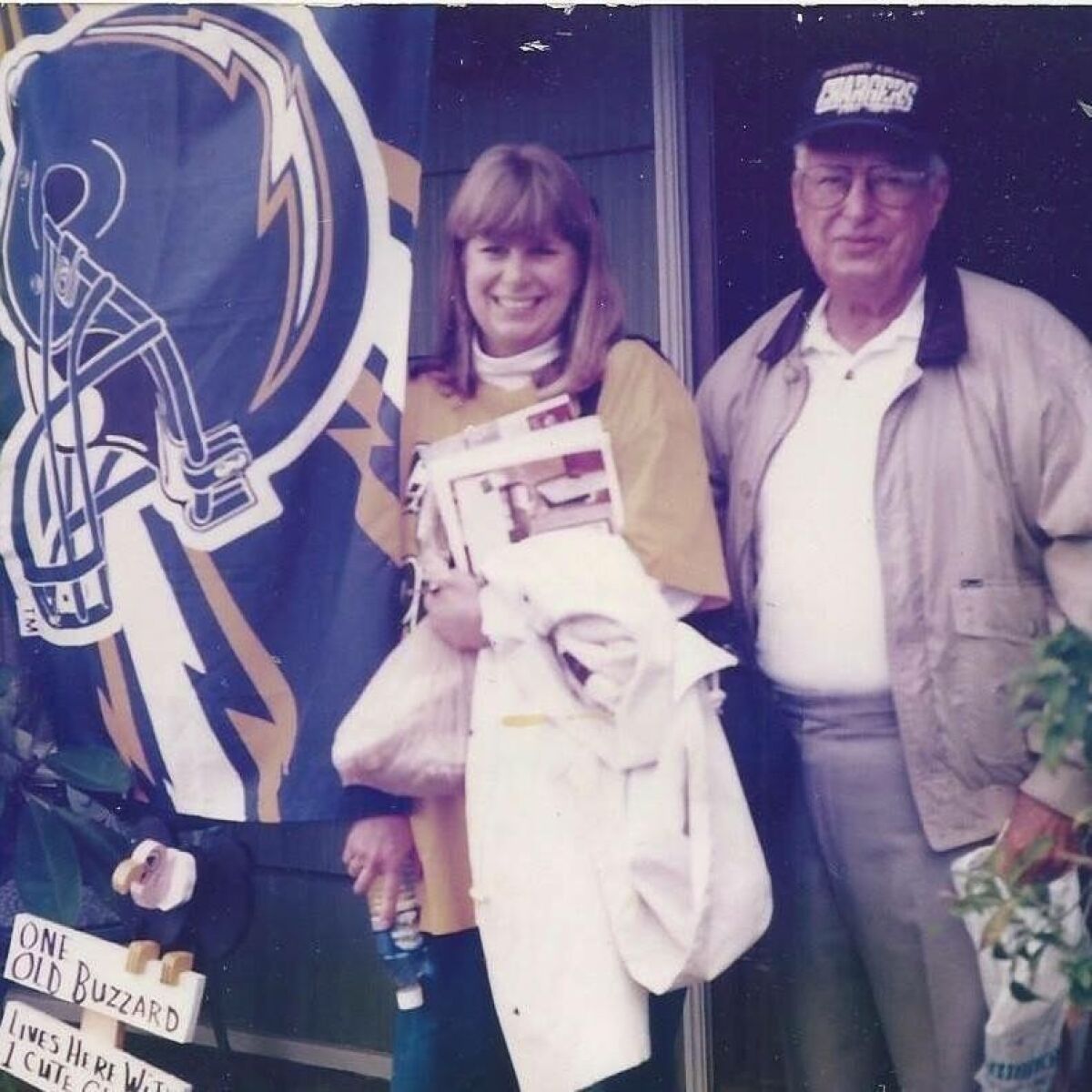 Losing the Chargers was like losing a family member. Both of my grandparents were season ticket holders back to Balboa Stadium and since Jack Murphy opened, they had season tickets on the visitors' side a section apart. The women of my family carried the tradition after they passed. My Aunt Kerri was able to bring her sons. My Aunt Ann went to games with her late-sister and friends and then when I moved to San Diego in 2006, me.
For the last 10 years I got to share those season tickets, in those seats only Billings have sat in. Watching games with my aunt and with my sister, brother and cousins.
I was an unapologetic diehard. I did a killer rendition of the Lights Out dance and the disco-fabulous "San Diego Super Chargers", I Bolted to the Q getting a high-five from Ryan Mathews at the 50-yard-line, I voted Yes on C, I wore a bolo tie. I took a ration from Seahawks fans for wearing my Merriman jersey in Seattle but thanks to a last second touchdown from Rivers to Vincent Jackson I was able to walk out of there with my head held high, a number 1 fan in a sea of 12's.
It never got better than being part of stadium-strong chants of "You can't run!" and "LT! LT! LT!", watching Cromartie make impossible interceptions, Rivers to Gates, feeling a sense of parental pride when Melvin Gordon finally hit his stride last year. Nothing will match the memory of that playoff victory over the Colts in 2009 when Darren Sproles danced into the endzone for that walk-off touchdown, the dizzying happiness, screaming until I was hoarse with the rest of the Q. No one wanted to leave.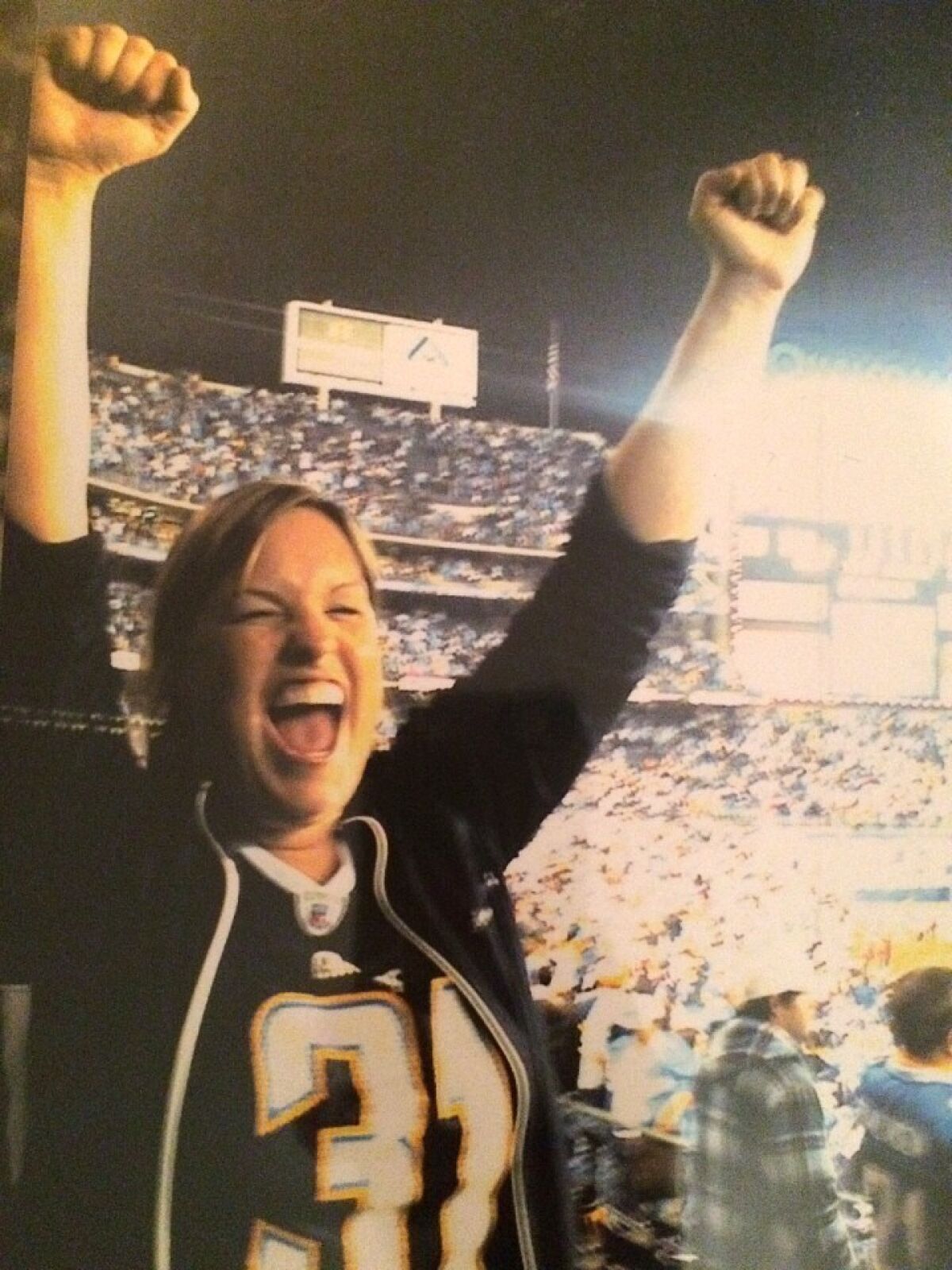 It hasn't always been pretty. Being a Charger fan is a lesson in unconditional love, of unfathomable disappointments of blocked and missed field goals, fumbled snaps, interceptions, fourth quarter breakdowns, injuries and injuries and more injuries. But loving this team was a challenge I accepted.I never left early even when it got really, really bad and it got really bad a lot. In 2012 blowing a 24-point halftime lead against the Broncos under the bright lights of Monday Night Football, embarrassments like hey diddle diddle Ray Rice up the middle, the infamous fourth and 29 against the Ravens in 2013.
Yes the Chargers made me cry in public plenty of times. I was there at that Patriots playoff game when that McCree interception was fumbled away along with our 14-2 season. Other games I cried slumped in my seat and passerby patted me on the back with condolences. Like my grandad used to say: "There's always next year."
Until there's not.
Over the last few months, I've realized my family's story is not so unique. Hearing San Diego sons cry as they talk about going to the games with their fathers at Balboa, reminiscing about sharing Bolt pride with their sons and daughters or lamenting that they never got a chance to take their young children to a game.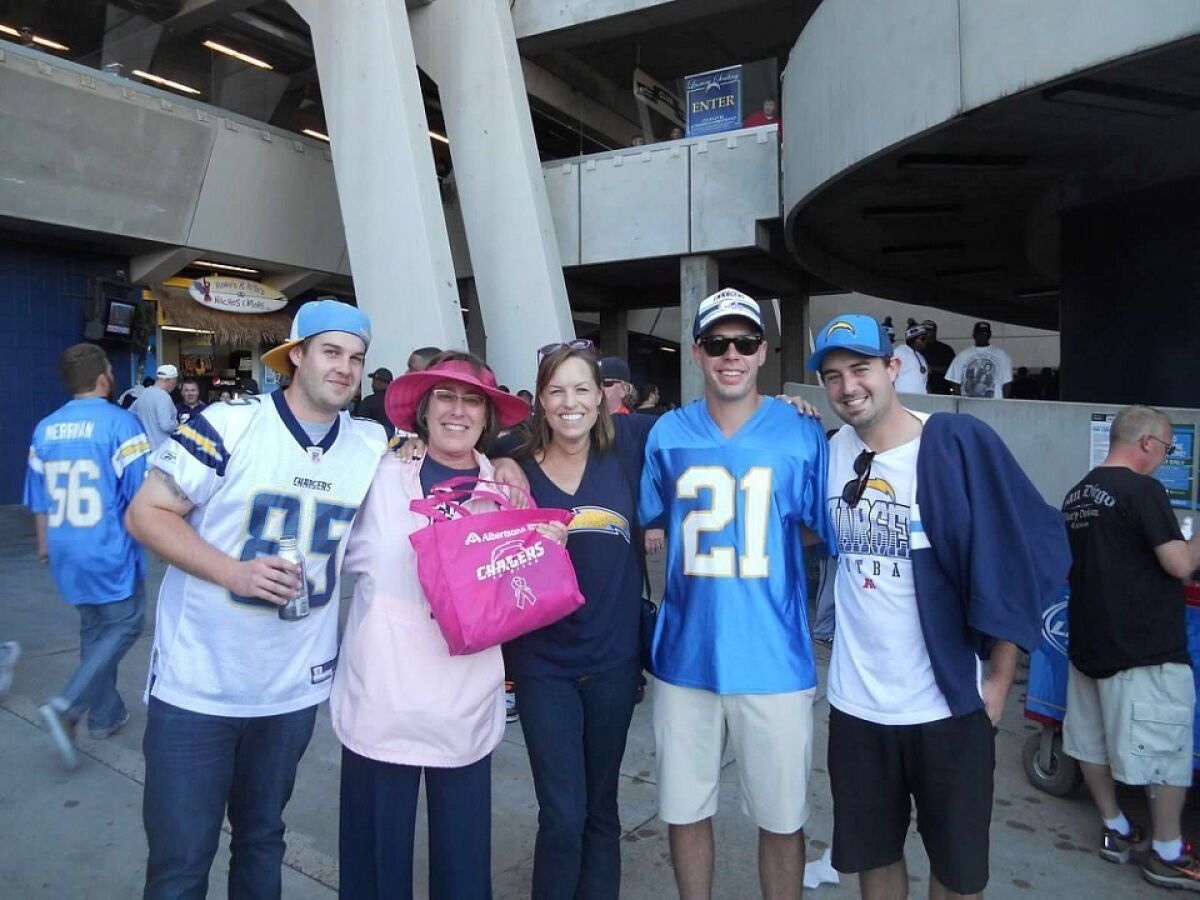 The day the Chargers announced the move, a man on the radio said he had kept a 1994 schedule with the wins and losses ticked off in his wallet for good luck for the last 22 years. He threw it in the trash. That day I watched, pained, as a man tossed a framed newspaper of the AFC championship onto a pile of abandoned gear at Chargers Park and another man crashed his foot through it. A family friend donated over 40 Charger shirts to Goodwill.
Me? I never realized how many lightning bolts were in my home and each one brought a fresh pang of hurt. I stacked up my jerseys, shirts, hats and so very many free magnets. I even struggled saying goodbye to the ugly, tacky stadium-approved plastic bag we had to carry, mine with its handles frayed and a "Vote Yes on C" sticker stuck to the bottom. And in the end I couldn't throw that dang thing away
Increasingly over the last two seasons I was swallowed whole by the visitors' fans—drowning in Broncos orange and suffocating in Raider black and inexplicably swarmed by Titans fans, I mean who even knew there were so many Titans fans? I would find myself standing to cheer for a touchdown and feeling my voice empty with only the faithful Plaza 8 few around me joining in. The visitor fans' fervor felt like a personal insult—I could hear, I could feel my team slipping away. Didn't they care?
The 2015 season was torture, a 4-12 slog through relocation hell, exhausted by Carson talk and Fabiani overload. That last game, the first last game in the Q, ended up being a bittersweet highlight of the season. Outside of the game when LT was inducted into the Ring of Honor, it was the most Charger fans had shown up at the stadium that spurned season. This time, I didn't feel alone cheering.
My sister and I cried our faces off and after the game lingered in our grandfather's seats and my aunt and her son lingered in her father's seats. I tried to get as close to the field as possible, yelling out a thank you to Phil who had also stayed late. We all said our goodbyes… and then we got a stay of execution.
I couldn't go to the last game this 2016 season and it was probably for the best. I could not do that again.
No my last time in the Q turned out to be the Raiders game, black and bleak. The Raider fans' howl never seemed crueler. At halftime one fan made his way up the Q's curly walkway chanting "Your stadium sucks!" over and over again as if we needed a reminder.
After the loss, I trudged across the parking lot with my cousin, carrying 56 years of family fandom on our backs. You could hear the stadium roaring and rocking behind us because the Raiders were going to the playoffs for the first time since 2002, also the last time this finest city and its crumbling sports palace hosted a Super Bowl. What a horrible feeling, a terrible end to my time in that place, much more than a stadium, a place full of memories, where I grew up learning to love sports.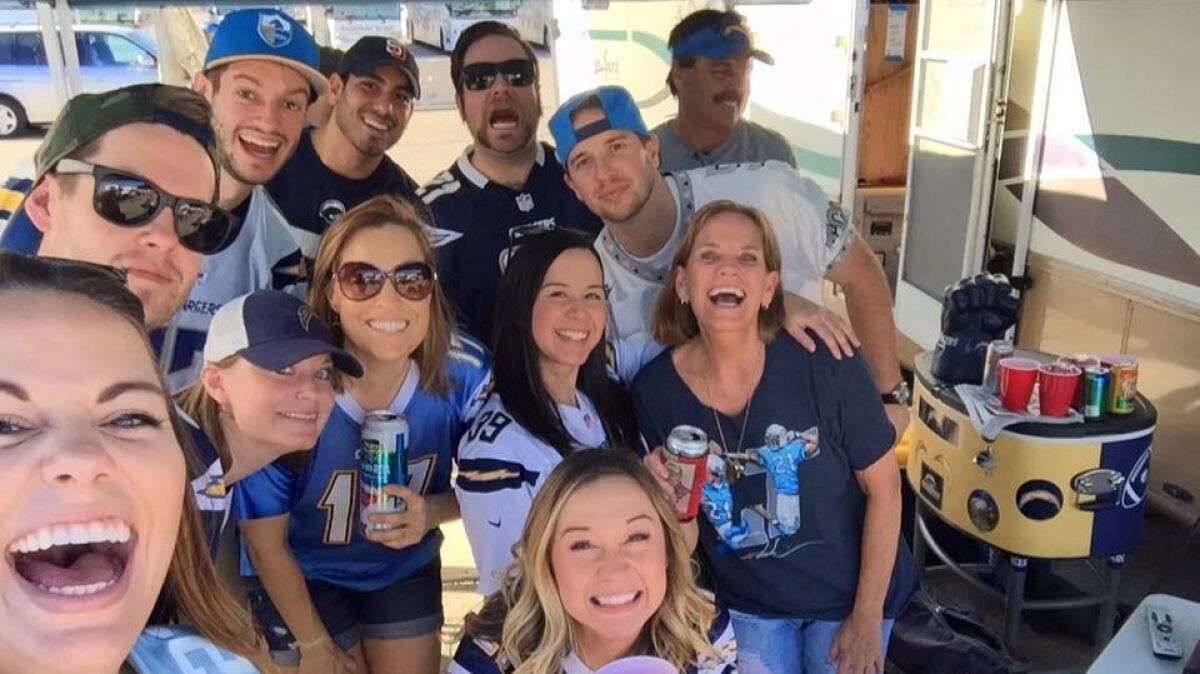 That will likely be my last time ever in that place, in that parking lot where my Bolt Fam revved up with AC/DC's "Thunderstruck" and had dance parties even after a loss, where as an 7-year-old girl I ran to get Jack Clark's signature on a baseball at a Padres game, framed by those hills where that 3,000 Tony Gwynn banner once hung, fed by multiple freeways where the most unlucky of fans will have to drive past that barren, haunted graveyard every day until it's gone.
Rivers says "Shoot, I'll just be up the road" and that he hopes we will still come to see him. People ask "Why don't you just get over it?" and chide, "Time to move on." But I can't. I am torn, I am scorned and I'm not ready to forgive. It is brutal hearing and seeing just how hard the Chargers are "fighting" for LA, for Costa Mesa, for Orange County. They aren't fighting for San Diego anymore and haven't for a long time. They do not need or want us…and that leaves me feeling completely miserable, San Diego. When I wake up these coming fall Sundays with no place to go, my lightning bolt-cracked heart will ache.
There I am back to the heart again.
The more I think about it, it's the perfect and right word because there's just no other way to say it: I am heartbroken. Mr. Spanos, you broke my heart.
---
Get the Del Mar Times in your inbox
Top stories from Carmel Valley, Del Mar and Solana Beach every Friday for free.
You may occasionally receive promotional content from the Del Mar Times.