High number of players hoping to play for SDJA football team this year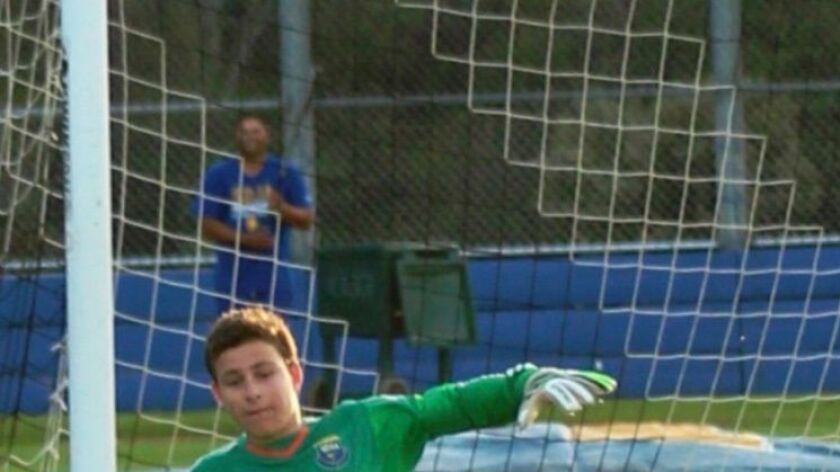 Ilan Leisorek made his mark on San Diego Jewish Academy's soccer program earlier this year as a freshman, leading the junior varsity team to an unbeaten season.
Leisorek is now preparing for another challenge.
The incoming sophomore is part of a bumper crop of inexperienced but enthusiastic newcomers who showed up for spring football workouts earlier this year in numbers the football program hasn't seen in years.
Leisorek said he's loved soccer as a participant and a spectator for as long as he can remember.
He's played youth soccer since he was 5 and plays club soccer locally with La Jolla Impact.
And although the academically-focused Leisorek isn't going out for football with the expectation of playing collegiately, he wants to take advantage of the opportunity at SDJA to add football to his sports repertoire.
Leisorek played tackle football in SDJA's youth program when he was in elementary school, and had to convince his parents to let him go out for football this year.
The challenges of playing football, along with the comradery and fan enthusiasm are among the qualities that have always attracted him to the sport.
Compared to soccer, "I feel like it's a different type of adrenaline," Leisorek said. "I want to experience the brotherhood."
He'll be among 24 players going out for the football team this year - the most they've had in years – to share the brotherhood with.
Lions coach Skip Carpowich attributes the growth of the program to a renewed enthusiasm that grew from questions about whether the school could field a team in recent years.
The Lions were 5-2 last season, their best since playing 11-man football in 2009 and their first winning season since 2011.
Their third-year coach has brought stability to a program that's been in flux for most of the decade. Carpowich has the Lions competing in summer passing league tournaments for a second straight year.
The Lions are back to playing 8-man football in San Diego Section's Division VI.
As is the case with many area small schools, SDJA, which enrolls about 180 students in the upper school (about 600 students are enrolled in K-through-12 at SDJA) fielding a team isn't always that easy.
Rock Academy and Calvary Christian, which both competed in Division VI last season, likely won't have enough players to field teams this year. Horizon will launch a new program on the Division VI circuit.
"Our trajectory now is really good just because we're just building the program and the kids are coming out," Carpowich said. "It's a pretty close-knit community, so there's already good team chemistry."
The Lions are likely to experience some growing pains. They return just one senior and just seven players with varsity experience.
Leisorek is among a group of nine or so up-and-comers who've shown promise in spring workouts.
Juniors Ruben Veinbergs and Jose Galicot, sophomore Eitan Breziner and freshmen Gabriel Simpser and Alejandro Waiss are among the others.
"There's a lot of kids coming out to play football, and (Leisorek) is representative of that group," Carpowich said.
Leisorek projects to play wide receiver and defensive back. He set himself apart in spring workouts, winning an endurance challenge award.
"He's not just a really good athlete," Carpowich said. "He sets himself apart with his character and his intangibles."
Although his football experience is limited, Leisorek believes his soccer background will benefit him, noting that as a goalie he developed field awareness and learned to read plays developing in front of him and to always be ready for the unexpected.
"In football you have to be ready to catch the ball at any second," Leisorek said. "I think my instincts will help me."
Leisorek said nobody at SDJA takes the football program for granted. The Lions became the first Jewish school to field a team in the nation and remains one of the few.
"I remember last year they were looking everywhere to find players, you just hear the stories about how every year they have to find players around the school to get them to play and this year it's a pretty big number," Leisorek said. "I'm aware that we're the first Jewish high school to have a football team, that's really important to me; and I feel like that's something really cool that's unique about our school and I want to help it last as long as I can."
---
Get the Del Mar Times in your inbox
Top stories from Carmel Valley, Del Mar and Solana Beach every Friday.
You may occasionally receive promotional content from the Del Mar Times.