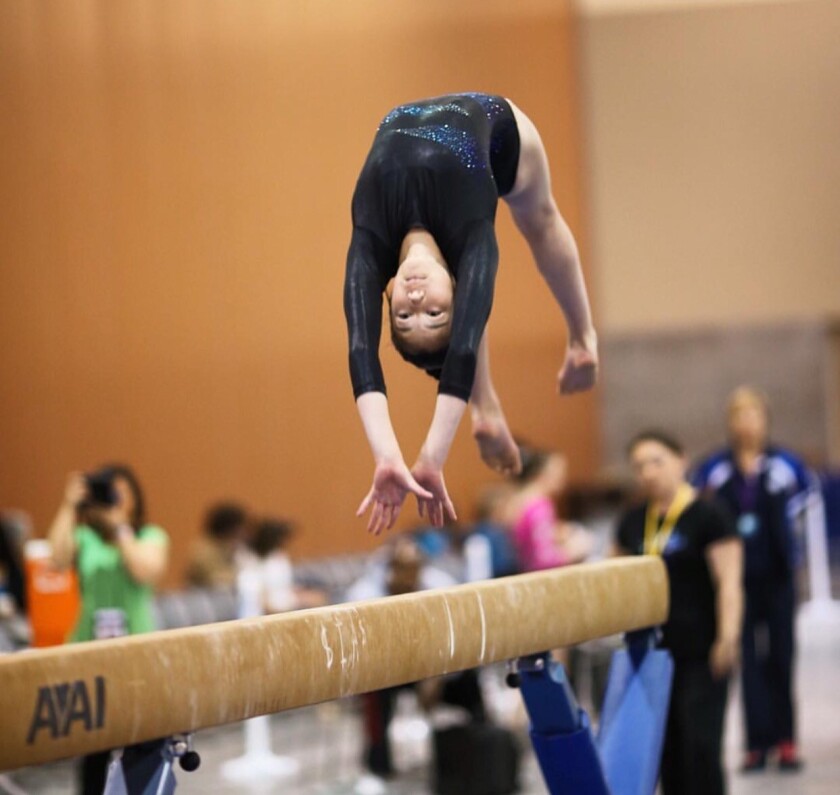 Canyon Crest Academy senior and artistic gymnast Joyce Yen has been awarded the 2018 Super Senior Award that included a check for $2,000 towards her educational endeavors.
This coveted award recognizes outstanding female artistic gymnasts in Southern California for their dedication and commitment to the sport of gymnastics. The honor is given annually to the top gymnasts on the basis of athleticism, academic excellence and a long-time commitment and dedication to the sport of competitive artistic gymnasts. The award is voted on by the Southern California Women's Gymnastics Coaches Association board members and head coaches, and was announced at a recent banquet in Orange County.
Yen has been a competitive gymnast with TRC Gymnastics in Sorrento Valley since she was 5 and is coached by head coach and owner of TRC Darryl Davis and assistant head coach Pam Durnin.
Yen is known for her contagious smile that shines the brightest when she is with her friends, family and while performing. Her smile and grace have helped her overcome many challenges over the years as she admits the journey hasn't always been easy.
"Knowing that I have to make serious sacrifices due to my inflexible and demanding practice schedule, I have learned to master my time across friends, family, academics, gymnastics and everything else valuable in my life," said Yen.
Her journey with gymnastics has been one with fear, anxiety, muscle aches and sometimes mental blocks-- so why does she do it? The truth, she said, is she loves it, she lives for it and craves it and the daily insane grind has defined who she is today. She also said that gymnastics has been exciting, intoxicating and thrilling and has fueled her passion to be better than she was the day before in so many ways.
Yen admits gymnastics has always been so much more than just the mental and physical aspects. Coaching the younger gymnasts at TRC, who have now grown to compete on the team, has given her a whole new perspective and allowed her to continue sharing her passion of gymnastics by helping others to become physically stronger, more confident and mentally tougher too. She also attributes her hard work in the gym and extends those efforts to her studies which have resulted in her successful academic achievements as well. Gymnastics has revealed a new perspective of health and wellness, which she is grateful for to this day.
"Gymnastics has given me the opportunity to discover a whole new passion that incorporates my love for fitness, nutrition and overall wellness into pursuing a double major in exercise and wellness, and nutrition," said Yen.
She will compete in club gymnastics for Arizona State University this fall and plans to become a physical therapist or chiropractor in the future.
Yen is one of two TRC gymnasts to receive this award. Her teammate who is a senior from La Jolla High School, Julianna Love, also received an award. Additionally, her head coach, Darryl Davis, was honored with a Lifetime Achievement Award for exemplary coaching, also given by the Southern California Women's Gymnastics Coaches Association. TRC Gymnastics serves the San Diego area with two locations, including the team training location in Sorrento Valley and Solana Beach.
For more information, visit trcgymnastics.com --News release
---