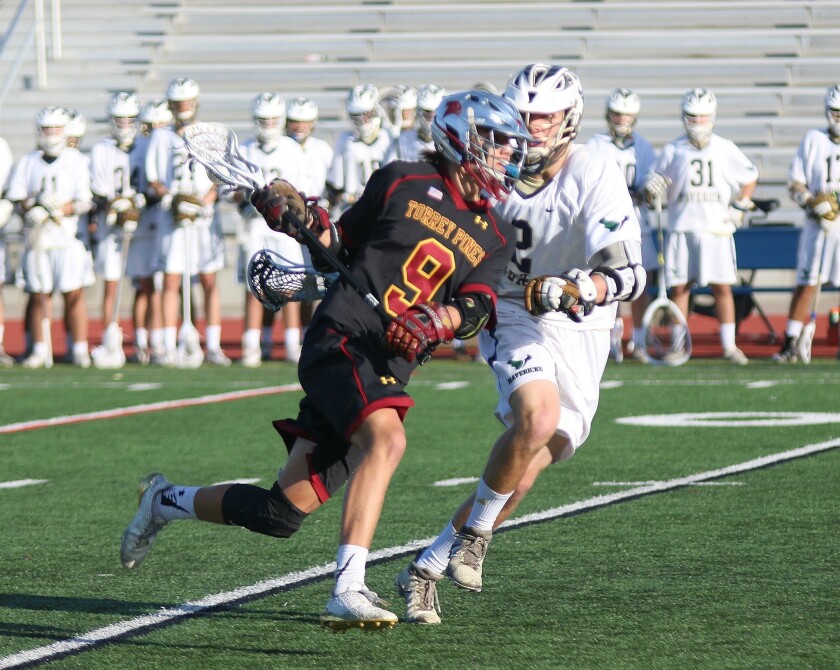 La Costa Canyon started on fire Friday night, April 27, but it was the visiting Torrey Pines boys lacrosse team that finished in a rush, breaking a 7-7 tie with a four-goal outburst to open the fourth quarter en route to a 12-8 victory in the rivalry renewal.
While Torrey Pines' prevailed in the heavyweight duel, it was really a win for prep lacrosse. Both teams entered the game 13-1, neither had lost to a San Diego team and depending on who you were talking to, one or the other was ranked No. 1 in the section. LCC is the defending CIF Open Division champion while Torrey Pines has won two Open crowns during Head Coach Jono Zissi's tenure.
It was a "you choose the favorite" proposition going in and unlike many match-ups of this magnitude, performance equaled hype. In front of roughly 500 revved up fans, with solid student representation from each school, the two squads came out full tilt from the opening draw.
The host Mavericks were a step quicker at the outset. Just over five minutes into the game, their leading scorer, junior JJ Sillstrop deposited the game's first goal and 18 seconds later defender Colin O'Connor made it 2-0. But with only five seconds remaining in the first period, junior Alex Pistorius tallied the first of four consecutive Falcon goals. Back-to-back goals by feisty sophomore Blake Erlbeck closed out the run and from that point it was a back-and-forth contest for the next two quarters. Torrey Pines led, 6-5, at intermission and LCC outscored the Falcons, 2-1, in the third to send the game into the final 12 minutes deadlocked.
Then Zissi's team exploded, netting the next four goals in a 4:10 span, two by senior Spencer Grant, to effectively sew up the decision and, barring any end-of-season upsets, secure the top seed when the CIF Playoffs start May 11. Senior defender Evan Egan said there was no panic on his side when LCC grabbed the early lead and felt a lot of things played into breaking it open in the fourth period.
"I think we have great leadership and we're a close unit," said Egan. "When they scored the first two goals, we kept calm, just focused on the next play and chipped away."During that fourth quarter stretch, we were winning face offs, everyone was playing hard, we came away with a few ground ball scrums and some big plays went our way. We look forward to this game every year and it was a great check mark to see where we are."
Overall, Zissi was satisfied with what he saw from his group. "We played so badly in the first quarter," he said. "I think the emotion of the game got hold of us in the beginning and we were just doing wacky things that we never do in practice. We finally settled down by the second quarter and played a little smarter.
"We changed some match-ups on defense which helped. Draws were big, especially the fact that we were able to get immediate offense with those we won and scored a couple of goals in transition off them. We got some timely goals but took a lot of penalties, which has been our Achilles' heel. Six-on-six, they didn't do all that much but they stayed in the game by converting in man-up situations." In all, LCC scored on four-of-six power play chances.
The Falcon defense held firm when it had to though and kept Maverick ace Sillstrop from taking over offensively. "We tried to keep the ball away from him as much as possible but he's a great player and still got two goals (and an assist) which is inevitable," said Zissi. "But if we can make him work hard for his goals, which I think we did, that's a win for us.
"Erlbeck wound up with four goals and Grant three for the Falcons, while junior Porter Hollen chipped in with a pair. Alex Fairman matched Sillstrop's two goals for LCC.
Second-year La Costa Canyon Head Coach Kevin Cooper saw some good things but talked about the fourth quarter blitz like it was a knockout punch. "We really battled for three quarters but it's a game of runs and they went on a really good one in the last period," he said. "They got a couple of quick goals—which really deflated us—they took advantage and that was pretty much the end of it. They scored a couple of easy goals and our defense kind of ran out of gas." He knows the two clubs will likely see each other again—soon.
"We definitely hope to see them again in the playoffs and know that if we could have executed just a little better and finished, this might have been a different game tonight," continued Cooper. "Another takeaway is that we know we can hang with these guys.
"Everybody talks about them like they're some Greek gods, but they're humans too. We were with them for three quarters. We've just got to get a little more gas in the tank and finish our opportunities off."
---