2007 Solana Beach Little League All-Stars – California Champions – celebrate their 10-year reunion
A 10-year reunion of epic portions took place on Aug. 13 at Fidel's Restaurant in Solana Beach. In August of 2007, 10 years ago, fourteen 12-year-old boys from the Solana Beach Little League Majors All Star Team became State of California Little League Champions. The boys on the team were from Carmel Valley and Solana Beach.
(Above) Then (top) and now (bottom), 10 years later: Bottom row (l-r): Chad Thurston, Hayden Grant, Evan Schrieber, Trevor Semerdjian, Max Kesselhaut, Nolan Weinberg; Back row (l-r): Coach John Peabody, Daniel Retizler, Jackson Balla, Coach Dan Schreiber, Coach Michael Thurston (missing Ryan McGee, Jackson Gentes, Robert Stuckey, Austin Abadir, Caleb Kreeger, Matt Kirkpatrick) Courtesy photos
The story of these amazing kids racing through Little League District Tournaments in 2007 (District 31 champions, Section 6 champions, Division 3 champions and the champions of Southern California) was riveting San Diego County, especially North County. They defeated the Northern California champion (from San Jose) to finally become the State of California Champions (meaning the best little league team in the entire state of California). Their games were played from June - August 2007 (33 games in all), and were extensively covered by the North County Times, Solana Beach Sun, Carmel Valley News, Del Mar Times and the San Diego Union Tribune. The Mighty-1090 Sports Radio show also covered their accomplishments.
The Western Regional Tournament was held in San Bernardino where the players and coaches stayed in dormitories for 10 days. The "Beach Boys" from Solana Beach, now the California champions, played the state champions from Utah, Hawaii, Nevada and Arizona. They entered the final game, which was televised on Aug. 11, 2007 by ESPN. Solana Beach played Chandler Arizona for the Western Region Championship. Restaurants in Solana Beach, especially Chiefs and Tony's Jacal, had watching parties for the game. The City of Solana Beach, primarily with the assistance of then-Councilman Joe Kellejian and the Solana Beach Little League, chartered buses from Solana Vista Elementary School to San Bernardino free of charge for Solana Beach Little League supporters and fans for each of the games in San Bernardino. The winner of the championship game would advance to Williamsport, Pa., as the Western Region Champion for the 2007 Little League World Series.
Solana Beach lost 7-3 to Arizona, a team that had on it 12-year-old Cody Bellinger (now a rookie star with the Los Angeles Dodgers). Upon returning home after 33 games in a three-month time span, the team was greeted with a parade down Cedros Avenue sponsored by the Solana Beach City Council, Solana Beach Fire Department and Lifeguards, the San Diego Padres and San Diego Chargers. Needless to say, it was an epic time for the City of Solana Beach, San Diego County and a once-in-a-lifetime experience for these 14 young ballplayers. They remain very close friends today as do the players' families.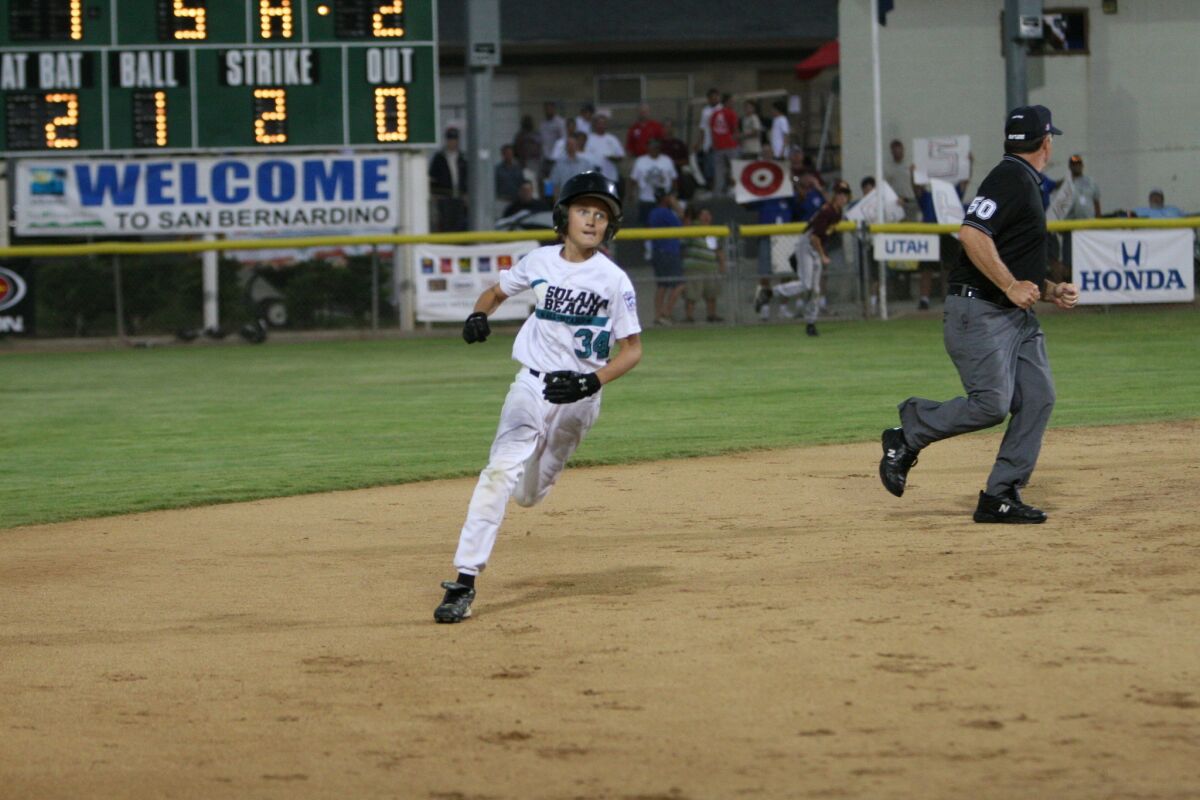 The boys are now 22-23 years old, out of college and have entered the work force. Nearly all of the boys on the Solana Beach 2007 All Star Team played high school baseball and more than half of them played college baseball. Here is the roster, from little league all-stars, through high school and college: The 2007 - 12 year old Solana Beach Little League Team - State Of California State Champions -Western Region.
The boys are now 22-23 years old. Here is the team:
Trevor Semerdjian played baseball at Santa Fe Christian and graduated from Washington State University
Evan Schreiber played baseball at La Costa Canyon High School and played baseball at Northwestern University
Daniel Reitzler played baseball at Torrey Pines High School and played baseball at University of San Diego
Hayden Grant played baseball at Cathedral Catholic and played baseball at Purdue
Jackson Balla played baseball at Santa Fe Christian and played baseball at University of Nebraska Omaha and Chapman College
Jackson Gentes and Chad Thurston played baseball at Torrey Pines High School and played baseball at San Francisco State University
Robert Stucky played baseball at Torrey Pines High School and graduated from Baylor University
Matt Kirkpatrick played high school baseball at Torrey Pines and graduated from USC
Caleb Kreeger played baseball at Torrey Pines High School
Nolan Weinberg played baseball and football at Torrey Pines High School and graduated from Ohio State University
Ryan McGee played baseball and soccer at Torrey Pines High School and graduated from SMU (now at UCSD Medical School)
Max Kesselhaut played basketball at Canyon Crest Academy and attends Cal State San Marcos
Austin Abadir played baseball at Torrey Pines High School.
Coaches: Michael Thurston, Danny Schreiber, John Peabody and Stu Kesselhaut
2007 President of Solana Beach Little League: John "El Presidentee" Grant
Biggest fan in 2007: Solana Beach City Council member Joe Kellejian
---
Get the Del Mar Times in your inbox
Top stories from Carmel Valley, Del Mar and Solana Beach every Friday for free.
You may occasionally receive promotional content from the Del Mar Times.