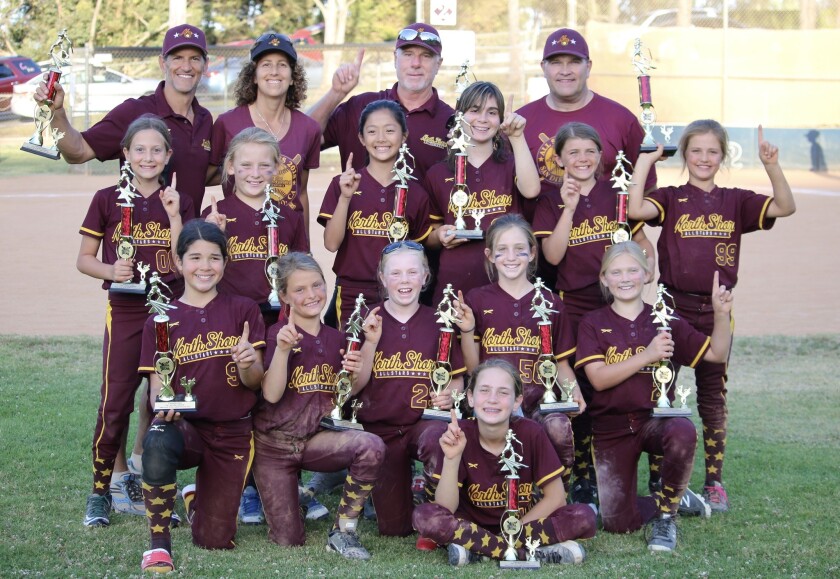 For the second weekend in a row, the North Shore 10U Maroon all star softball squad recently went into a tournament to do battle and left with a trophy...this time walking away as champions.
The tournament got off with to slow start with the team losing 6-7 to tournament host Scripps Ranch. They bounced back the next day beating a solid Murrieta team 9-6, which earned them the #2 seed going into bracket play. North Shore's defense really came up big as they marched through brackets beating Escondido and Las Vegas Majestix which led to a rematch with Murrieta in the championship game.
The game was knotted 1-1 when the biggest moment on the weekend came to pass. Murrieta loaded the bases with no outs. North Shore pulled the infield in tight to protect against the run and proceeded to record 3 outs in a row at home plate. Riding the momentum swing, North Shore was able to score some late runs. With a 4-1 victory, the girls left Scripps Ranch as champions.
Front row: Olivia Llamas, Riley Cullivan, Reese Carsley, Mina Crouch, Kate Conway, Lydia Sheffield;Middle row: Carrie Krummen, Lauren Johnson, Chloe Lin, Annica Hardy, Catherine Tonelli, Reagan Cullivan;Back row: Manager Mark Cullivan, Coaches Lori Krummen, Ron Johnson, James Sheffield
---