Torrey Pines rugby defeats Saint Augustine in league opener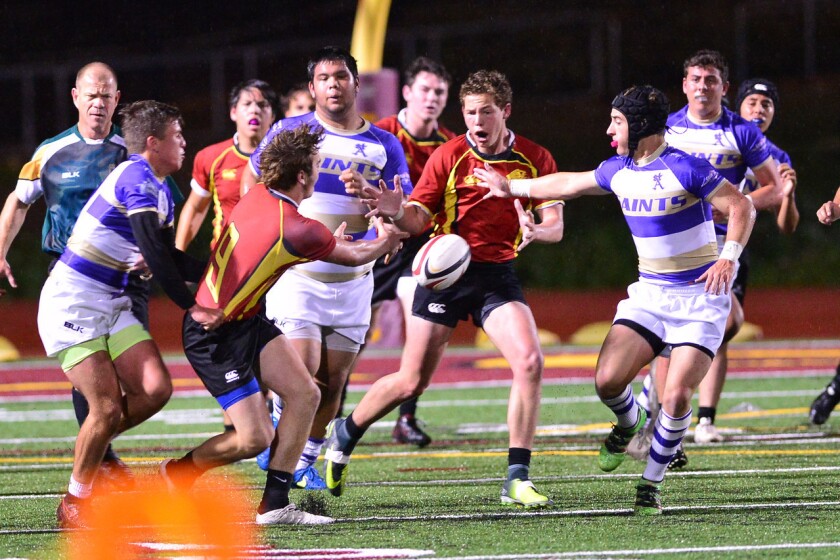 Torrey Pines High School Rugby spent most of the match recently at Ed Burke Stadium getting pushed up against its own try-line by St. Augustine. But, though the Saints dominated in time-of-possession and controlled the ball for much of the match, the Falcons prevailed where it mattered — points: 21-7 in the league opener for both schools.
A relieved Torrey Pines Head Coach, Matty Sandoval summed it up. "For playing the majority of the game in our half, we are not only pleased, but surprised, at the result. It was a great, great defensive effort."
Led by the powerful running of inside center Andrew Alves, the Saints continually pressured the Falcons. St. Augustine kicked off to start the match, and were pushing up against the try-line for the first 8 minutes, with the Falcon pack and back line scrambling to deny the attacks. When Torrey Pines finally broke across midfield it was a quick pitch, a break-away run by No. 8 Blake Richards-Smith, and a perfect off-load to Lock Tanner Wyandt, who broke tackles over the final 10 meters for the try. Senior Team Captain Jackson Baere nailed the conversion to put Torrey Pines up, 7-0.
Wyandt, a junior, plays the football equivalent of a tackle, and was hustling 50 meters downfield on the play to be in a position to support Richards-Smith and take the pitch. "It was a great game," said Wyandt. "We are scrappy. We played with heart."
A steady rain helped dampen the scoring in the rest of the first half, but let up at half-time. Saints had two break-away runs whistled back for off-sides in a 2 minute period at the start of the half, before Torrey Pines used a fierce attack, and a strong run by senior Richards-Smith to go up, 14-0. (Baere again good with the conversion.)
With 15 minutes left in the match, West Point-bound and high school All-American fly half James Downey put one over the line for St. Augustine to make the score, 14-7.
Another powerful Alves run put the Saints in a position to tie it with 11 minutes left. But, a knock-on, a 5-meter scrum, another knock, another scrum, and tenacious Falcon defense denied them.
Torrey Pines' junior scrum half Beau Morgans and Downey, a senior, then began to duel. A poach by Morgans out of a ruck, a strip by Downey in return, a turnover, a kick downfield by Morgans, a catch, a run and great pitch by Downey. But, with 5 minutes left, it was the Beau Show. A long run took the ball down to the 10-meter line. He fed the ball into the scrum, and took it out. The team pushed ahead, and a Saints penalty gave them a scrum on the 5-meter line. With less than 2 minutes to go, Morgans went over the left side for a try to put the match out of reach.
"It was time to do something," Morgans explained.
Saints Coach Ian Denham saw the match much like his Torrey Pines counterpart. "Mistakes, a wet ball, two trys held up at the line, more mistakes. Torrey Pines took care of their chances. We had the majority of possession. If you don't come away with a score, you have nobody to blame but yourself."
Both schools play in the Southern California Youth Rugby High School Red (Single School) Division, and came into the match undefeated, with early season blow-outs to their credit. Saints will host Cathedral Catholic on Friday, Jan. 20, while Torrey Pines will travel to Poway.
---
Get the Del Mar Times in your inbox
Top stories from Carmel Valley, Del Mar and Solana Beach every Friday for free.
You may occasionally receive promotional content from the Del Mar Times.