Big day for local runners at Mt. Carmel Invitational
With the distances expanding to three miles for the boys and 2.75 miles for girls, North Coast runners starred in Saturday's Mt. Carmel Invitational at Morley Field, the first major test of the local prep cross country season.
La Costa Canyon seniors Kristin Fahy and Jacob Stanford captured the Division I girls' and boys' competitions respectively and the Maverick boys were a close second to visiting Loyola (Los Angeles) in the team standings. LCC's Sydney Weaber surged in the back half to win the girls' sophomore division race and Kyra Compton was second in the freshman race.
Here's a further re-cap of the action in the day's top races.
In case there was any doubt, the Mavericks' Fahy demonstrated that she is all the way back (in a cross country sense) from the injuries that plagued her late in the 2017 season and through the early part of the '18 track & field campaign. Looking smooth, serene and completely in control, the defending CIF D-III champion clocked 14:59.1 (six seconds faster than she ran winning it last season) to dominate the field in her first race of the year. LCC coach, Bill Vice, was not surprised.
"It was good to see her running like this in a cross country race but everything from last year has kind of been in the rear view mirror for a while," said Vice. "She was firing on all cylinders and since she really had no competition today, I think she can run faster."
Although she finished a distant 34 seconds behind Fahy, one potential future challenger could be Canyon Crest Academy's Carlie Dorostkar. The junior lopped nearly 35 seconds off her Mt. Carmel time from last fall. "It was good to improve my time and I feel like I'm getting better," said Dorostkar. "I definitely want to stick with Kristin. It might just mean training a little harder, going out a little faster and pushing myself a bit more."
Fahy's senior teammate Jessica Riedman, second at last week's Bronco Round-Up, was a solid fourth in 15:57.5 and another senior, LCC's Natalie Schroeder, also making her 2018 debut, was 17th (16:52.9). Canyon Crest sophomore Elizabeth Emberger was 21st.
Weaber turned in a good tactical race to snag her win in 16:57.3. "Sydney ran a real smart race," said Vice. "We told her to be patient and to make sure the last mile was her best mile. When she came up the hill with the front pack, she was right where we wanted her to be and she had a great finish." Compton's time of 16:43.9 would have put her 16th in the invitational.
Jacob Stanford notched his second win in as many weeks, leading virtually wire-to-wire and hitting the tape in 15:22.7. La Costa Canyon's 58 points put them 17 behind Loyola in the team chase as the deep, talented Cubs put 10 runners in the top 40. Orange County power Dana Hills was third with 98 points.
"I knew there were a ton of good guys from the Southern Section here so I wanted to make sure I got out really early," said Stanford. "I've got a decent start and a decent kick but my real strength is holding a solid pace during the middle part of the race, grinding it out and dropping people as we went along. I wanted my start to put me in position to do that.
"I'm happy with the time but today was more about the place than shooting for a particular time."
His junior teammate Caleb Niednagel was 11 seconds back in second, Jacob's brother, Garrett Stanford was eighth in 15:55.8 and junior Andy Pueschel claimed 17th, getting home in 16:18.7. Garrett Stanford, making his first start as a senior, was coming off a foot injury which caused him to miss last week's two-miler at the Bronco Round-Up as well as a good chunk of training. "Garrett was a little short-handed today," said Jacob after the race. "I'm positive he'll be right next to me and Caleb in the next couple of races."
Speaking of Niednagel, the transfer from Dana Hills, a 10th place finisher at last year's State Meet, appears to have made a seamless transition into the Mavericks' lineup. "Any move where you're switching over like this has its ups-and-downs but it's been pretty smooth," said Niednagel. "They've really welcomed me in.
"Obviously, we're not at top fitness yet, but I'm feeling pretty good. We're still building and I definitely felt that in the last mile of the race today. Overall, the progression's going pretty well and we've got high hopes for both CIF and State."
Key to success at those affairs will be the development of the fifth slot on the Maverick roster. Right now the most significant names in that battle are senior Asher Savage (55th yesterday/17:06.7), junior James Miramontes (31st/16:37) and Jackson Schalow (14th in the sophomore race/17:15.0).
Best among the other North Coast participants Saturday was Canyon Crest junior Andrew Schultz whose time of 16:07.1 earned him 11th in the boys' main event.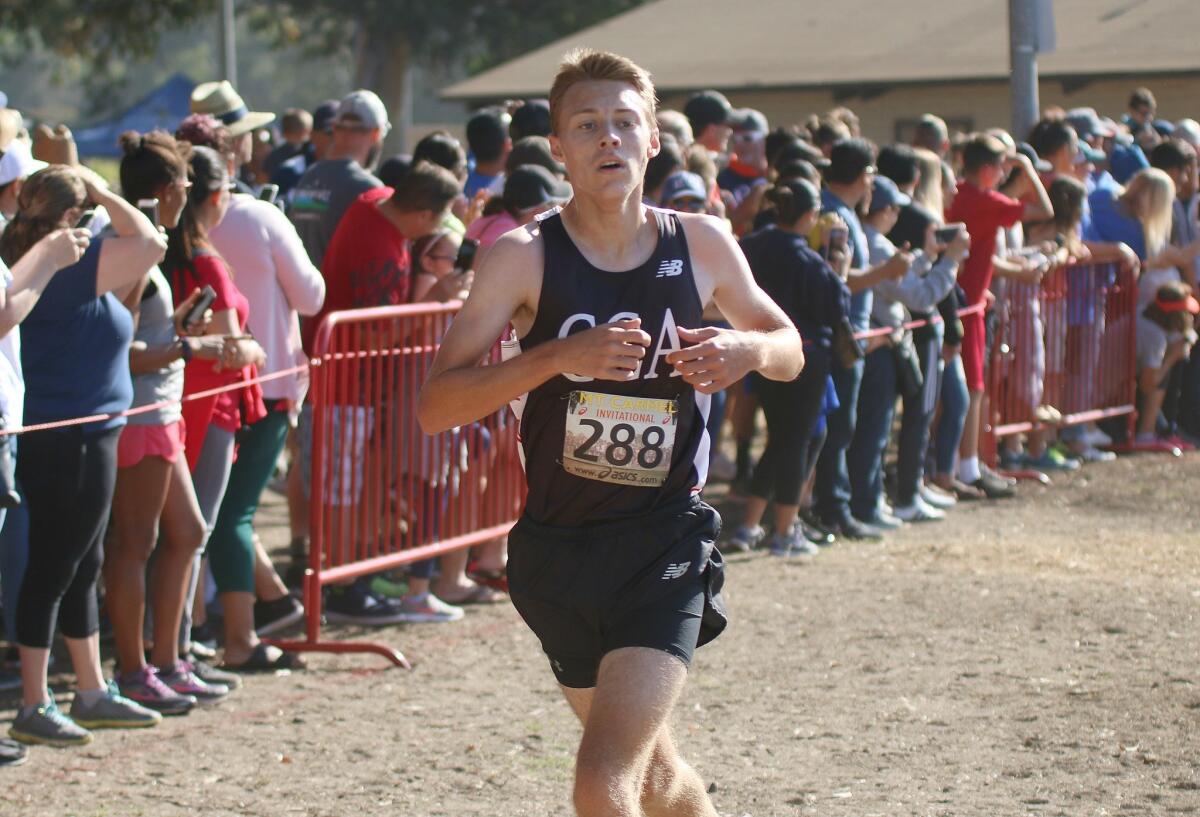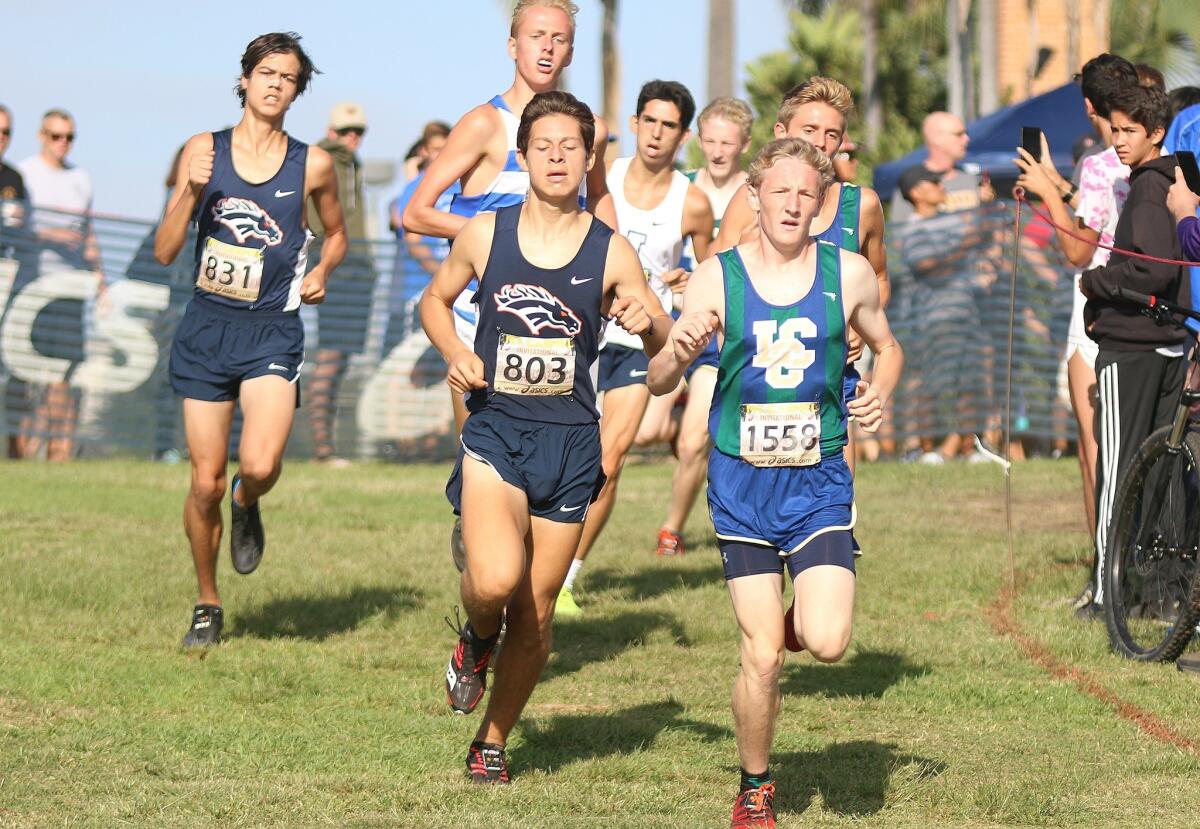 Get the Del Mar Times in your inbox
Top stories from Carmel Valley, Del Mar and Solana Beach every Friday for free.
You may occasionally receive promotional content from the Del Mar Times.