Friends and fun: Foundations for fantastic soccer for two Sharks stars
In today's fast paced, competitive world of soccer, a common topic of debate is the best path for player development. Variables such as coaches, team performance and the player's interest in other activities (sports, school, family, etc) vs soccer are important considerations when and how a player decides to dedicate their time to soccer. As there are many avenues to success, the right answer can be as unique as the player themselves.
Two of the stars from the Del Mar Carmel Valley (DMCV) Sharks Elite Clubs National League (ECNL) program have forged similar, but relatively rare paths to their success: they both started with the sport as recreational players and both stayed within the same organization (DMCV Sharks) as they ascended from recreation to their positions on ECNL teams. Meet Jordan Rowell, the all-ECNL, all Avocado League and US Soccer Player Development Program (PDP) selectee from Sharks G-01 (Crawford) and Mateo Pacelli, ECNL standout from Sharks B-04 (Barton) and current member of the Cal South Olympic Development Program (ODP).
"My first team was the Yellow Unicorns" smiled Rowell, recalling her start, "I remember it being a blast playing with my friends. I always looked forward to practices and games because they were so much fun."
While enjoying time with her friends, Rowell's skills quickly developed under the watchful eyes of her recreation coaches. In recognition of her talent, coaches annually selected Rowell for the recreation All-Star teams that went up against other top programs in San Diego.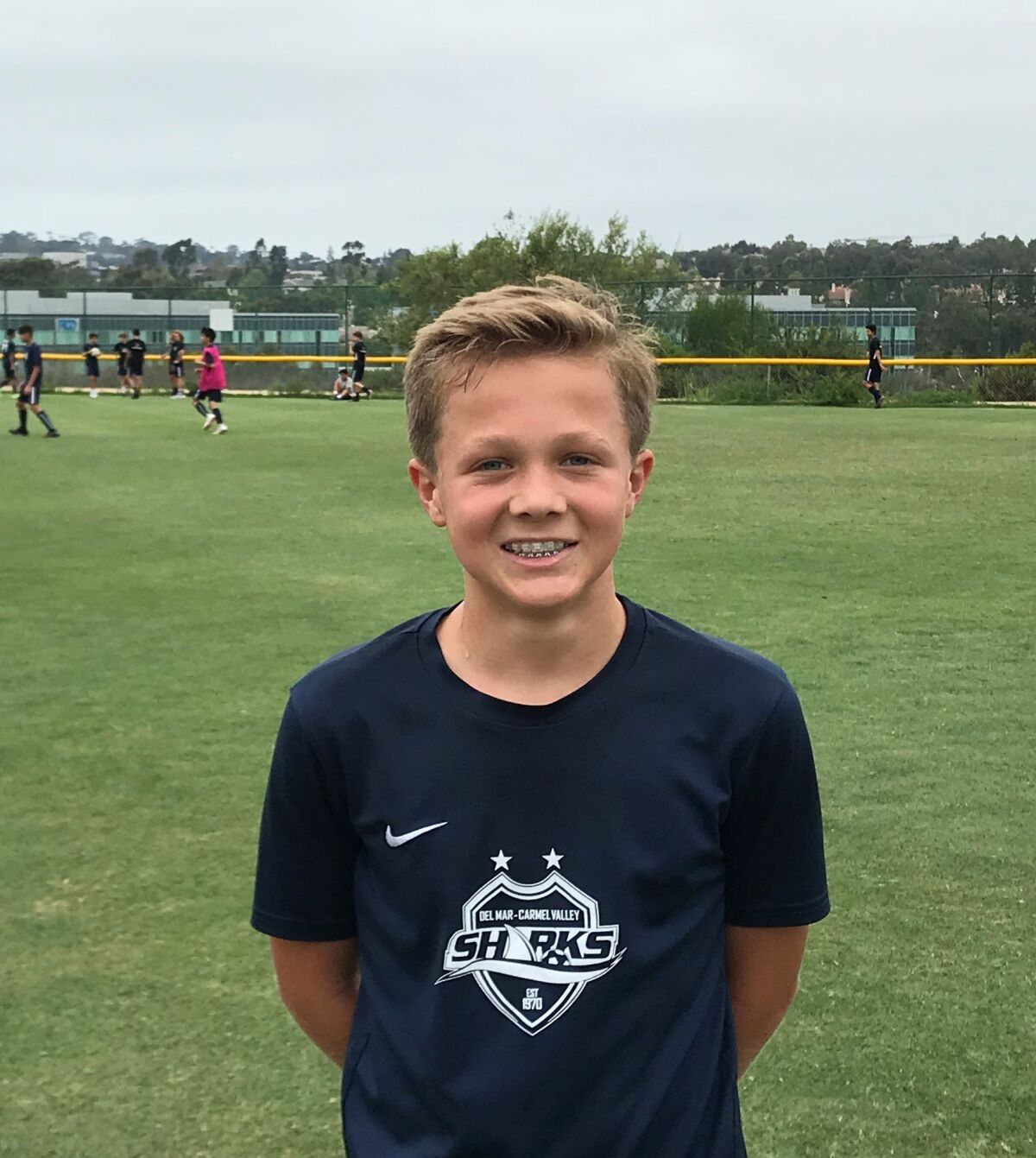 Mateo Pacelli, who started as a "Blue Dragon" within the Sharks Recreation League, shared a similar experience. "I actually started playing with my friends during the half time of my sister's rec games," he recalled, "I couldn't wait to start playing."
Pacelli excelled in recreation soccer for four years and was a regular All-Star selection. Playing on the All-Star team was when Pacelli realized a new kind of fun; the joy in working hard and achieving things as part of a team. "After All-Stars I realized I wanted to keep going with soccer. Playing the All-Star games gave me the confidence that I could make a competitive team."
Members of recreation All-Star soccer teams are highly coveted by all the region's competitive programs as new recruits. Out of all the options, both chose the Sharks. "It was a no-brainer for me," said Pacelli, "the Sharks were where my friends were plus with three sisters playing, my mom wasn't about to drive me long distances when there was a great option close by."
Rowell's reasoning was similar but added that the coach's approach was critical. "The Sharks had great coaches because they pushed us but at the same time made sure we were balanced. It was OK to do other sports and they made sure fun was always part of the equation."
The importance of good coaching is known to all. "The Sharks philosophy is to achieve complete player development by helping players thrive in a healthy learning environment" said Shannon MacMillan, director of soccer at the Sharks. "Our coaches from recreation to the elite competitive teams strike a balance between being demanding and having fun while always maintaining their status as a role model." MacMillan credits this approach for her rise from a recreational player in San Diego to the World Cup and Olympics. Smiling as she thought back, "My first team was the Purple Godzuckis and all I remember was how much fun it was. Its amazing how important the joy of a sport is in the development of today's player.
"I see it in Mateo and Jordan; their path through the Sharks really exemplifies the power of our curriculum and connectivity to our coaches. Their experience as a recreation All-Star was a great opportunity for them to naturally choose their path. Development within the Sharks (recreation to competitive) helps players comfortably move within the program at whatever time is right for them. Everything is done in balance."
And the balance has worked. Rowell, who recently committed to playing for San Jose State, was part of the Cal South ODP in 2013 before her selection to the 2018 all-ECNL team, the 2018 PDP roster as well as earning all-league honors as a sophomore varsity starter for Torrey Pines this year.
Pacelli, who enters Torrey Pines this fall, has been selected for the Cal South ODP program for the third straight year, putting him on the radar of numerous top programs. Although there are many suitors for their talents, both players look forward to staying with their current teams until they leave for college.
The two stars were asked if they had any advice for young players seeking their best fit. Both urged families to seek positive coaching, citing their current coaches (Pacelli – Coach Warren Barton, Rowell – Coach Mark Crawford) as incredible role models. "Don't worry about all the little things (like figuring out the best team to be on), just have fun and work hard," advised Rowell, "As you progress, you will find that the results that come from hard work are the real fun."
Pacelli agreed and added that "being a part of the Sharks the entire time was a real plus. Our team chemistry and relationship with the coaches was what helped with the little things. Sure, there were ups and downs, but the ups were way better. Also, playing with good friends is never a bad idea. Good friends help make any challenge fun."
---
Get the Del Mar Times in your inbox
Top stories from Carmel Valley, Del Mar and Solana Beach every Friday for free.
You may occasionally receive promotional content from the Del Mar Times.