The season ahead: Avocado West girls soccer preview
With U.S. Soccer now expanding its Development Academy program to include a girls' program for the first time, high school teams across the county are feeling the effects of top players opting to participate in this new system of elite player development instead of playing prep soccer. In San Diego, nowhere will this shift have more of an impact than the Avocado West League which is jam-packed with top talent. It's a central topic among that group's coaches and could make 2017-18 one of the most unpredictable seasons ever. Here's a brief preview of the six Avocado West girls' squads.
Having graduated 11 seniors from a team that won its second consecutive CIF Open Division title (and was a perfect 10-0 in Avocado West play) and losing another eight other players to local soccer academies would typically dictate a major rebuilding effort. But don't expect much of a drop-off in 2017-18 for sixth-year Head Coach Martyn Hansford's Torrey Pines girls. "We could put a pretty good starting 11 together with the players we lost," says Hansford. "But we definitely still have a lot of quality players. Unlike previous seasons, though, we'll really be having to find things out as we go along. Come January, we'll have a better idea of who works well together."
Hansford will still have 13 seniors on the roster including Laura Walton, a starting defender who was also part of the Falcons' Avocado West-winning field hockey team this past fall. "I expect Laura to play an increasingly more prominent role this year," said Hansford. "We'll also use her as an attacking midfielder. She be doing a lot of running."
Hansford also anticipates good things out of sophomore midfielder Tatum Lenain who scored the game-winning goal in Torrey's, 1-0, victory over Steele Canyon in the '17 CIF title clash. Although talent should put the defending champs near the top of the heap, Hansford believes his team's approach can be the difference maker.
"The same as the last two years, togetherness is what makes our team succeed," said Hansford. "We've worked hard creating the culture of the team—work ethic, how we conduct ourselves, all the little things. It's a really important part of the end result."
Canyon Crest (2-5-3/T4th)
After tying for fourth in last year's Avocado West standings, third-year Head Coach Sarah Aguilar's Canyon Crest side will be looking to make a push up the standings in 2017-18. For Aguilar, it's been a three-year build.
"We've been on a positive trajectory, return 15 players and have the best pool of talent we've ever had, including four freshmen on the varsity roster," said Aguilar. "Additionally, our players are very motivated. Our seniors have seen the sweeping changes over the course of their careers and have a real hunger to do well. I'm really encouraged by the overall leadership our returners have demonstrated."
The Ravens have used a defense first approach the last several seasons and while they will still be strong on the back end, there may be better times on the way offensively for a team that scored just six goals in 10 league contests last year.
"Two starting defenders graduated but I feel like we will be able to replace them without a drop off in quality and we should be steady in goal," said Aguilar. We return a really solid group of midfielders and that may be the strength of our team.
The trio of senior Molly Gillcrist, junior Emily Gresser and sophomore Sarah Kowak headline that unit and senior Remme Hasley, an all-league pick as a junior, returns as the goalkeeper.
"We didn't score a lot of goals last year but I'm really excited about the potential we have right now in that area," said Aguilar. "Numbers-wise, there are so many more options and we have a variety of different skill sets." Senior Kalaina Anderes is one to watch.
After finishing third in league play last year, the Mustangs shined in post-season play, capturing the CIF Division IV crown. Fifth-year Head Coach Siggy Rittenour has a cast of veterans back but like her Avocado West peers is trying to sort through the new reality brought on by the influence of U.S. Soccer academies in the girls' game.
"We have a really good core that has the ability to play together—attacking and defending as a team," said Rittenour. "There won't be any superstars but we have a group that is older, more mature (12 seniors) and knows how to play."
San Dieguito's strength figures to be straight down the middle of the field. Captain Julia Honda and fellow senior Nadia Haghani will be prominent at the center midfield positions. Also in midfield slots are junior Emma Worthington, who will be a fixture defensively, and swift junior Yarisette Sequiera, who will provide an additional attacking option.
The Mustangs are still looking for some answers offensively, which is where the academy lure is being felt the heaviest. "We've got some ability up front but have to learn to finish our chances," said Rittenour. "In our first pre-season outing, we got plenty enough chances but we need to get our players to the point where they have the confidence needed to put the ball away." That may play into what type of game SDA ultimately plays.
"I'd like to see us play creative, pretty soccer—possession out of the back, keep it super simple, a lot of passing—make the ball do the work," said Rittenour. "But we have a lot of technical steps to if we want to play a more patient brand like that. We're still a work in progress."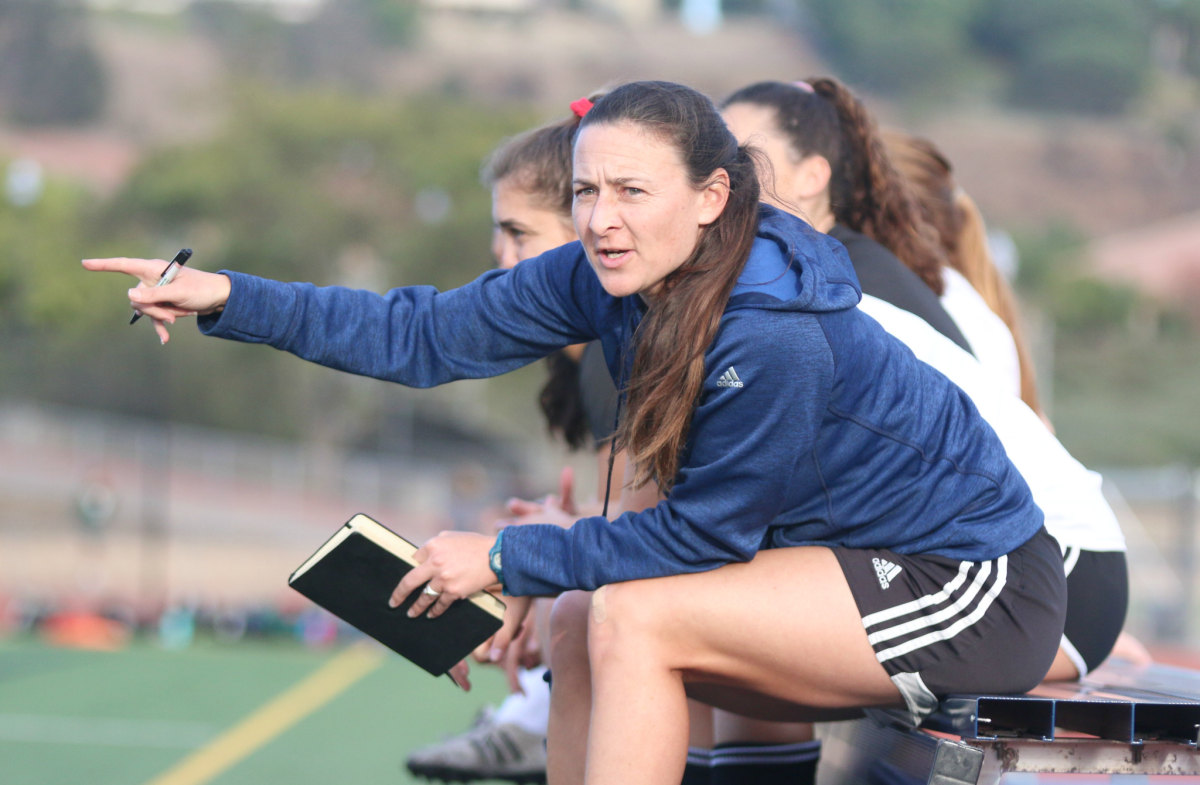 La Costa Canyon (2-5-3/T4th)
La Costa Canyon Head Coach Natalie Eckerlin knows more than a little bit about winning. A former Maverick star, she was part of three CIF championship teams as a player. Now in her sixth year as Head Coach at her alma mater, Eckerlin's teams won two CIF titles and were runner-ups twice in her first four years. Then, last season, the Mavericks tied for fourth in the Avocado West with a 2-5-3 record and had a 4-11-4 overall mark. It's testament to Eckerlin's coaching and competitive knack that she was able to rally that team, a ninth seed, to the finals of the CIF Division I tournament before falling, 1-0, to Eastlake on a late goal.
Eckerlin might be looking for more of that magic with the challenges she faces in 2017-18. LCC graduated 11 seniors and returns just two players from the '16-'17 squad. The youth and inexperience of the roster hasn't caused any sleepless nights though and, in fact, has her enthused.
"We're going to be pretty much a brand new team but it's one that I'm really excited about coaching," said Eckerlin. "They're motivated to work for it and so am I.
"It's somewhat similar to last year. We simply had a less experienced group last year—it took longer to pull together as a team. But, it was arguably my favorite year coaching. I've never been more proud of the progress made. Not having the success we were used to, it would have been easy to just mail it in, but they kept working and finished strong."
LCC's two returners are both seniors, forward Stephanie Hilliard and center back/midfielder Aurora Paget. Eckerlin sees their role as crucial. "I'm depending on them to help our coaching staff reinforce what our program is all about—what the culture and expectations are."
With so many new faces, it will obviously be tough to tell exactly what this LCC team is ultimately capable of doing, but Eckerlin has some consistent standards she'll be looking for. "For me, the most important thing is that they be committed as a group, want to work hard and embrace their roles.
"I always like to have an organized, tough, hard-nosed defense. Attacking-wise, we'd like to be dynamic and creative but also recognize when to keep it simple. I think we'll have some very talented midfield players, both central and out wide. That should be a strength and, hopefully, we'll dominate games in the middle by winning 50-50 challenges and once in possession maintain and do something positive with it"
At Sage Creek, former Oceanside assistant coach Jessica Montiel moves into the head coaching role and has high hopes for a program that is in just its fourth season. "My mindset this year is to build a culture throughout the entire program—all three teams," said Montiel. "We have some great leadership returning in the form of nine seniors. They want to leave a lasting legacy, building on the progress we've had."
The new coach feels the Bobcats' strongest assets may be up front. Senior Bailey Brennan and junior Seal Vlgeland are tone-setters offensively. "They're just solid, consistent players who have great discipline and work ethic," said Montiel. "The rest of the team feeds off their energy." Junior midfielder Mary Feldman should lend additional attacking punch from the midfield.
Although maybe not as far along as the offense now, Montiel is excited about the potential of her back line. "There's a lot of positives with the defense," said Montiel. "They're mostly juniors and seniors so that experience will be huge." Senior center back Cami Tomaneng should be a steady force.
Whether or not it challenges for this year's Avocado West title is an unanswered question but regardless the results, first-year Head Coach Dean Balent's Carlsbad club may be the league's most interesting watch. Balent, who has recent experience on the boys' side at Carlsbad, steps in for Rick Kreyser atop a Lancer squad that was second in the league and part of the eight-team CIF Open Division bracket a season ago. Still learning the names and capabilities of his players as well as waiting for some to work through outside commitments, the rookie mentor is putting heavy early emphasis on the non-athletic aspects of team-building.
It doesn't take much prompting for Balent to launch into the benefits of the family atmosphere and sense of community running through the entire Carlsbad athletic program. And when asked for words that best describe his program's culture there was little hesitation.
"Fulfilling (from the girls' standpoint), enjoyment and determination," said Balent. "I want every girl to get everything out of this that she can, individually and collectively. I want playing soccer to be an escape from everything else for a couple of hours every day and I want them to have goals and be willing to put in the time needed to achieve them."
On the pitch, Balent will have a returning block of 10 players to build on, including two defensive stalwarts in senior outside back Molly Kube, one of the team captains, and junior keeper Audrey Ketterer, whose brother, Seth, was an All-CIF goalkeeper for the Lancer boys' team last season. "Molly gives us a strong personality and winning attitude on the back line," said Balent, "and Audrey has a calming effect on our team in that they know she's rock solid in the net."
The other end of the field may be the Lancers' strong suit. Balent has a stable of fleet strikers, the most attention-grabbing being freshman center forward Lexi Wright, whose club team reached the national finals last year. "Lexi has phenomenal speed and as a group, our forwards are all very fast," said Balent. "With the speed we have as an overall team, we're looking to force our opponents play more defensively and honestly. Hopefully, they will not be able to cheat up and be as freelancing as some of them might like."
The Lancers will get an early glimpse of where they stand, hosting the state's No. 2 ranked team, Junipero Serra (JSerra) of San Juan Capistrano in their second game.
Get the Del Mar Times in your inbox
Top stories from Carmel Valley, Del Mar and Solana Beach every Friday for free.
You may occasionally receive promotional content from the Del Mar Times.