Unsung stars making local prep sports scene glow
High school athletics is an ingrained piece of Americana. Across the country the hopes, dreams and skills of thousands of prep athletes are on display every week with games in the biggest cities and the smallest rural towns. The pride of campuses and communities is played out both in large stadiums before impressive crowds and on patchwork fields with just family and friends watching.
The coaches and stars are often well-known local figures, some of the more successful even become quasi-celebrities. But making sure the players reach the fields, keeping them safe and healthy, getting spectators through the gates, generating the revenue necessary to allow the programs to run efficiently and handling a plethora of additional tasks, big and small—those necessities are in the hands of a small army of administrators, volunteers, parents and friends, without whom, the shows never happen.
In meeting some of these relatively "invisible" difference makers, one is struck by the surprising number of similarities in their personalities and purposes. They are giving people, unfailingly putting students and their institutions first, loyal to a fault, multi-talented and often motivated by a higher cause. Most of all, they are simply good people, hard-working, unpretentious, the kind you would be happy to have living next door.
Here is a quick look at six of those unsung heroes who, behind-the-scenes, represent many others like themselves, making the world of high school sports turn on San Diego's North Coast.
PATRICIA HARGRAVES – Torrey Pines High School
Since August of 1996, Patricia Hargraves has been the ASB Finance Secretary at Torrey Pines High School. With a smile on her face, Hargraves simplifies the role of her office when saying, "It's supposed to be the place where people come to pay for stuff." In reality, it's just a little more than that. While helping handle the ASB budget, running the student store, publications (including yearbook and school newspaper) and supporting athletics, she has oversight of "several hundred thousand dollars" annually. "I stay pretty busy," she said. "There's a lot of responsibility and it can be pretty stressful at times."
Her involvement with athletics is widespread. Take home games for the No. 1-ranked Torrey Pines football team, for example. Hargraves hires everyone that works at Ed Burke Stadium from police, security, ambulance service, ticket sellers, concessions workers and outside vendors, even the chain gang—anything that requires contracts or cash handling.
Hargraves worked in real estate sales, escrow and loan processing before becoming part of the Torrey Pines staff. It's a move she does not regret. "When you're working in a financial services sector, the ups-and downs of the economy and real estate sales, that can be really hard when you're working with other peoples' money," said Hargraves. "In my job, I still enjoy the financial aspect, the bookkeeping, but I really love working with the kids.
"I love talking with them, planning events with them and helping them succeed. Charlenne (FalcisStevens), our athletic director is great and our coaches are good to work with—they're here for the right reasons." The admiration goes both ways.
"Patricia is incredibly creative and supportive and is always looking out for the well-being of Torrey Pines High School," said FalcisStevens, who runs one of the top comprehensive athletic programs in the state. "She is the link that holds ASB and Athletics together. That relationship makes our program better."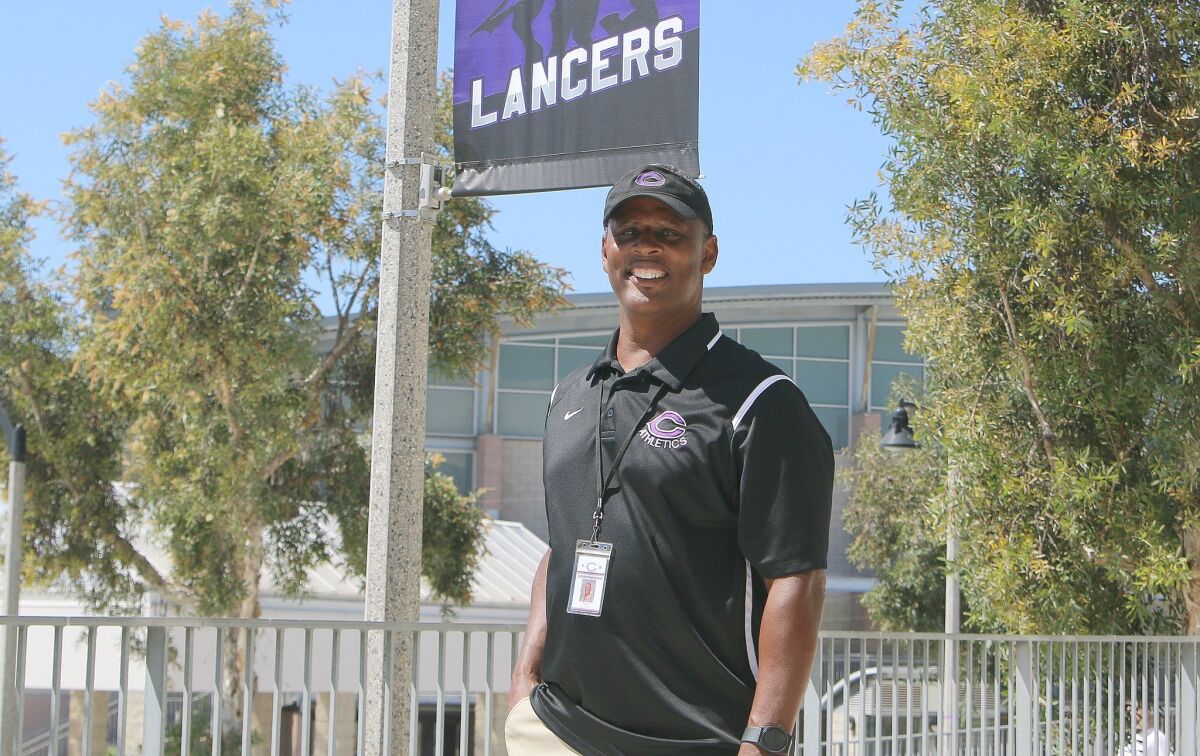 TONY SULLIVAN – Carlsbad High School
In 25 years at Carlsbad High School Tony Sullivan has held many posts. Formerly an assistant football coach, he still serves as the strength and conditioning coach and Head of Security. At 61, despite recovering from recent hip surgery, Sullivan, a football standout at both Oceanside High and Mira Costa College, looks like he could strap on a helmet and hold his own. A veteran of the printing industry, he "accidentally" took what he figured would be a short term position involving athletics at Carlsbad while waiting for an on-campus printing job to materialize. The rest, as they say, is history.
In Sullivan, one immediately senses the kind of genuine guy anybody would enjoy just hanging around with. According to fifth-year Athletic Director Amanda Waters, it's hard to calculate what he means to her school. "Tony is the glue that holds everything together," said Waters. "He's been here through so many administrations, coaches and staff and knows the history of our whole campus.
"He is second to none when it comes to helpfulness, reliability and professionalism. Tony is close to retirement but will still run security at football games if I need help. He is, in my opinion, one of the most important people at Carlsbad High."
When asked what keeps him motivated, Sullivan answer is immediate and uncomplicated. "I enjoy it," he said. "I enjoy kids, seeing the outcome and making a difference in their lives.
"Plus, the staff and supporting staff are outstanding and the camaraderie around here is really special. It's a great community. The kids are so involved and so are the staff members."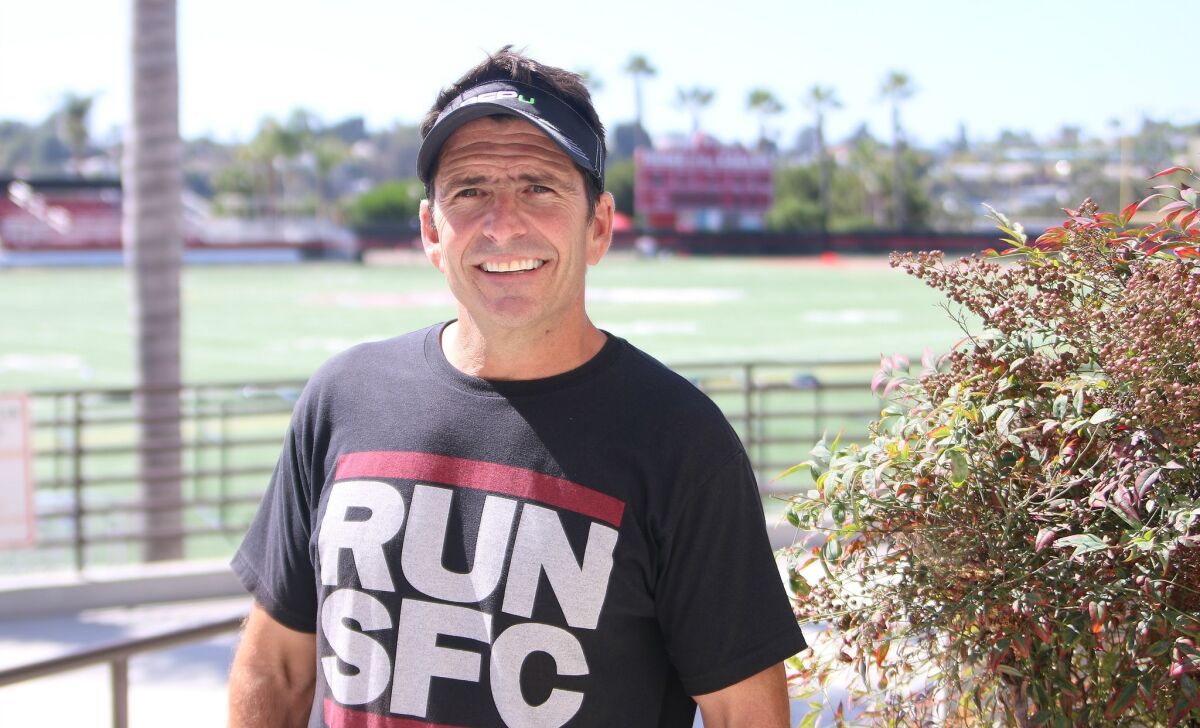 DOUG MILLER – Santa Fe Christian High School
Doug Miller has been affiliated with Santa Fe Christian for over 20 years and watched his own children graduate from school there. He was formerly the head track & field coach as well as booster club president and is currently the wide receivers/special teams coach for the Eagles' football team. He's also a full-time partner in REPu Sports, a growing Southern California corporation that provides digital platforms for high schools nationally. Everything he has done and is currently doing at SFC has been on a volunteer basis. His outlook on his work there is unique.
"We definitely want to get the best out of our guys on the field, but I don't necessarily coach football to make them great football players," says Miller. "I think we live in a world filled with all sorts of shortcomings and all sorts of distractions, for young men in particular.
"I feel that athletics, especially football, provide some of the best environments to teach them how to survive through tough times and not get tangled up in some of the difficulties this world can present."
The wins and losses aren't what gives Miller the most satisfaction.
"The most gratifying piece to me is actually two-to-three years after a kid graduates, when he calls me up and says, "Coach, I have a question, I have a problem or I need your help—what should I do?" explained Miller. "That tells me I gave them enough good advice and steering that down the road, they're still seeking me out for an answer."
SFC Assistant Athletic Director Robbie Roberts understands that relationship.
"Doug is one of those rare people that gives with no expectation of anything in return," marveled Roberts. "The number of students he has helped and impacted is literally in the hundreds. Doug has a true servant's heart."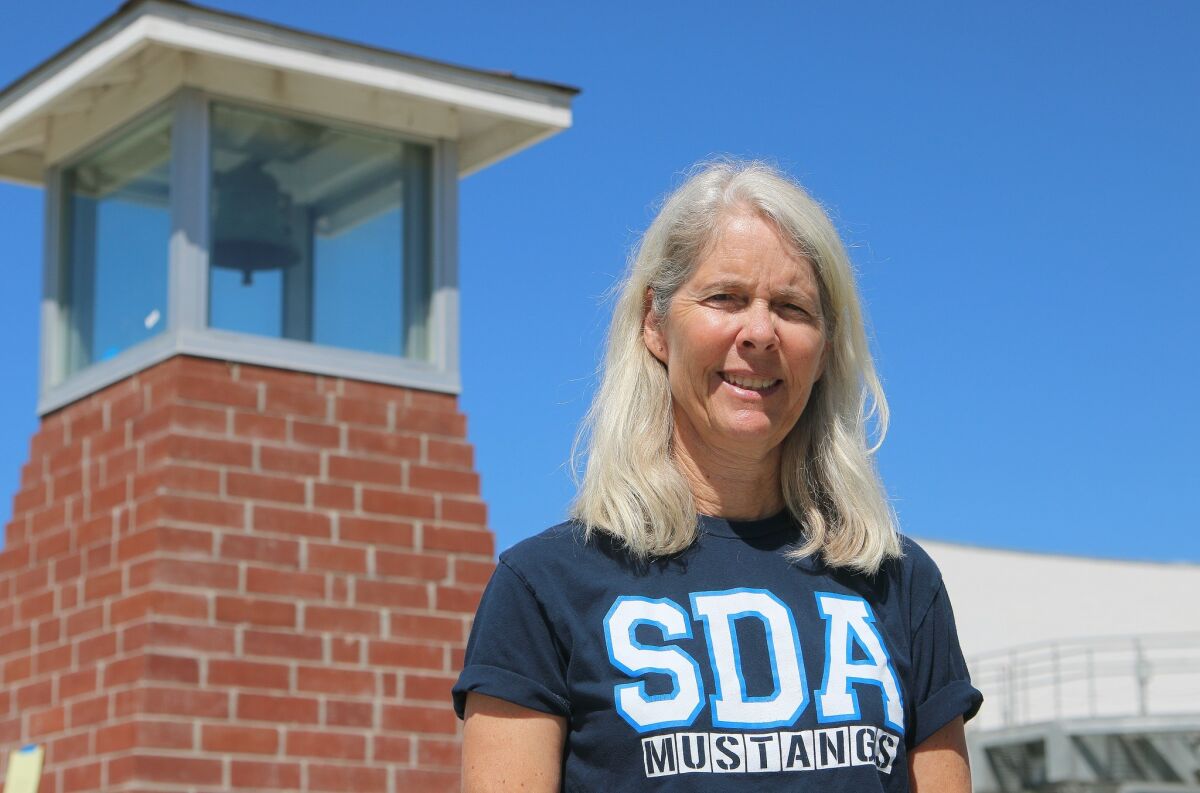 DARBY GALLAGHER – San Dieguito Academy
In her eighth year as Treasurer of the San Dieguito Academy Athletic Council, Darby Gallagher has seen each of her four sons play sports and graduate from SDA. The two eldest have attained degrees at Boston College and Pomona-Pitzer respectively, while the younger pair are both undergraduates at UCLA. That alone would seem to explain why donating her time to Mustang athletics has been worthwhile. For SDA Athletic Director Scott Jordon having Gallagher on board even after her sons have departed is a special gift.
"Darby wears many hats so I go to her for a number of different things," says Jordon. "She's the money manager, knows all the do's and don'ts and is so vigilant about making sure that those involved with our program who don't know those things are educated.
"She runs the financials for all of our teams. The district provides a budget that requires us to generate additional revenue to balance our expenses, so her management of the fiscal side is what lets the kids do what they want to do on the field. She has a great impact on our success."
An economics major at UC Santa Barbara, Gallagher worked in public accounting, passed the CPA exam and also worked in private industry prior to her tenure at San Dieguito. There, she oversees reps from each of the 20 Mustang athletic teams, explaining how fund-raising, accounting and innumerable things like distributing equipment work. Her husband, George, was a 10-year member of the Athletic Council and she was one of two representatives for the boys' soccer team before moving into the treasurer position.
"Being a rep is about a two-month obligation but treasurer is really a 12-month job," acknowledged Gallagher. "I have an accounting background, so this is what I do. I'm just a numbers person.
"It's fun, it keeps me busy and this is a great school. With the two reps per team, there's always turnover so you're seeing new faces every couple of years, making new friends."
A San Diego native and former multi-sport prep athlete at Patrick Henry High School, Gallagher sees high value in having a strong athletic program at the high school level.
"I think athletics is really important," she said. "It was great for me and I wanted my kids involved at a school where they could play more than one sport if they wanted.
"The friendships you make are long-lasting and I think team sports, win or lose, are so beneficial to those kids—just going to practice and following through on a commitment is something that will benefit them their entire life."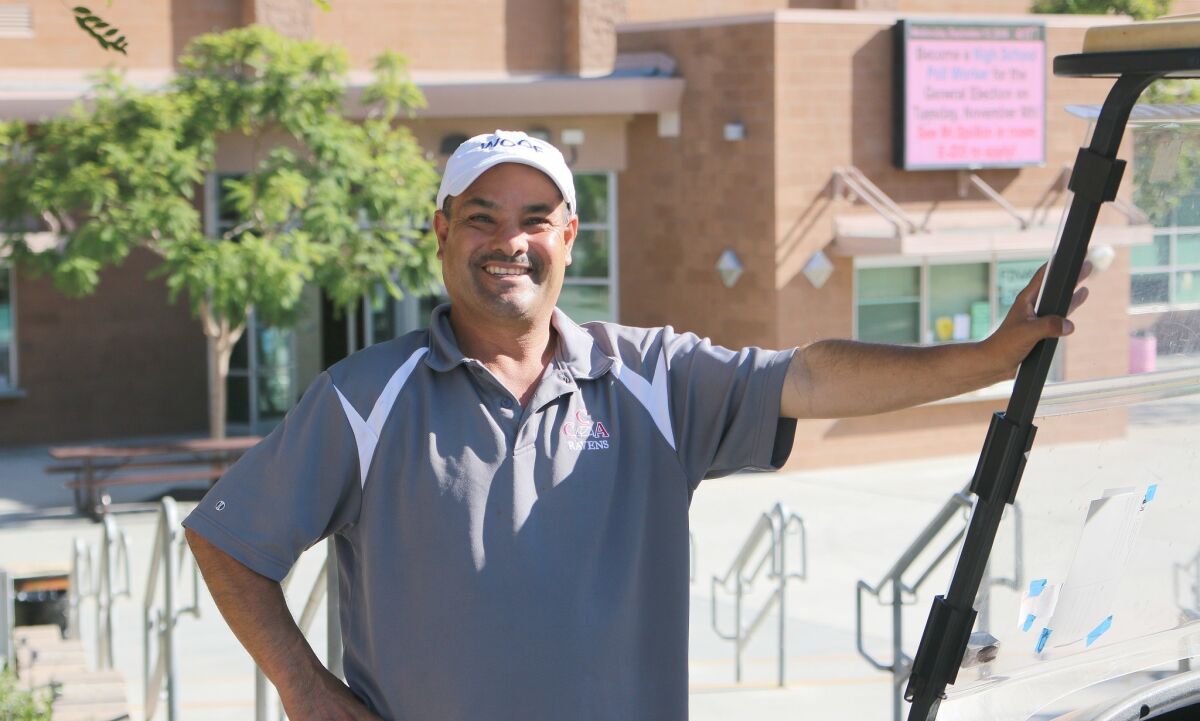 HECTOR GUTIERREZ – Canyon Crest Academy
Just call Hector Gutierrez "the Mayor of Canyon Crest Academy." Ride shotgun for a trip around campus in Gutierrez's golf cart and it feels like every person at the school not only knows him by name but goes out of their way to make a connection. Of course, it doesn't hurt that Gutierrez is one of the friendliest, most gregarious individuals you'll ever meet and as Campus Supervisor is often front and center wherever crowds gather at CCA, be it rush hour traffic in-and-out or any kind of home athletic event.
"Hector may be the campus supervisor, but he does so much more than that title entails," marveled first-year Athletic Director Dustin Lackey. "He greets everyone coming and going and it's really incredible how much he truly loves our school and the students here. He is the like the bond to all things CCA."
Gutierrez has been at Canyon Crest since it opened in 2004, transferring over from Torrey Pines. Since he is the most consistent figure at CCA home games, no matter the sport, it is amazing that he doesn't actually have an official responsibility within athletics. But the combination of the kids, the sports and his character make it seem almost impossible that he doesn't. When his daily shift ends around 3:45 p.m., Gutierrez swings into athletic mode.
"Of course, I like to watch the sports, but I'm really there to support the students," he says. "I've been here since the beginning and it's a big thing for me. Our students are amazing and are super nice to me, so I want to give back to them.
"I'm always around these people, they are like my family. I feel like a part of the athletic department and I help them as much as I can because that's my nature. If I see something that needs to be done or am asked to do something, I say 'If I can do it, why not?' These kids and our coaches give me so much energy."
When Gutierrez heard last week that the Serra High School field hockey team had extended its winning streak to 81 games and was nearing the all-time record of 86, it brought back one of his fondest memories—Serra's last loss. It came to Canyon Crest in the 2013 CIF Championship game, a contest where the Ravens prevailed in overtime. Gutierrez had to fly out of LAX to Guadalajara that night, picking his aunt up in South El Monte en route. Despite a 5 p.m. start time, he was at the game, luggage in his trunk, and stayed until the end, getting souvenir photos and helping prevent an altercation between fans of the two sides before leaving. He finally reached LAX an hour and a half later than intended but somehow made the flight and savors the memory.
"That day was a big day but a very stressful day," recalls Gutierrez. "We won the CIF. It was amazing. When I saw about the streak, it brought everything back. For me, that was unforgettable. I was part of that." And so much more at CCA.
CHAR GROGAN – La Costa Canyon High School
Now in just her second year as the Athletic Secretary at La Costa Canyon, Char Grogan has the type of infectious personality that can't help but leave others with a smile and positive feelings. As veteran LCC Athletic Director Kari DiGiulio says, "she does pretty much everything." That would include clearing athletes for eligibility, inputting schedules, arranging for transportation, handling athletic communications, coordinating game day activities and selling tickets. The list goes on.
The Secretary of Admissions at Diegueno Middle School prior to taking her current position at LCC, Grogan stepped into treacherous waters, replacing Nancy Wease, whose 20-plus years on the job made her something of an icon at the school. But Grogan, whose five children participated in athletics, ASB and dance, among other things, at Carlsbad High School, has navigated her new role with aplomb.
"I love it, love athletics," said Grogan. "I just love that vibe and being around it—seeing the kids grow, mature and perform the way they do in their sports and in school. I was so excited to get back into an environment where I could work for kids."
According to Grogan, the new assignment has presented its challenges, but that's part of what makes it fun. "I think the toughest thing is coordinating all of the schedules. There are so many components to my position and if one part doesn't work out, it can affect everything else. It's all about fine-tuning and making sure nothing falls through the cracks because the buck stops here."
From DiGiulio's vantage point, Grogan's transition has been pretty much seamless.
"Char had some big shoes to fill coming in because Nancy was the backbone of the department," said DiGiulio. "But I knew she would be a great fit. She is one of the most selfless and hard-working people I know.
"Her energy is contagious and she has tackled the position head-on."
Get the Del Mar Times in your inbox
Top stories from Carmel Valley, Del Mar and Solana Beach every Friday for free.
You may occasionally receive promotional content from the Del Mar Times.