Local taekwondo champ has Olympic dreams
Carmel Valley's Andrew Heiati has dreams of representing his country in the Olympics after winning an individual junior sparring title at the American Taekwondo Association (ATA) PanAm Championships in Peru last October. The 16-year-old black belt is a junior at High Bluff Academy.
"The best part was holding the flag and running with it and representing my country," Andrew said. "To fight for the title and fight for your country in another country is really powerful."
Andrew began doing taekwondo in kindergarten, as part of an after-school program hosted by Church's Martial Arts.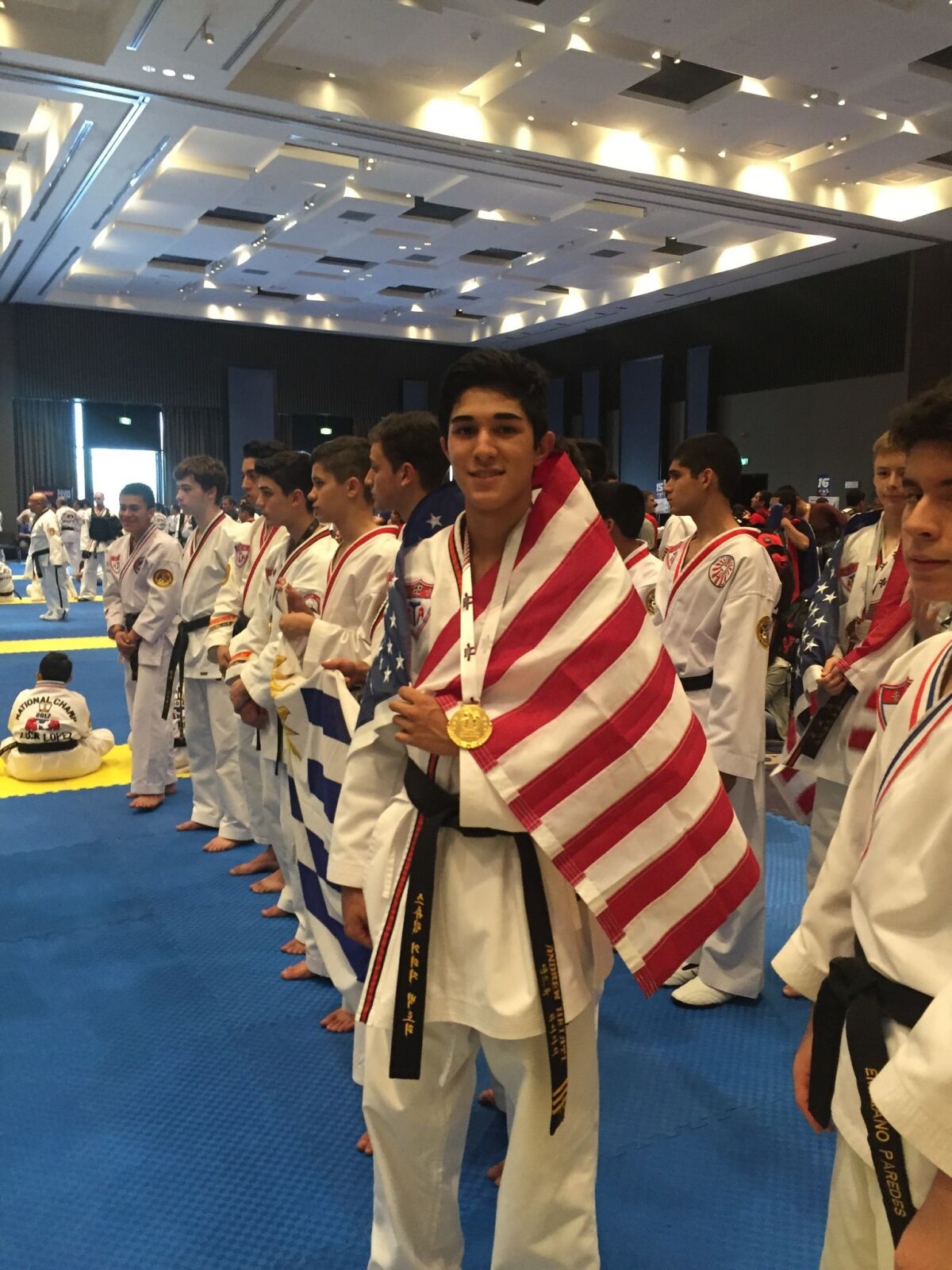 "I really liked martial arts and the idea of knowing self-defense and how to defend yourself at any time," Andrew said. "The more that I learned, the more I liked it as a sport and I became more competitive."
Andrew began competing at age 10, taking his training more seriously at Church's Martial Arts in Carmel Valley. He was named to the USA Taekwondo Cadet National B-Team in 2015 and has competed internationally in Costa Rica and Mexico. This April, he won the National High School Championship, hosted by the National Collegiate Taekwondo Association in San Diego.
Andrew, who enjoys sparring the most, said his strength is his speed, the result of a lot of quick-burst training. Thanks to his flexible school schedule at High Bluff, Andrew is able to train at Church's five to six days a week, two to three hours a day. He also often does cardio on his own, running on the beach or in the hills of Gonzales Canyon with his mom, Young.
Taekwondo has become the family sport, both Andrew's brother and father practice taekwondo and his mother, Young, also took it up after being inspired watching Andrew.
Last October, in addition to his individual title, he also was a ATA PanAm Champion in Junior TEAM Sparring As much as Andrew enjoyed the culture and experience of visiting Peru, he learned a lot from facing competitors from seven different countries in the PanAm championships.
"It's a different environment," Andrew said. "In the U.S. I fight people that I see a lot in competitions but in Peru I fought people from all over South America and saw many different styles."
On the way to the title, he fought in five matches and his first match ended up being his hardest
"My first match went into overtime against the best kid in the competition and the previous title holder," Andrew said of the match against a competitor from Paraguay. In overtime, he won by one point with a kick.
For the championship he bested a competitor from Uruguay, cheering loudly, pumping his fists and running around proudly waving the American flag.
In the coming season, Andrew will go on to compete at the Junior Olympic trials in March, the Youth Olympic Games, the Junior Team Trials for the World Championships and the US Open. The confident young man has high aspirations for his academic and athletic careers: he plans to study mechanical engineering in college (Stanford, UC Berkeley and MIT are on his list) and he would like to continue competing with his ultimate goal of representing his country in the Olympics.
Of everything he's learned from the sport of taekwondo, he said the most valuable lessons have been in goal setting and planning.
"You can do anything if you work hard," Andrew said.
---
Get the Del Mar Times in your inbox
Top stories from Carmel Valley, Del Mar and Solana Beach every Friday for free.
You may occasionally receive promotional content from the Del Mar Times.