Canyon Crest girls top San Dieguito in all North Coast CIF Open Tennis final
On a near perfect day at San Diego Tennis & Racquet Club, the Canyon Crest girls tennis team capped a near perfect season Thursday, Oct. 25,dominating a very good San Dieguito squad, 15-3, to win its first-ever CIF Open Division Championship. CCA's victory officially ended a Torrey Pines run of 28 consecutive section titles.
"I'm just so happy for our girls," said Head Coach Chris Black, who has been with the program since the school opened in 2004. "They worked really hard this season. I wanted them to enjoy the moment and I think they did—they earned it."
The Ravens, who downed Rancho Bernardo and La Jolla Country Day to reach the finals, now have a record of 20-0-1. They asserted themselves early against San Dieguito, winning all six matches in the first rotation and duplicating that performance in the second, making it a stress free afternoon for Black.
"I got to be a spectator today," he said. "After the first rotation, you could see it was going to be our kids' day.
"Being able to sit back and watch was fun and it was special to have two non-football-playing, academy schools who have never won an Open Championship playing each other."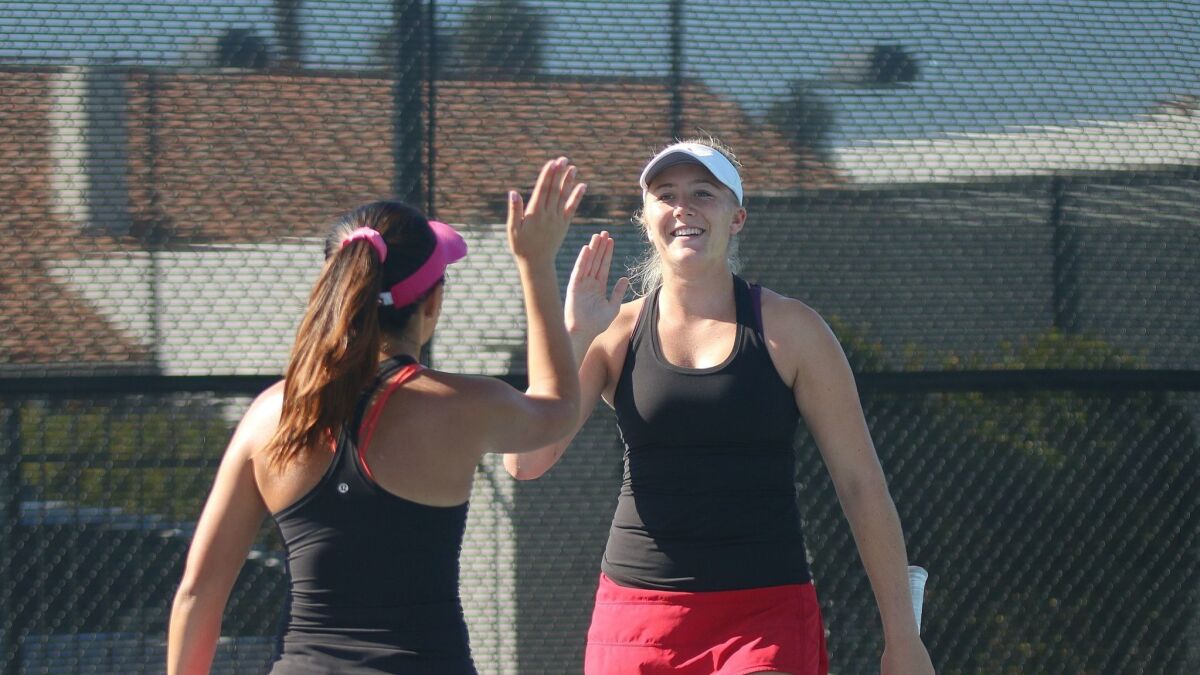 Canyon Crest's powerful, ultra-young starting lineup featured Irene Huang, Katie Codd and Giulia Hayer in singles, as well as the doubles tandems of Emily Fowler-Lily Lin, Lyna Fowler-Asha Gidwani and Katrina Patikh-Sofia Ung. Of the nine, there were five freshmen, one sophomore, two juniors and Lin, the lone senior. Despite the youth of his roster, Black was confident going in.
"No one really knows what they'll be like in certain pressure situations but I didn't really feel there was a chance they would lag," said Black. "Because of the way this team has been all year and the fact that our margins of victory have been so wide, I never thought they'd be in danger."
The Ravens were runners-up to Torrey Pines at this event last fall and have been at least a semi-finalists three times in the past four years without grabbing the top rung. One player who had previously experienced the euphoria of capturing a CIF crown was junior Emily Fowler, a two-time champ at Torrey Pines before transferring to CCA after her sophomore year. A winner in both of her doubles matches Thursday, Fowler said this one was unique.
"Winning the championship isn't that much different but this time if feels a little better," she said. "On top of the title it was also special to be part of CCA's first Open championship.
"Following the match, one of our senior captains, Sofia Kwee told me how 'just seeing the progression from her freshman year was so huge and coming from there to here was crazy.' She was so proud."
Black felt a lot of factors contributed to his side's magical season. "It starts with talent and we are loaded, which is unprecedented in and of itself," said Black. "But the make-up of this team is very different than those we've had that came close in the past. Because we're so top-heavy with young talent, it was cool to see the seniors lead from a different standpoint—from the role players' perspective—yet still garner the respect from their younger teammates. That says something about the young kids too." All seven of the CCA seniors who were eligible saw at least one set of action in the final.
The youth of his roster means that Canyon Crest may be capable of starting a bit of a dynasty all its own.
"Culture has always been our calling card and now with tremendous players, that's a tough combination to beat," admitted Black. "I'm not saying we're going to win 28-in-a-row or anything close to that, but we've definitely got a good thing going.
If the Ravens want to make it just two-in-a-row, they might find a familiar foe in their path. San Dieguito Coach Joe Tomasi, finishing his 22nd year at SDA, fielded a unit that is something of a mirror image in terms of prep experience. He has just three seniors on his roster, only one of whom is a regular in the starting lineup. Although the Mustangs finished second in last year's CIF Division I tournament, he confessed that the giant step forward they took in 2018 was not something he anticipated.
"Honestly, I didn't foresee this at the start of the year," said Tomasi. "But, as we got going, got past Torrey Pines and Rancho Bernardo twice apiece, I starting thinking 'maybe this is a team that might really do some great things.' "
As recently as a month ago, Lauren Bear, one of the team's veterans, was 100 percent focused on accomplishing the team's stated goal of avenging last year's finish by winning the CIF Division I title. Her comments following the loss to Canyon Crest reflected a shift in thinking.
"At first we were all a little bummed but when we looked at the CIF Open seedings, we got really excited and thought we would have a great chance against those teams," said Bear. "Being in the Open finals was insane and I think a greater accomplishment than winning Division I would have been." Even the eventual outcome didn't dim Bear's enthusiasm.
"I'm so happy. Our effort was there but CCA was the better team. I'm OK with losing to a better team when we leave everything we have on the court and we did that."
SDA entered Thursday's clash with a 19-2-3 mark, one of the losses, an 11-7 decision at Canyon Crest only eight days prior. That secured the Mustangs the No. 6 seed and a quarterfinal date at No. 3 Coronado, the team that handed them their other loss (10-8 in SDA's first match of the season). After dispatching Coronado, 12-6, No. 2 Bishop's was next up. Again on the road, San Dieguito raced out to a 5-1 lead after the first rotation but had to survive a furious comeback by the Knights, prevailing, 80-74, in a set score tiebreaker to merit their spot in the championship tilt.
Those two wins were impressive enough, but having achieved them with a severely hobbled version of No. 1 singles player Indya Nespor made the run a remarkable one. While jogging along the perimeter of the court a day before the Coronado match, Nespor stepped on a stray tennis ball, rolling her right ankle and sending Tomasi hastily in search of a Plan B. He moved his game, but limited, star to doubles and shuffled the rest of his lineup around accordingly. As they have all year, the Mustangs handled the challenge with aplomb.
The singles crew that opened play Thursday for Tomasi included Lauren Rose (jr.), JoJo Bear (fr.) and Halle Schaffer (so.). The three doubles teams were Nespor (so.)-Lesa Ritchie, Kennedy Urcelay (jr.)-Lauren Bear (jr.) and Amber Tse (sr.)-Leko Ritchie. Expect to see the Mustangs get over this loss and be ready to roll in 2019.
"The score doesn't show it, but we were playing extremely well," said Tomasi. "Sure we're disappointed but they're so talented and so deep, you have to give them credit.
"I told our girls that there are 90 other teams out there that would love to trade places with us—enjoy it, it's good stuff." It just may not be good enough for these Mustangs next year.
Championship Photo Gallery below: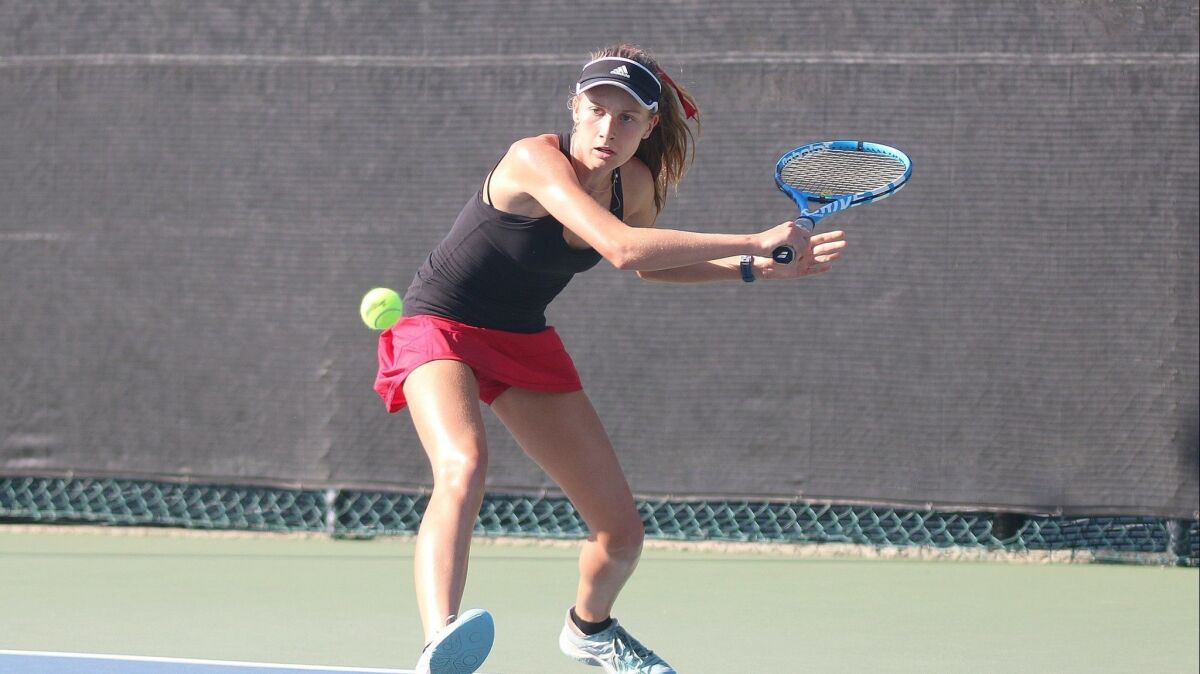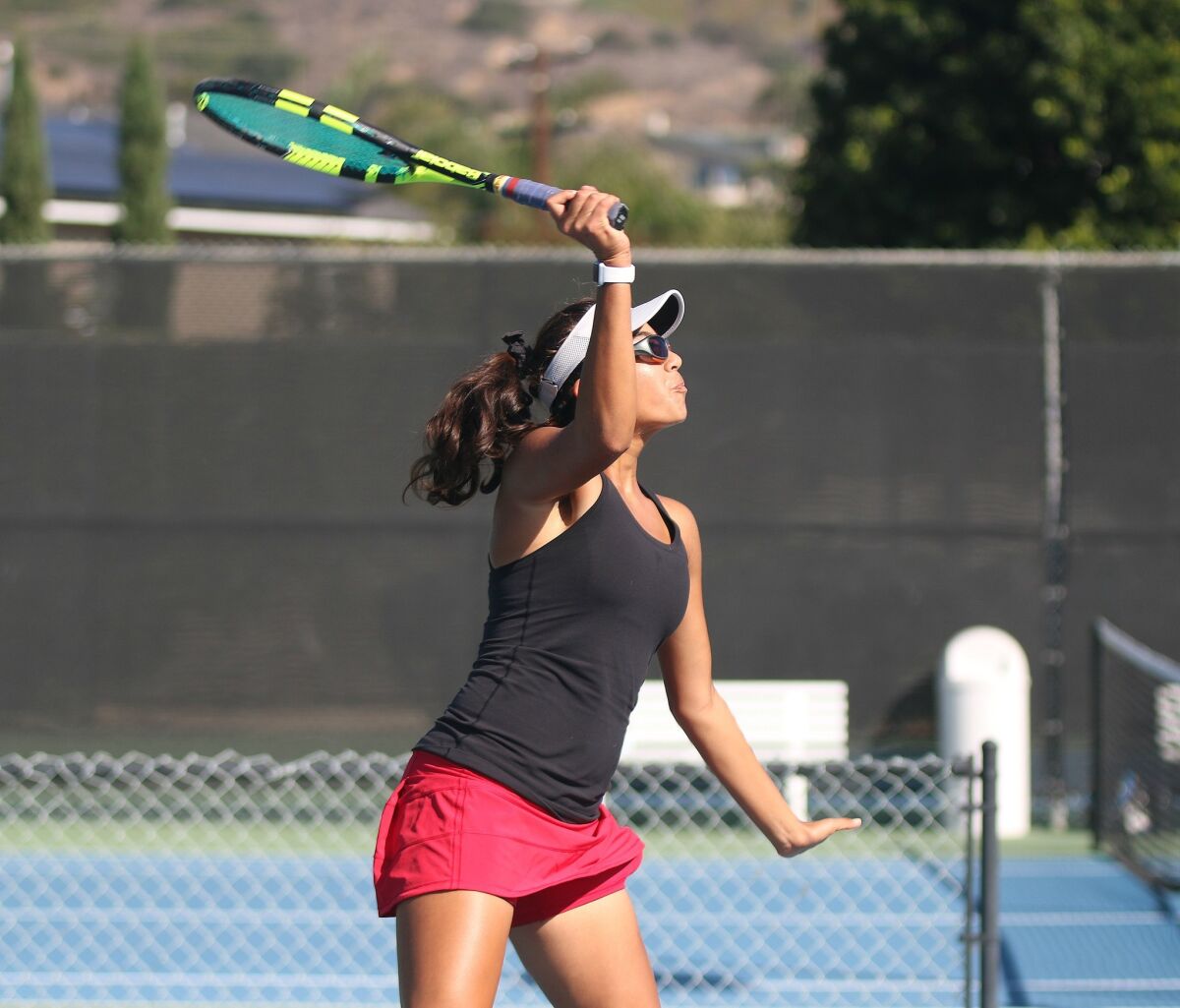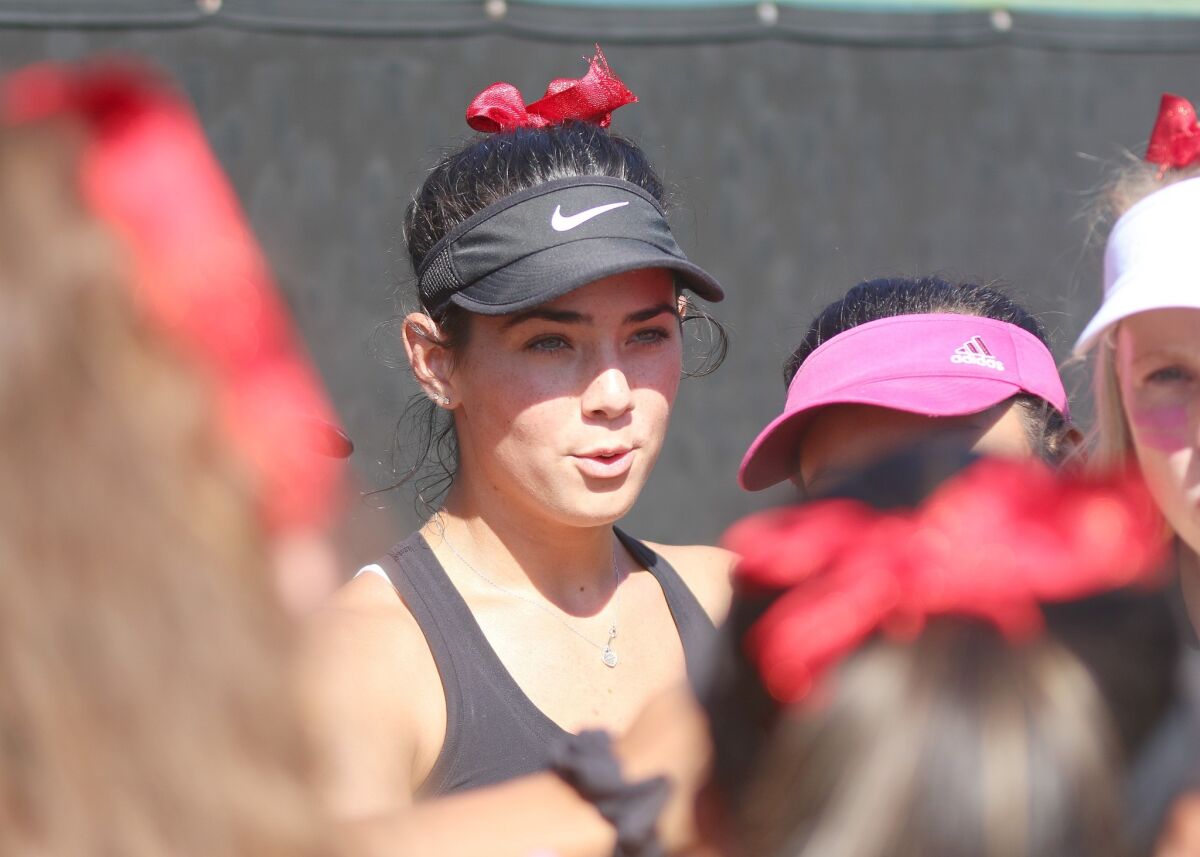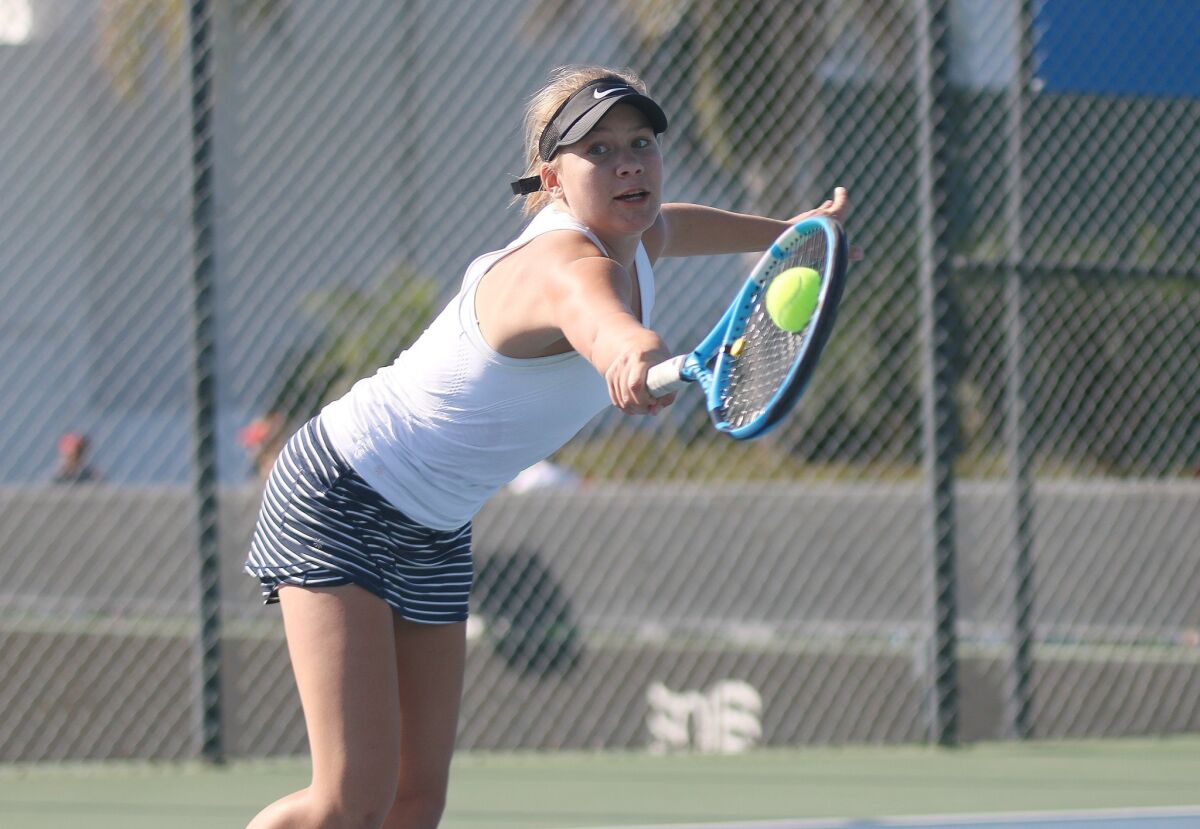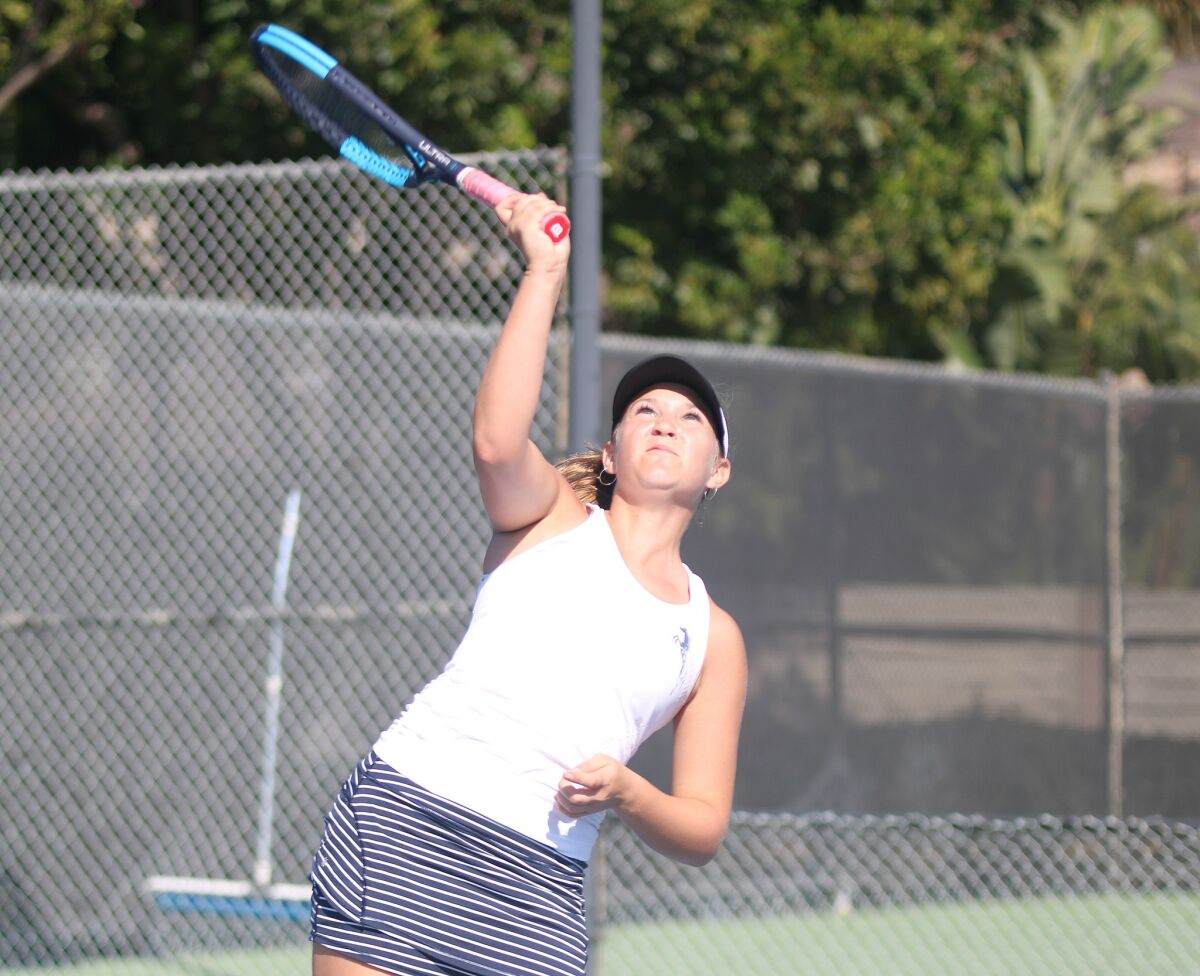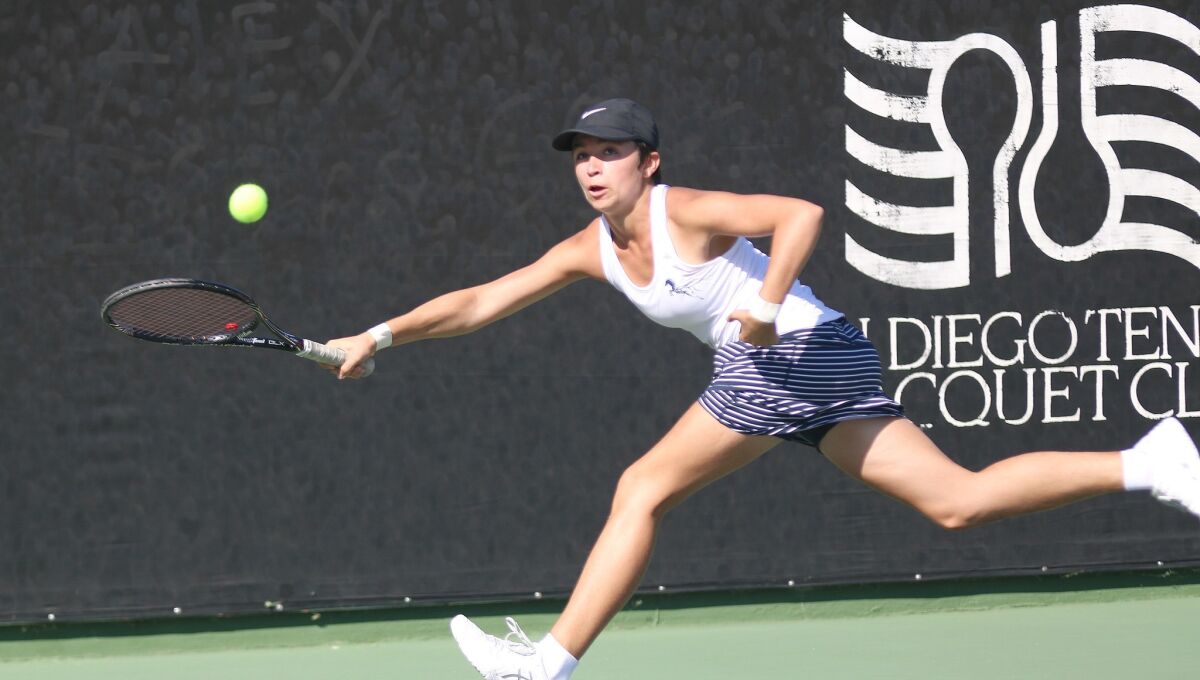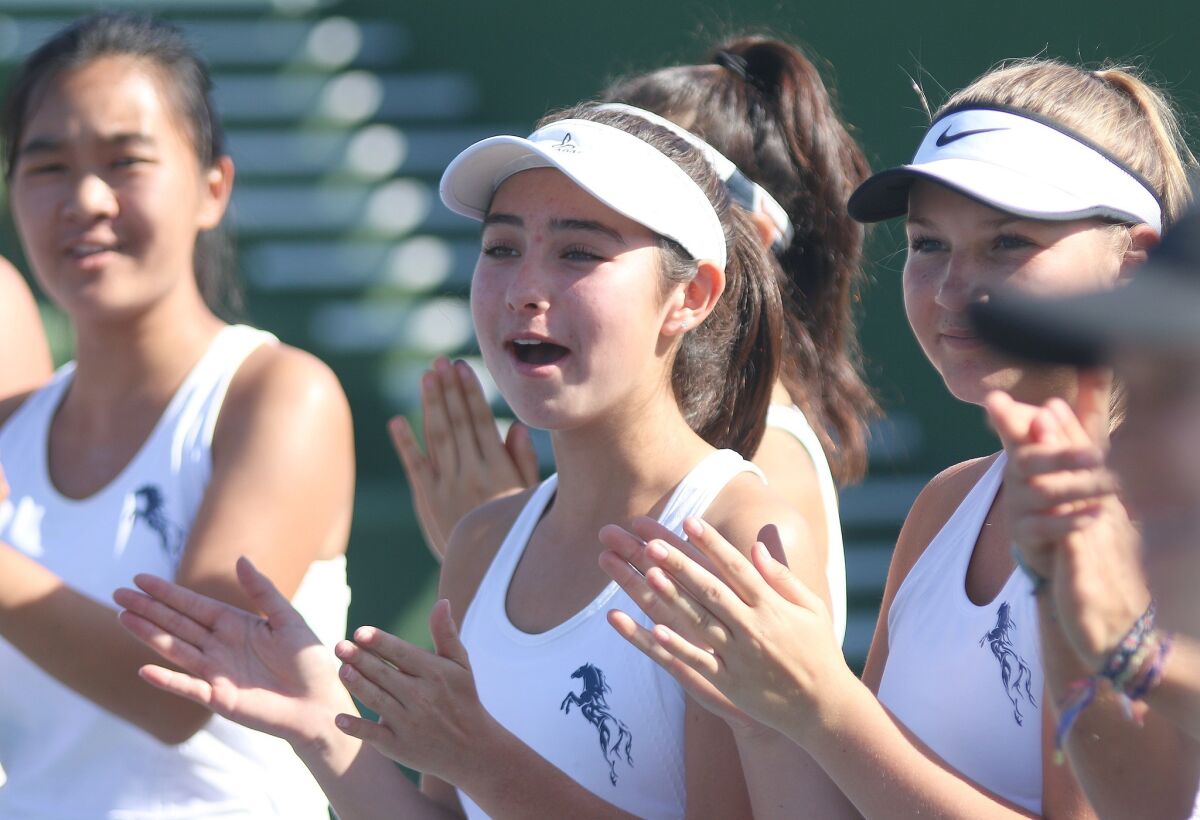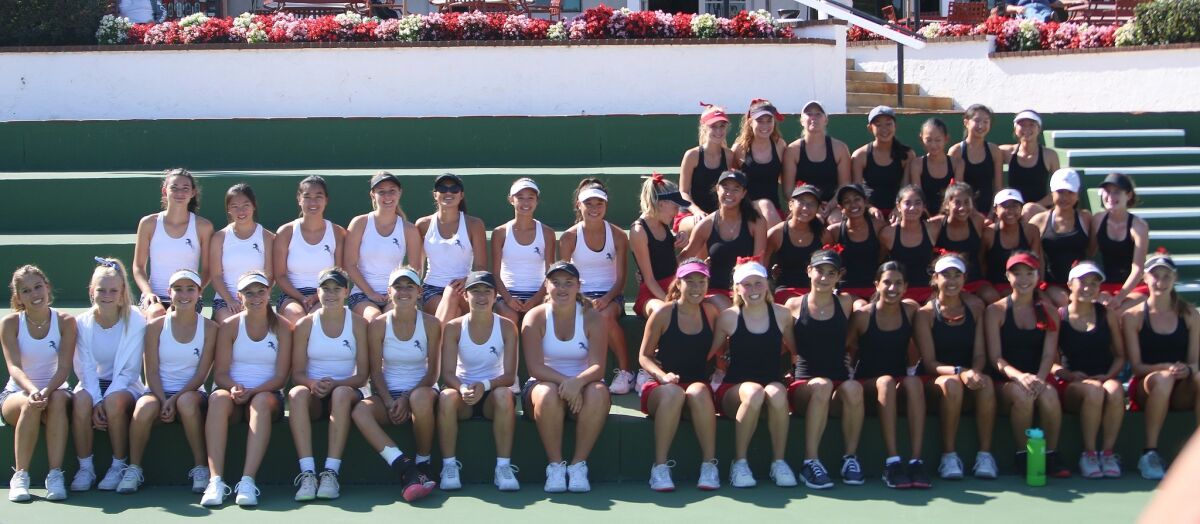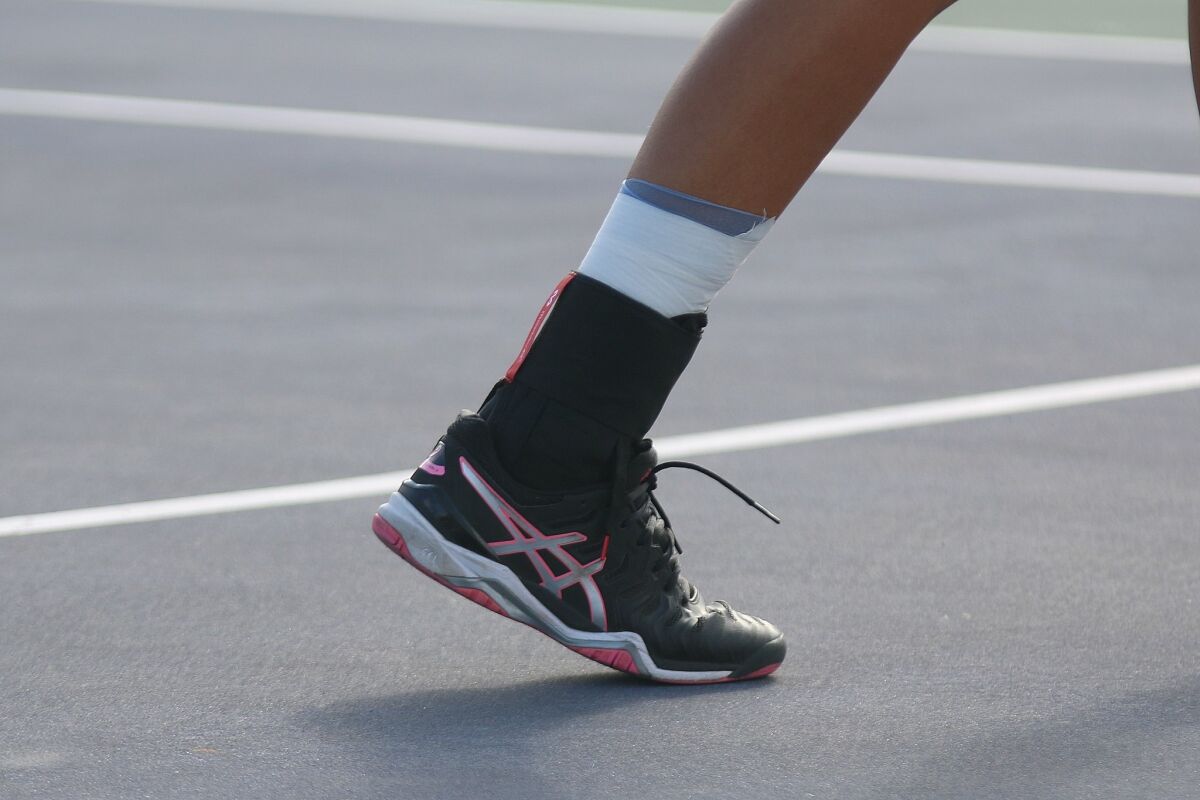 Get the Del Mar Times in your inbox
Top stories from Carmel Valley, Del Mar and Solana Beach every Friday for free.
You may occasionally receive promotional content from the Del Mar Times.