No. 1 Torrey Pines tops stubborn Mission Hills, 13-7
In prep football, underestimate a team with "history" at your own peril. Top-ranked Torrey Pines got a taste of that adage Friday night but used a staunch defense and timely offense from an unexpected source to put away visiting Mission Hills, 13-7.
The decision allowed Torrey Pines to remain undefeated at 7-0 while upping its Avocado West League record to 3-0. Mission Hills, 2013 CIF Open Division champion and no worse than a semi-finalist in every year since, dropped to 2-5 and 1-2 with the loss. Count Torrey Pines Head Coach Ron Gladnick as one not surprised by the fight his squad got from the Grizzlies.
"We're always concerned about Mission Hills," said Gladnick with emphasis. "Their record is not reflective of their football team—they are very, very good.
"They are capable of beating any other team in the county on any given night." That was evident Friday when the Grizzlies held the explosive Falcons to their lowest scoring output of the season and well less than half of their typical numbers on the ground.
The two teams each had just one offensive possession in a rapidly-paced first quarter, the Falcons first drive resulting in a 25-yd. Ted Merrifield field goal 3:09 into the second period.
That's how it remained until halftime. Torrey Pines emerged from the locker room and promptly marched 80 yards in just over five minutes, senior running back Mac Bingham covering the last five to put his squad up, 10-0.
"I was very proud of our offense, the way it came out and started the second half," said Gladnick. "We changed up some things, made some adjustments, ran our 'on ball package' and really got them on their heels."
In the fourth quarter, Gladnick dialed up a double reverse flea flicker that ended up with senior Luke Mikolajewski hauling in a 51-yd. pass from quarterback Jason Heine. The Falcons couldn't get the ball in the end zone but Merrifield booted his second field goal, this one from 21 yards, with 9:19 left in the contest. Mission Hills responded with a touchdown to narrow the gap to six at the 5:43 mark but Torrey Pines did what was needed close out for the victory.
Mikolajewski, a quietly efficient, two-way regular for Gladnick this season was magnificent Friday, catching nine passes for 186 yards, running once for seven yards and make seven solo tackles on the defensive side of the ball.
"Luke Mikolajewski carried our offense tonight," stated Gladnick. "It was just an inspirational kind of performance.
"He made plays he should make, made circus plays and basically did everything you could ask a kid to do to help his team win a football game." Heine, the senior signal caller, forced to go to the air more than usual, answered with a solid 10-of-12, 194-yd. line. Gladnick also dished out kudos to his defense which limited the Grizzlies to 247 yards of total offense.
"I think it was our best overall defensive effort of the season," said Gladnick. "Holding that team to one drive and seven points is a great accomplishment." The last word was left for Mikolajewski.
"We've been waiting a year for this game. They beat us twice last season, on our own turf and in the CIF semi-finals," he said. "It was exciting to be a big part of the offense and then get to go back out and kick butt with our defense. I'm still waiting for my first touchdown, though."
The Falcons are back home next Friday (Oct. 12) to host dangerous San Marcos (6-1), a team that recently dealt then No. 2 La Costa Canyon its only defeat.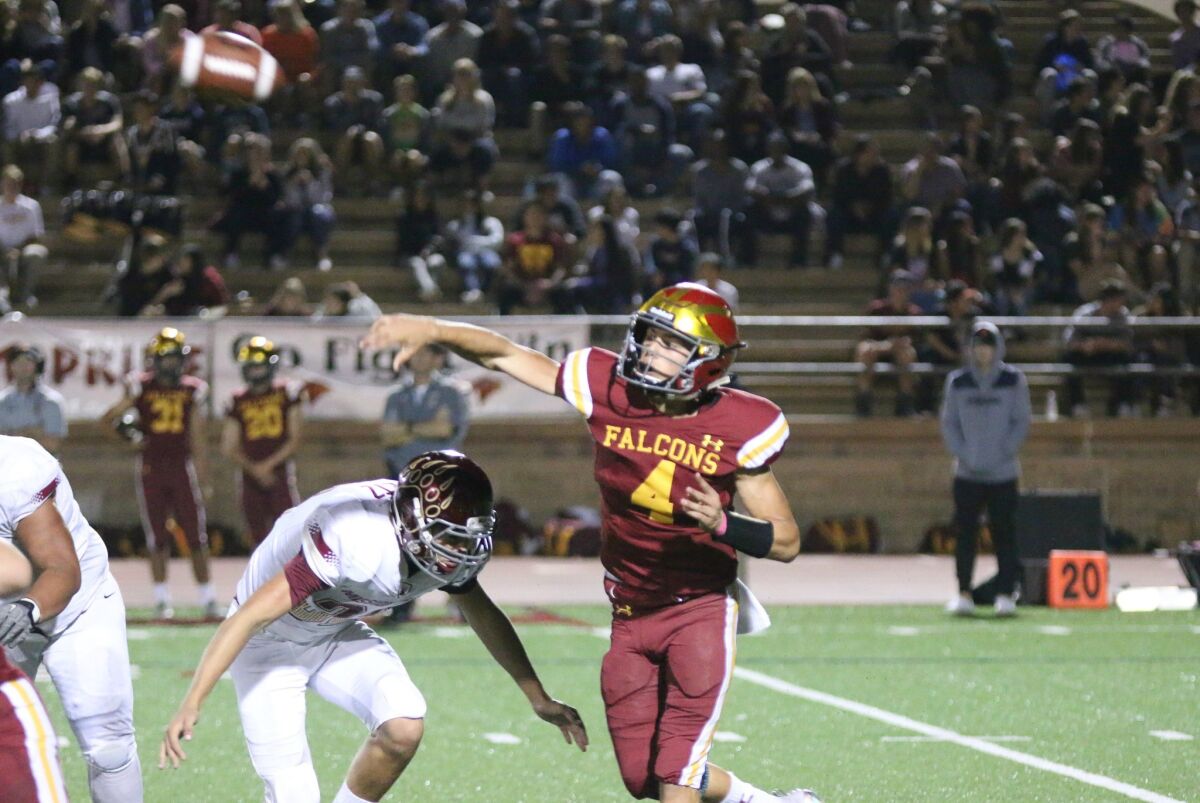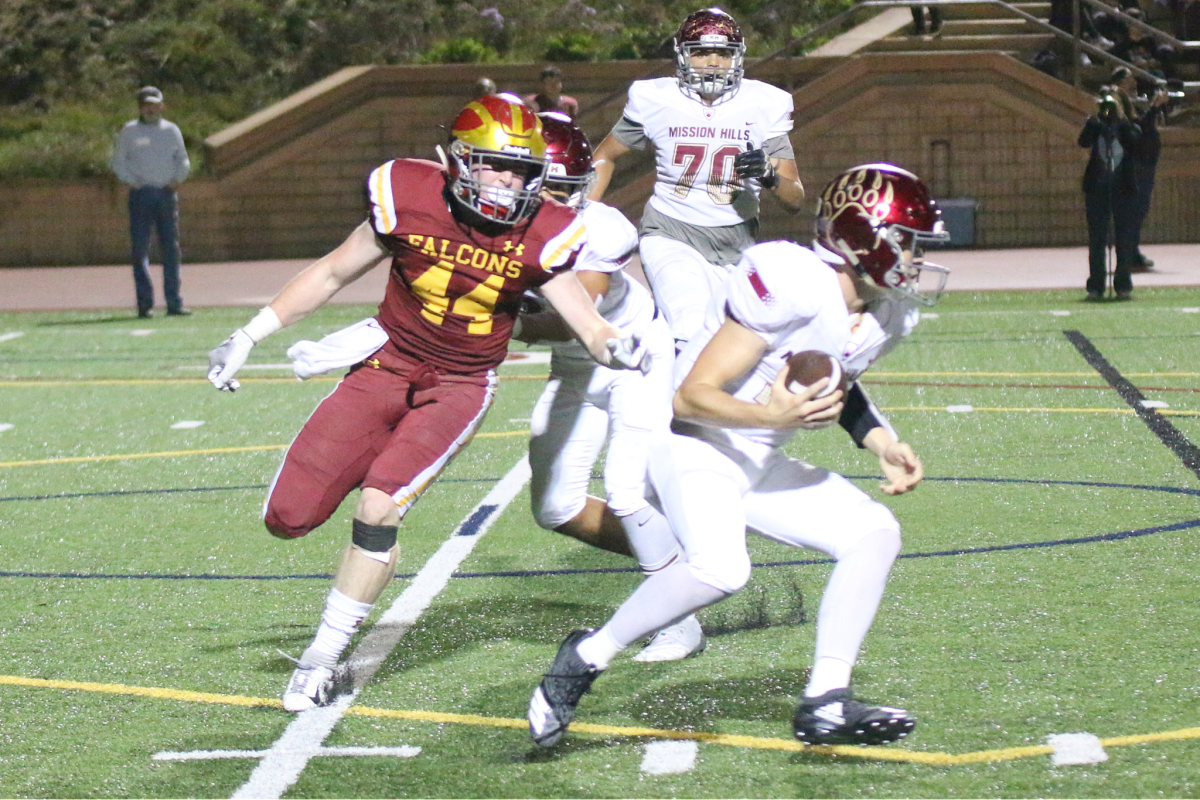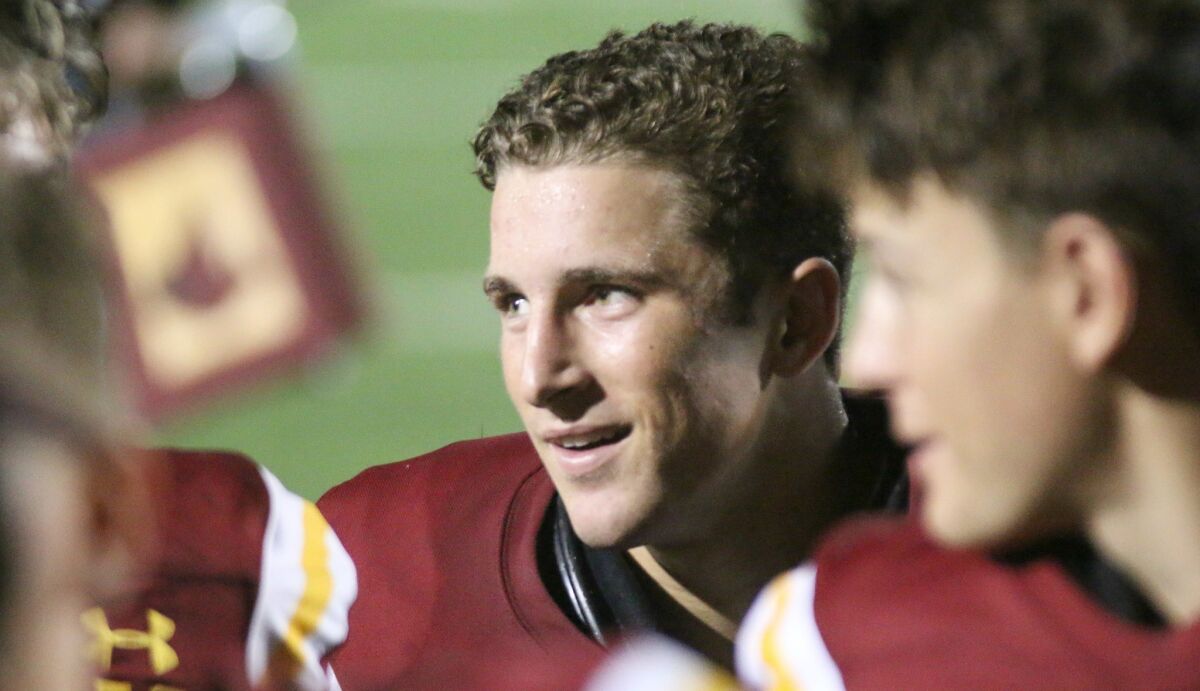 Get the Del Mar Times in your inbox
Top stories from Carmel Valley, Del Mar and Solana Beach every Friday for free.
You may occasionally receive promotional content from the Del Mar Times.