Torrey Pines boys lacrosse hosts Harlem lacrosse and 2nd Annual 'FOJ Cup Winners'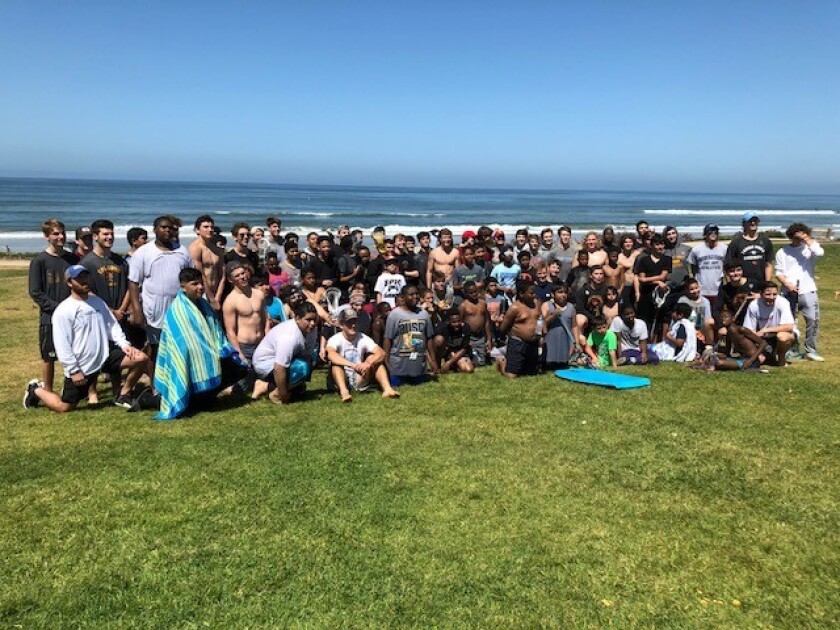 Torrey Pines High School met up with The Bishop's School in La Jolla to retain ownership of the "FOJ Cup" for their fellow teammate, Irving Goodman. Nine-year old Irving was adopted by the team in 2015 from The Friends of Jaclyn Foundation ("FOJ"), who pairs children battling pediatric cancer with high school and college sports teams. Irving's friend, Micah Bernstein, was adopted by The Bishop's School in 2016 and a friendly rivalry began between the two friends and schools.
Irving and Micah started the game with the official coin toss. The first quarter was a back and forth battle of goals, but in the end, Irving's Torrey Pines team was the victor with a 21-9 win over The Bishop's School.
Cheering on the Torrey Pines team were middle school lacrosse players from the Compton community of Los Angeles. These players are part of the Harlem Lacrosse Organization originated in New York and expanded to LA, Baltimore, Boston and Philadelphia. Harlem Lacrosse is a school-based nonprofit organization that changes the life trajectories of at-risk youth through daily wrap-around academic support, mentoring, leadership training, college readiness career exploration, admissions counseling and lacrosse instruction. Its program directors maintain a daily presence in the schools and in the lives of the students they serve in order to build confidence and skill sets to help the students reach their full personal potential.
Eighteen TPLax families hosted 47 boys for an overnight at their home, where many relationships started instantly. "No matter what their story looked like, or sounded like, we all bonded in the short moment of time that we spent together," expressed Deborah Hagen, mother of TPlax player Sean Hagen.
The next morning, the players met at the beach in Del Mar, and for some, experienced the ocean for the first time. "Alex (Pistorius) and Jonathan (Ford) taught me how to surf!" shivered Jermiah Ifanyi, a 6th grade Harlem Lacrosse player.
After a lunch generously provided by Board and Brew in Del Mar, the Harlem team loaded the bus to head back to Los Angeles. Instagrams and Snap Chats were exchanged, and promises to meet up again were made as the boys said goodbye to one another.
"I realized in that moment, here we were, all set and ready to help these boys, to give to these boys, and show them another side to things, but what I wasn't expecting was what they gave and left us, a reminder of what life is truly all about – compassion, empathy and respect for one another, no matter what the story presents itself to be," said Deborah Hagen.
---
Get the Del Mar Times in your inbox
Top stories from Carmel Valley, Del Mar and Solana Beach every Friday.
You may occasionally receive promotional content from the Del Mar Times.