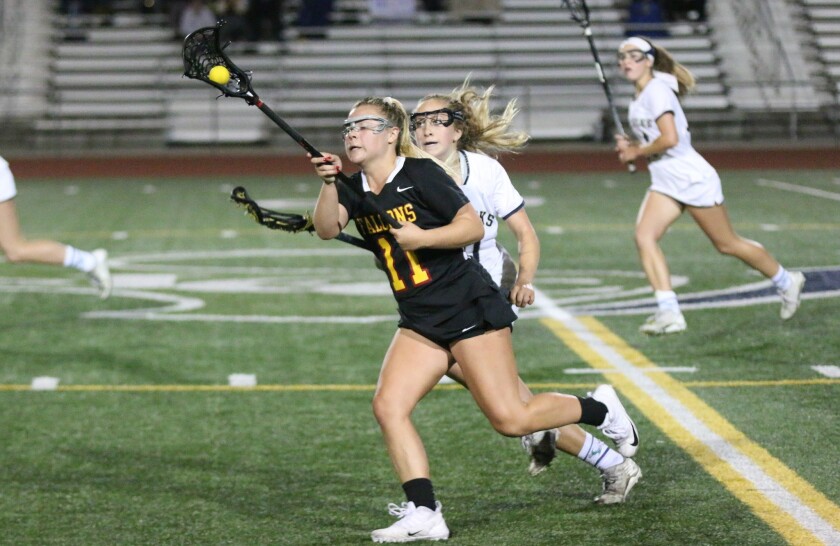 Exactly 48 days after losing, 10-5, to La Costa Canyon on its home field, the Torrey Pines girls lacrosse team flipped the script on the host Mavericks, defeating them in convincing fashion by the same score Tuesday night, April 24. The victory over their longtime rivals all but wraps up the Avocado West League title and the No. 1 seed in the upcoming CIF Open Division Playoffs for the Falcons, who came in ranked No. 2 in the section behind LCC.
Trailing, 3-2, at halftime, Torrey Pines broke open what had been a tightly contested match-up by holding the La Costa Canyon offense scoreless for the first 22 minutes of the second session while scoring the first six goals of the second half. After pushing ahead, 5-3, with three goals in the first five minutes after the break, the Falcons blew it open with a three-goal flurry in a 2:12 span late. Torrey Pines Head Coach Kaitlin Doucette said her defense was the catalyst.
"We gained a ton of confidence from our defense," said Doucette, whose two-time defending CIF champions lifted their season mark to 16-2. "We were on defense for 18 minutes of the first half and held them to three goals. Against a team with so many amazing offensive threats, to be able to hold them like that was a huge deal for us."
Early in the second half, LCC senior star CJ Jones had a quality scoring opportunity turned away by the Falcons' all-star goalie Sophia Lerose and TP tied it up shortly thereafter. At 15:24, with Torrey Pines now up, 4-3, senior Kelli McKinnon scooped up a loose ball just outside the eight-meter circle, stormed straight up the middle and scored the second of her three goals, giving her club the first two-goal margin of the game.
That's how it stayed for nearly 10 minutes and late in that stretch, Lerose made perhaps the biggest play of the match, stonewalling Jones again after she had broken free on a counterattack. The Falcons offensive blitz followed not long after and the verdict was in. Although nobody on either team placed undue emphasis on LCC's dominance in the aftermath of the first meeting, hearing McKinnon speak post-game Tuesday, there was little doubt that April 24 was a date circled on the Torrey Pines schedule.
"We're a relatively new team with a lot of new starters and when we lost to them the first time, we knew that wasn't our team," said McKinnon. "Tonight, this was for the league and first seed in CIF. We came together, wanted it more, fought for it more and in the end got the outcome we wanted."
Doucette attributed the triumph to effort, effective strategy and a little luck. "I'm a proponent of the idea that the harder you play, the luckier you get," she said. "We began winning some draws, the ball started bouncing our way, one thing led to another and we kind of built off that. We had a ton of kids making big plays.
"Eight meters is where they killed us last time and we told our kids to 'stay in front of the ball, be disciplined and don't put them on the line.' We did a good job of making sure we weren't fouling and putting them in position to hurt us."
Six different Falcons found the back of the net with Arielle Shahrabani and Addie Stewart augmenting McKinnon's trey by chipping in with two apiece. Senior Lina Savage led LCC with three goals, all coming in the first half.
For Mavericks' Coach Casey Rector, it is back to the drawing board. Her team is still a stellar, 16-3, but after dropping a 12-11 decision to Scripps Ranch last Thursday, it has now lost its last two and with the CIF playoffs rapidly approaching, there's a need to get things right in a hurry. After last night's defeat, she was searching for answers.
"I didn't feel like we really turned it on all night," said Rector, who directed La Costa Canyon to four straight section championships in front of Torrey Pines capturing the last two. "In the first half, we dominated possession, got most of the draws and took our time getting shots. The second half there was just a momentum shift and we couldn't get anything going offensively."
The Mavericks will finish the regular season next week—on the road at Canyon Crest and home vs. La Jolla.
"The biggest positive about tonight is that it's not our last game," said Rector. "Hopefully, we'll get a chance to see both Torrey Pines and Scripps Ranch again but right now we have to get our kids to regroup, re-set and re-focus. We've still got a lot to play for."
---