No. 1 Torrey Pines outlasts San Clemente, 47-45, in epic intersectional
It would be hard to overstate what happened Friday night, Aug. 24, at Torrey Pines High School's Ed Burke Field. Torrey Pines Head Coach Ron Gladnick called it "the greatest football game I have ever been associated with" and that might not have done it justice.
When the heart-pounding, breath-taking 48-minute roller coaster of a football game finally came to a stop, Gladnick's Falcons, the No. 1-ranked team in San Diego had outlasted visiting San Clemente, a top 20 team in the massive CIF Southern Section, 47-45, on a field goal by senior Ted Merrifield with one second left in the game. The game-winning 42-yarder was Merrifield's second field goal of the game and second of his career. How the game got to that point was a series of believe-it-or-nots that just kept repeating.
It was an offensive fan's dream as the two teams racked up an astonishing 1,074 yds. of total offense with Torrey Pines accounting for an even 600. The lead changed hands nine times and the score was tied at five different junctures. Ten unique players made plays of 20 yards or more from scrimmage and five scored touchdowns of 35 yards or more. Torrey Pines punctured a good San Clemente defense for 491 yards on the ground, 273 (on 31 carries) by senior fullback Mac Bingham.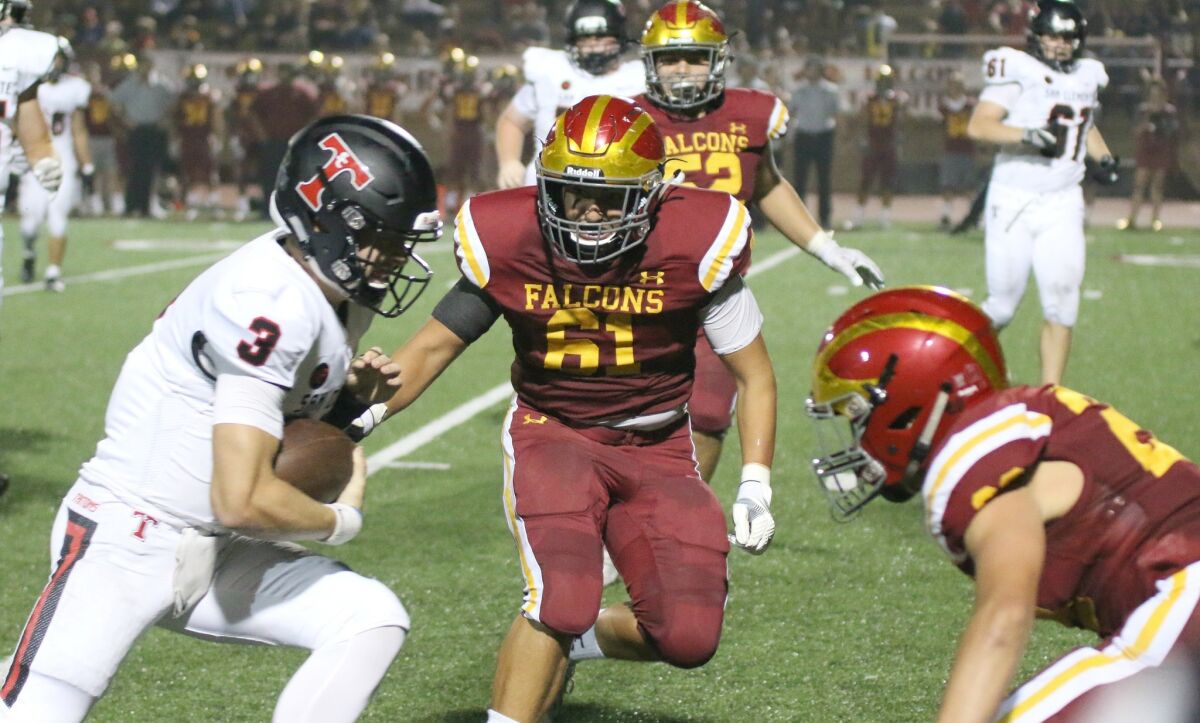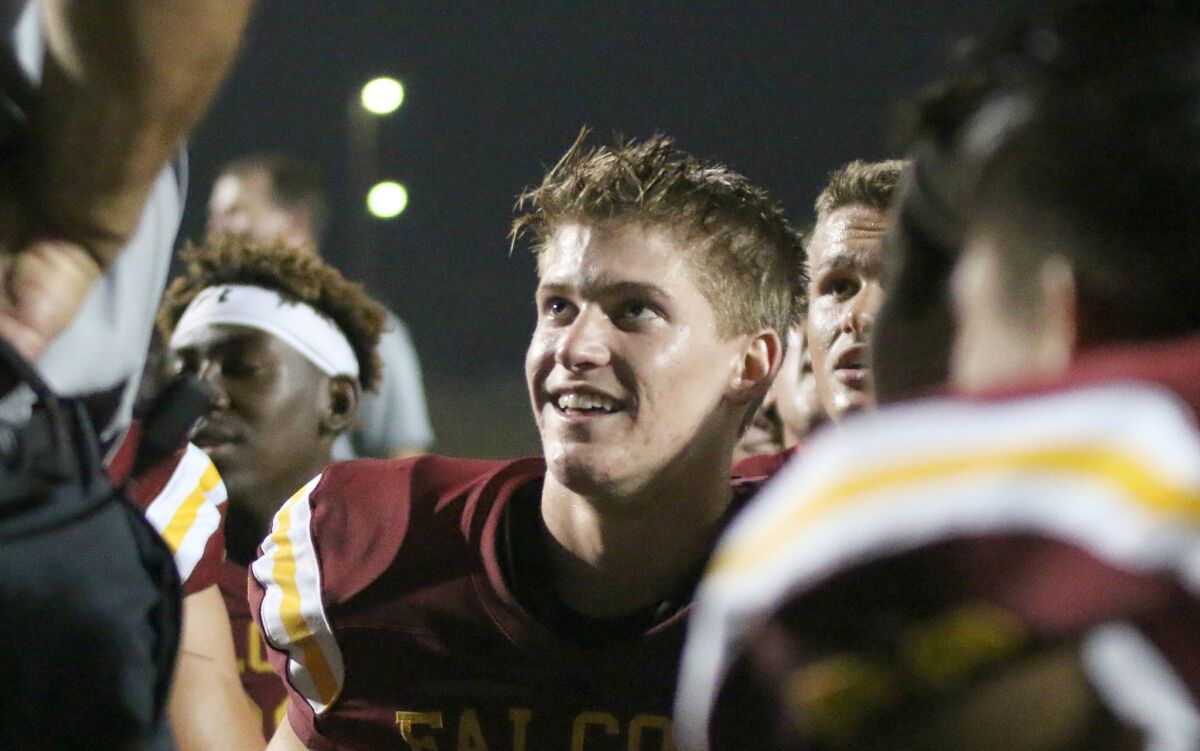 "What a performance by our kids, they showed incredible toughness and never gave up" said Gladnick. "We can run the ball and when you can run the ball like that, you win football games. I thought Mac Bingham was exceptional, I thought all of our running backs were exceptional and I thought our quarterback Justin Heine was exceptional.
"But it all starts with the big boys up front. Those guys opened huge holes all night long. They were never able to stop our running game."
Gladnick's Falcons hit the scoreboard first, moving smartly up the field on their opening possession with Bingham punching it in for the first of his four TDS. After forcing San Clemente to punt on the next possession, the Falcons misplayed the kick and found themselves pinned inside their own one. Four plays later, a short punt from the back of the end zone gave the Tritons the ball on the Torrey Pines 37. On the very first play, sophomore James Bohls burst through the right side and raced 37 yards to the goal line and the contest was tied up.
Torrey came right back with a two-yard Bingham run capping another nice drive. But early in the second, SC countered when 6-1, senior quarterback Brendan Costello found Jay Baggs over the middle and the 6-5 tight end rambled 69 yards with the equalizer. Costello fired a second TD pass with five minutes left in the half but one minute later Heine faked a dive to Bingham, got right to the edge, hit the second level, cut back left and was gone, racing 55 yards to bring the Falcons even. Then, with just two minutes remaining in the second quarter, Costello returned the favor, dashing 40 yards to paydirt and sending the Tritons into the locker room with a 28-21 advantage.
The second half picked up where the first left off. A pair of short Bingham touchdown runs, sandwiched around a San Clemente field goal had Torrey on the upper end of a 35-31 ledger one minute into the fourth quarter. Costello hooked up with fleet wide receiver Jaydel Jenkins for 49 yds., putting the Tritons at the two-yard line and took it in himself on the next play to make it 38-35 with 10:31 on the clock.
The Torrey Pines sideline seemed to have an incredulous, frustrated "what's going on?" response to SC's resilience, but Heine regrouped his unit and directed them to the visitor's 21 yd. line where Merrifield drilled a game-tying 38-yd. field goal. The Falcon "D" had the Tritons facing a third and six at their own 34 with six minutes to go when Costello lofted a 66-yd. TD pass to the mercurial Jenkins and it seemed like San Clemente had itself positioned to escape with a big road victory. But the drama was far from finished.
Starting at his own 20, Heine marched the Falcons to the San Clemente 19. With 43 seconds to the final gun, Heine, who averaged 21.8 yards per pass completion, connected on a crossing pattern with Evan Galluzzi and the senior toted it the final 19 yards. Gladnick opted to go for a two-point conversion and the win but Bingham came up short.
Gladnick explained his thinking, saying, "We were moving the ball so well I felt we would make it—and we wanted them to be under pressure."
No worries. After the miss, the fifth-year head man dialed up an onside kick and Merrifield delivered perfectly. The Falcons' Ryan Rice recovered on the San Clemente 47 with half a minute to go and no timeouts. Heine, who threw for 109 yds. and rushed for 117 more, maneuvered the Falcons to the 25 with eight seconds left—and the 5-11 Merrifield came through in the clutch again, perfectly splitting the goal posts with room to spare.
"He's a senior soccer player who's never played football, and this is what can happen when a kid, instead of playing just one sport, says 'I can be more than that' and decides to play two," said a euphoric Gladnick moments after the game's conclusion. "He's going to be a scholarship football player before it's over." Merrifield seemed to still be trying to wrap his arms around what happened 15 minutes after the magic occurred.
"I started to get a little nervous as the game wound down," he said. "I practiced a few things on the sideline and told myself to just keep it constant, take the same stroke—it went through. Maybe five yards closer would have been a solid hit but I've made a bunch of these in practice so I was pretty confident." He said he also felt totally ready when the onside kick presented itself a few minutes earlier.
"We actually worked on that all this week," said Merrifield. "I don't know how the coaches knew something like this was going to happen but be we were definitely prepared. The run-up is a little different and I just tried to stay over the ball to give my guys enough time to get there."
In the big picture view, both coaches came away in awe of what they'd just been part of and full of respect for the other side. "They just have some exceptional talent, at least four or five Division I players are on that roster," said Gladnick. "There's not a high school in San Diego that has that kind of skill on offense." His counterpart, Jaime Ortiz, whose squad will be hosting another San Diego power, La Costa Canyon, this week had similar sentiments.
"I told our kids that for the average fan in the stands, that's one of the greatest games they'll ever see," said Ortiz. "We knew when we scheduled this game they were a high-quality opponent and it would be a challenging environment. That's exactly what it was.
"It was a good game between two well-coached teams, two proud programs that represent their communities well and that's what high school football should be about." Ortiz also had no hesitancy comparing Torrey Pines to the best teams in Orange County.
"They're right there with them. They were physical, well-coached, have some athletes on the roster and played hard. Just a very good team."
---
Get the Del Mar Times in your inbox
Top stories from Carmel Valley, Del Mar and Solana Beach every Friday for free.
You may occasionally receive promotional content from the Del Mar Times.