Fitzner, Torrey Pines girls ready for back-to-back CIF volleyball quest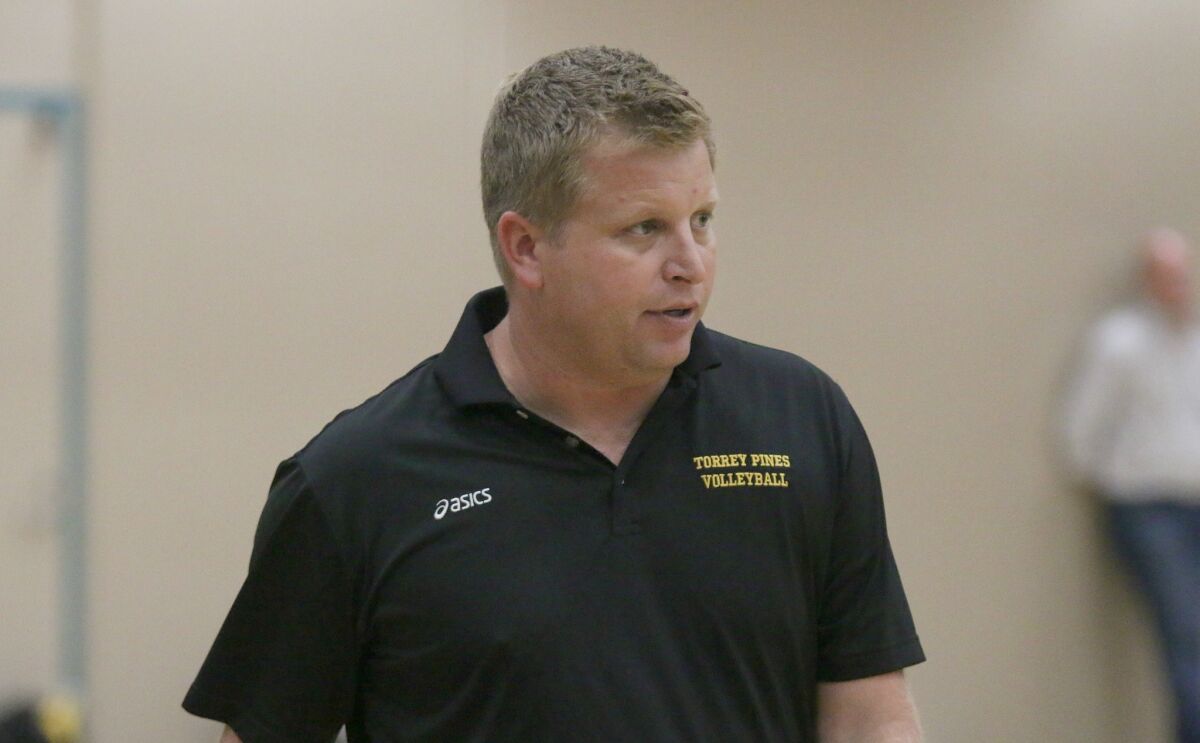 With two matches left in the 2018 regular season, the No. 1-ranked Torrey Pines girls volleyball team is in the process of fine-tuning for the upcoming CIF Open Division championships. Coach Brennan Dean's Falcons, 27-3 on the season and a perfect, 8-0, in the Avocado League West will be aiming for back-to-back section crowns and their seventh in the last eight years. Although there are a lot of familiar faces on the Torrey Pines roster, this is a decidedly different team than the one that took home the CIF trophy last fall.
The 2017 squad, particularly on the offensive side, was keyed by senior Jaden Whitmarsh (now playing beach volleyball at UCLA) who piled up 408 kills on a whopping 931 swings. This year the approach is a bit more diversified. You could call it a team with "no" stars or a team with "all" stars. Whichever perspective one favors, there's no arguing the results it is producing.
"We have a really balanced team," said Dean, who's been at the helm for all six of the Falcons' recent CIF titles. "Last year, we had some great pieces but Jaden was a huge part and we definitely leaned on her more than we have any one person this year.
"We distribute responsibility to a lot of athletes and it's made us much less predictable. We aren't relying on one person to get us through tough matches—someone can have an off day and we'll be OK."
This year's edition has a core that goes about eight deep but in most matches just about everyone on the roster gets onto the court and contributes. With six seniors and eight juniors, there's plenty of experience to rely on. Led by juniors Delaynie Maple (205) and Maya Satchell (200), five players have already cracked the 150-kill plateau. The trio of senior Kendra Ham and juniors Megan Kraft and Trinity Durfee have combined for 165 blocks. Senior Emily Fitzner and junior Carly Diehl are at the controls, setting in Torrey's 6-2 offense and Penn State-bound senior libero Macall Peed is the defensive anchor.
Dean equates part of his team's success to the fact that most of its members have all-around skill sets, on and off the court.
"They're just skilled volleyball players and have learned how to play the entire game in the culture of working hard and high expectations we have at Torrey Pines," he said. "We can be very disciplined and polished, but we do also have a mantra of being perpetually dissatisfied with where we are.
"They're also good kids who have bought into the fact that in high school you're playing for your team, your school and your community—representing something bigger than yourself."
Given Dean's description of his current club, consider Fitzner perhaps the prototypical Falcon. A four-year starter, she's the picture of versatility—one of two setters in Dean's 6-2 offense, hitting from the right side when not setting and the only player who is regularly on the floor for all six rotations. The 6-foot Del Mar native may not be recognized as a "superstar" but her statistics and accomplishments say she's something pretty special.
In her Torrey Pines career, Fitzner has racked up 841 kills, 159 blocks, 1,263 assists, 404 digs, 133 aces and a sterling .349 four-year hitting percentage. More importantly, she's been part of two Falcon CIF championship teams and a third which made the semi-finals, all while posting a combined won-loss record of 124-15. She's clearly made an admirer of her coach.
"Emily is one of our leaders and a really hard-working, high level kid who is able to compete and have fun simultaneously," said Dean. "She has the ability to let go of points when things don't go right and always finds joy in playing."
Fitzner comes from athletic stock. Her father, Mark played basketball at Stanford and her mother, Cheri, was a volleyball player at Hawaii. Her two older brothers, Evan (basketball/St. Mary's & Indiana) and Bryce (football/Kansas State) were also collegiate athletes.
"I started going to volleyball camps around 10 but I'd always peppered with my mom and aunts before that," recalled Fitzner. "I went to my brothers' games and just always seemed to be around gyms.
"I began playing on a club team at 12 and my family motivated me to keep playing. My goal since I was little was to play Division I sports in college." Fitzner committed to USC prior to her sophomore year but when a new coaching staff came on board, those plans changed. Now she's looking at other options with both Kansas and Indiana among the schools in the mix. But for now, her focus is on finishing her prep career on a high note.
"I think we're pretty good at every position this year and like it's been in the past, our team defense is really solid," analyzed Fitzner. "We have a couple of beach players, Delaynie and Megan (both ticketed for USC to play on the sand), which helps there.
"All of my teammates really want to do well and are all willing to work super hard to get where we want to be. Everyone also gets along really well, we have a very strong team bond and good coaching. I went to Torrey Pines because I wanted to play for Coach Dean. I wanted to be coached by the best and I will leave knowing I am the best I could be."
Fitzner's future at the collegiate level will likely see her relegated to simply setting so she plans on taking advantage of her opportunities as part of a 6-2 system for a few more weeks. "Being in a 6-2 is kind of fun, especially when you have a dynamic second setter like Carly (Diehl)," said Fitzner. "I get that a lot of people think there might be a drop-off at one of the two positions when you both set and hit, but I'm used to it and don't really get tired.
"In the end, I definitely like setting the most. There's a team aspect to it and my favorite part of the game is setting good hitters because it's fun to see the look on their faces when they get a big kill."
Sporting a 3.4 GPA, Fitzner is still sorting through her college academic, as well as volleyball, options. Two areas that may be of interest are kinesiology and interior design.
"I like learning about the body and how everything works together, so kinesiology seems exciting," she said. "My mom does interior design and she inspires me. Being able to look at an empty space and create a living environment with furniture, colors and figuring out what goes where and with what is a real talent."
For the next month, Fitzner's talents will be heavily focused on a 60x30 ft. volleyball court. She rarely talks about the outcomes, preferring to concentrate on the basics. "We all have the same goal and everyone understands what we have to do," said Fitzner. "We need to keep working hard."
As for another title and her legacy at Torrey Pines, Fitzner keeps it simple. "When I'm done playing, I hope people would say I was a hard worker, a leader and I liked to have fun."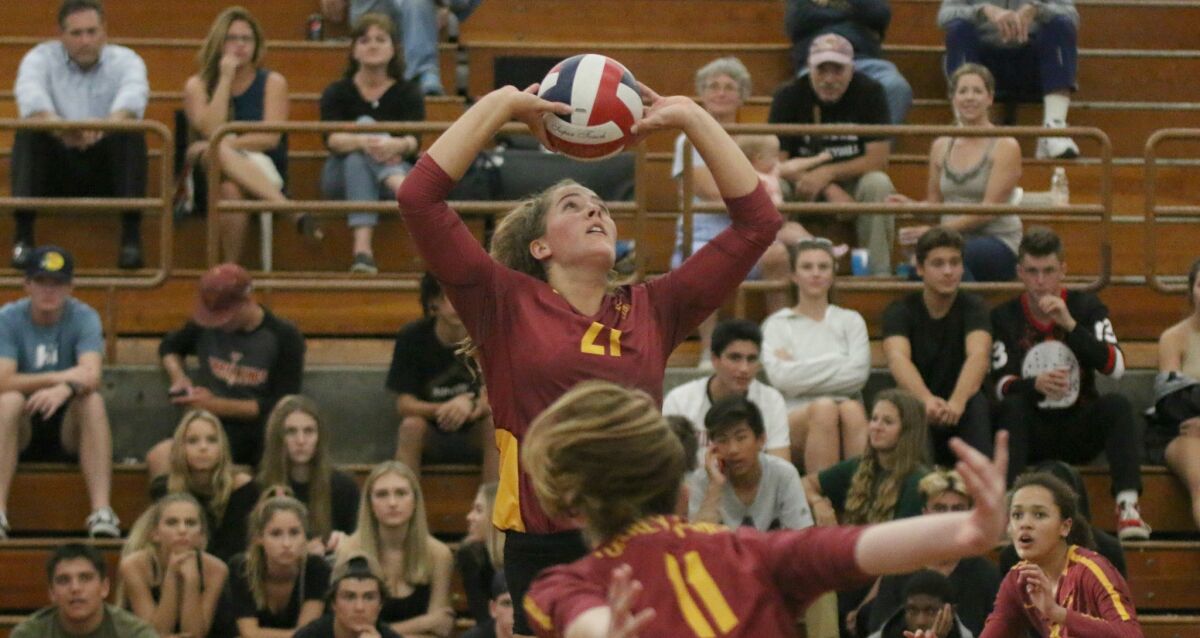 Get the Del Mar Times in your inbox
Top stories from Carmel Valley, Del Mar and Solana Beach every Friday for free.
You may occasionally receive promotional content from the Del Mar Times.