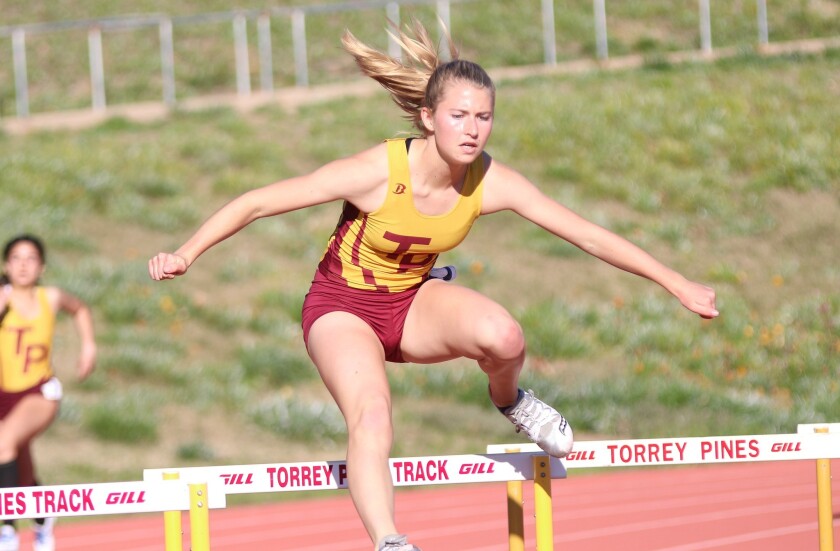 CIF Division I champions in 2016 and runners-up last spring, the Torrey Pines girls track & field team figures to once again be among the challengers when the section's top runners, jumpers and throwers convene at Mt. Carmel High School, Saturday, May 26.
Any aspirations that the Falcons have of again reaching the top rung will lean heavily on the talents of senior hurdler Kate Thomas who will be aiming to qualify for the finals of both the 300 and 100 hurdles, the former for the fourth consecutive time. She is also anticipating being a member of Torrey Pines 4x100 and 4x400 relay quartets.
A key player on the Torrey Pines girls soccer team that was ranked No. 1 in the county for much of the 2017 season, Thomas has made spectacular strides on the track in a sport she had never even considered prior to high school. She blazed to a second place finish in the CIF 300 hurdles last year and is a team captain this season.
Thirteenth-year Torrey Pines Head Coach Charlenne Falcis Stevens says, "The 300 hurdles is a race of its own. You're going 300 meters, basically at full speed, and have to clear eight 30-inch hurdles. Speed, form and technique are all important, but you really need to be very tough and I think that's something that's makes Kate so successful. She's dedicated herself to improving and I think confidence is where she's improved most."
With the end of her high school career fast approaching, Thomas shared some thoughts with this newspaper, touching on her early days as a track & field athlete, what goes through her mind during a race and her goals for this year's CIF Championships.
Q—How did you get started in track & field?
THOMAS—I've been a soccer girl my whole life, pretty much since kindergarten, but I kind of randomly decided to try out for track when I got to Torrey Pines. A couple of my friends on the soccer team told me they thought I should do it because I was fast on the soccer field.
I had a killer freshman year and kept getting better and better. I love soccer, it keeps me in shape and I've had a great high school career but it's easier to see improvement in track. I ended my club soccer career last summer so I guess I'm a track athlete now.
Q—Hurdles seems like one of the tougher events to just step into as a high school freshman. How did you end up there?
THOMAS—I always thought hurdles was the most exciting event and the most fun to watch—it was more than just running in a circle. The first few weeks of practices, the coaches had all of the newbies try out all of the different events.
When I did the running, I thought "this is boring, how am I going to last all season." Hurdles made it a lot more interesting and it turned out I was pretty good at it.
Q—How was the learning curve?
THOMAS—My entire freshman year, I had terrible hurdle form. I would run hard and fly way over the hurdles. I didn't want to hit one and fall. I got by on just speed alone but lost a lot of time because my form was so bad. I only fell one time, though, and didn't have any super bad accidents.
I have never really had any outside coaching and until this year we didn't have a coach who was specifically working on hurdles. The only way I learned was by experience. I went to big races and saw how the best hurdlers did it and always watched the other runners at our meets.
At practice, Charlenne (Head Coach Charlenne Falcis Stevens) would work with me, show me something and I would drill on it over and over until my form started to get better and become muscle memory.
Q—You run both hurdles races—the 100 and 300. Which do you prefer?
THOMAS—I was always better in the 300 or at least my mind has always made me believe I'm better—so that may be the primary reason it's my race. I tend to gain speed over time and I'm a little better at the longer distance where I have time to work into it. Over the past three-plus years, I've trained the most on that event so I'm more familiar and comfortable with it.
Q—What do you know now that you wish you would have known as a freshman?
THOMAS—How much technique and pre-season preparation would help my time. I didn't lift before this year. I gained muscle and got in running shape during soccer. I wish that I would have worked a little bit harder and known how important those things were.
I also wish I would have known the value of being able to lead with both legs in the 300 hurdles. I lead predominately with my right leg but in the 300, you get tired and it's really hard to keep your stride right. At about the halfway point, you start trying to gauge what leg is going to come up when you reach the next hurdle. As you get better, you begin to realize that in order to maintain speed, at some point you're probably going to have to switch legs. That mentality is something you really have to work on and practice.
When I was younger, I avoided going over left leg first at all costs—I was petrified about doing it. Now that I've started doing it, it isn't that big of a deal. In the past, I had the attitude that I was getting by without switching and having great seasons. To go to the next level, I've had to adjust.
Q—What's going through your mind during a 300-hurdle race?
THOMAS—One of my younger teammates was just asking me what I thought about. Honestly, right before the gun I'm just saying to myself "alright, here we go…drive and attack the first hurdle." But after the start, it kind of all goes black. It gets pretty serious in the last 100 meters. You start to not feel your legs anymore and have to really concentrate on what you're doing—making sure you get over that last hurdle.
Q—You also run the 100 hurdles. From a racing standpoint, do you prefer a straight race like the 100 where you can see everyone or being in a stagger like you have in the 300?
THOMAS—From a racing standpoint, honestly, I probably prefer a straight race. It can really be hard in a stagger. When I get to start from an inside lane, I love it, but it's brutal to be outside and start a race blind, not knowing where anyone (including yourself) is.
Like this year at Arcadia (the prestigious Arcadia Invitational). I started in lane nine and felt really good, thought I was having a great race and then we came around the last turn and all these runners just zoomed by. The stagger caught up to me.
Q—Do you think your soccer background has been beneficial to your track career?
THOMAS—Just in general, think playing soccer corresponds well with track but is super complementary to hurdles. I think it has made me a little more coordinated than somebody who is just able to run fast. You use a lot of little muscles when you're constantly changing directions in soccer or going up for a header, things like that.
As I said, it also gets you in amazing running shape and there are so many details involved in both. It could also give me an advantage over opponents who haven't played team sports because they may lack the competitiveness you might need in that final drive.
Q—What kind of expectations do you have for yourself and your team at the CIF Championships?
THOMAS—I'm expecting to run both hurdle races and be on both the 4x100 and 4x400 relay teams the week before at our league finals, which will be a CIF qualifier. I hope to be running all four at CIF. I really want to hit low 43's in the 300 hurdles. I'm seeded second right now. I want to win but if I get the time I want, the winning would probably take care of itself. I would also love to see our 4x400 relay team qualify for the CIF State Championships (top three in each event qualify). Our top team ran together for the first time at the Escondido Invitational and set a meet record.
As far as the team, when I was a sophomore, we won the 2016 CIF Championship and it was super cool. I think we definitely have a chance, but we'll all have to be on our "A" game because we probably won't have that many athletes qualified.
Q—Do you feel any extra urgency since it's your senior season?
THOMAS—Definitely. This is my last chance to improve on my times. I'm really working hard trying to tighten up my form and crack down on my race. The last three races I've run, I've gone 44.34, 44.34 and 44.33. With that type of consistency, I've put myself in position to improve. I know "43" can happen.
Q-- What's it like at Torrey Pines where you have so many top caliber teams and star athletes in various sports?
THOMAS—For some, it adds a lot of personal pressure because you're around a lot of super competitive people. You start thinking about how far you're willing to go for your sport to compete. You have to find the right balance.
Overall, I think it's a really good thing. The school is so high-performing. I think it instills a work ethic and personal drive that pushes you toward success.
Q—You've earned all "A's" in your four years at Torrey Pines, What are your post-graduation plans?
THOMAS—I'm going to attend college at BYU in Provo, Utah. I've been in contact with the track & field coach but I don't know if I'm going to run there yet. I'm academically inclined and am trying to decide whether I want to focus on only school or school and a sport.
I'm planning to be a biology major and hoping to eventually go to nursing school. I'm excited to see where it takes me.
Q—What do you do in your spare time outside of school and sports?
THOMAS—I work a lot. I tutor both middle school and high school students—the middle schoolers on all subjects and just studying, high school freshman Spanish and sophomore chemistry. I also work at a pest control company doing general office stuff. That's how I fill my spare time and make a little money.
When I have real "free" time, I love the beach and enjoy going there with my friends.
Q—What are three things you'd like to accomplish before leaving Torrey Pines?
THOMAS—Get personal record in the 300 hurdes, I'm No. 2 all-time at Torrey Pines right now. Finish my high school academics with no "B's" and take advantage of my last few weeks and live my high school life to its fullest.
---