Solana Beach Little League upends stereotypes with four girls on AAA teams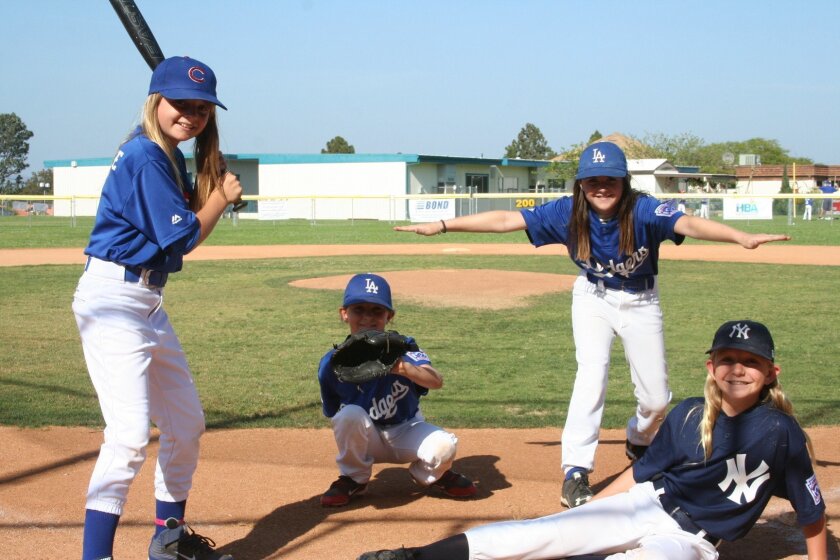 Four local girls are proving baseball's not just for boys.
A record number of four girls are playing this year in the Solana Beach Little League's AAA Division. Children ages 9-11 who demonstrate more advanced skills, coordination and understanding of the game are drafted into the AAA Division.
"It's really fun to have other girls in baseball when a lot of them play softball," said 11-year-old Del Mar resident Brielle Carre.
Having played the sport for five years, Brielle has often been the only girl on her team. This year she was selected as the only girl on the Cubs, her father's favorite team.
"My dad's excited," said Brielle, a sixth-grader at Del Mar Hills Academy. "This is his favorite team, and I got picked for it!"
Solana Beach resident Revere Schmidt is also the only girl on her team, the Yankees. That doesn't bother her one bit.
"I don't mind being one of the only girls," said Revere, a fourth-grader at Horizon Prep in Rancho Santa Fe. "I'm used to boys. I have a brother and seven boy cousins."
Revere has wanted to play baseball since watching her older brother play the sport. Now 12, he also plays for the Solana Beach Little League.
"I always liked how everyone had a part and worked together," said Revere, who started playing baseball when she was 8.
Both Peyton Johnson and Emma Levy play for the Dodgers.
"I love the competition and the excitement," said 10-year-old Peyton, whose father coaches the team. She is a fifth-grader at Solana Pacific.
Peyton also started playing baseball because her brother, who is five years older, plays the sport.
"I grew up around it," she said.
"I like everything about this sport," added 10-year-old Emma, a fourth-grader at Solana Pacific in Carmel Valley. "It's fun to pitch the ball and play all of the positions."
All the girls agree that baseball is better than softball — for a variety of reasons.
"I don't like how big the balls are in softball, and I don't like the pitching in softball," Revere said.
"Softball is weird," Brielle said. "The gloves are bigger, the balls are bigger and you pitch funny. Baseball is more fun and more aggressive."
"I like baseball because girls can play it, too," Emma said. "It's not only for the boys, and it's more of a challenge."
Despite the girls' success in the Solana Beach Little League, Brielle's mother, Susan Carre, said she doesn't think they realize they're tearing down walls when they're hitting balls.
"Commonly, by this division, girls tend to switch to softball, but these girls are competitive with the boys at this level," said Carre, who coached her daughter's team the past two seasons.
"When she's out there, she wants to be viewed and I want her to be viewed as just a player, not 'the girl out there,'" she added. "I support what she wants to do. I think it's exciting for her that she's competitive with the boys and can still play with them."
Although the group of girls has already broken a record and smashed stereotypes, they have much bigger dreams.
Brielle plans to be the first girl to ever play in the league's Majors Division, which is for players ages 10-12 who demonstrate the highest level of skill, coordination and understanding of the game during tryouts. Teams are created through a player draft.
One of her female counterparts may join her in the division next season.
With a passion for the sport, she also wants to play baseball when she's in high school but is "afraid they won't accept" her.
"I'm still going to try," Brielle said with a smile.
"Always try your best," she said, offering advice to other girls. "Never give up."
"Girls can do whatever boys can do," Peyton added. "Don't let anybody tell you what you can't do."
For more about the Solana Beach Little League, visit solanabeachlittleleague.com.
---
Get the Del Mar Times in your inbox
Top stories from Carmel Valley, Del Mar and Solana Beach every Friday.
You may occasionally receive promotional content from the Del Mar Times.