Torrey Pines High School junior varsity football team edges El Camino Wildcats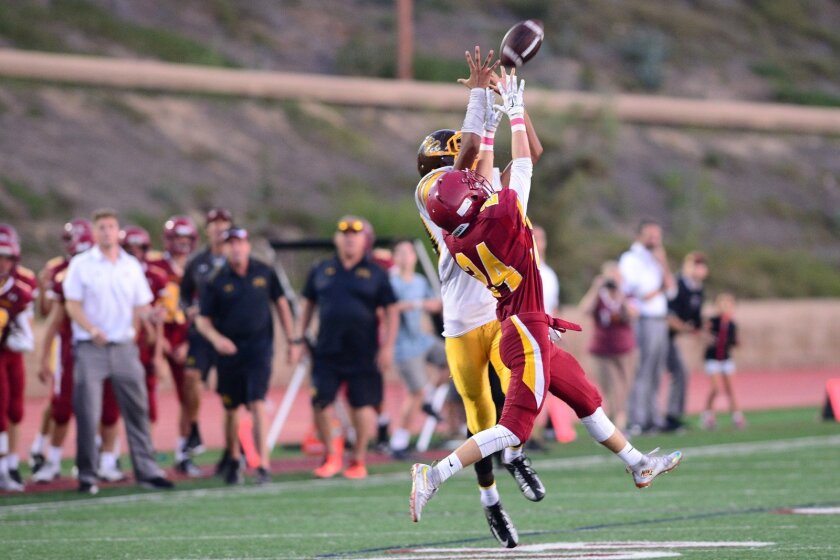 Torrey Pines' junior varsity football team couldn't get any offense going against El Camino, but a solid defense and special teams kept the Wildcats in check, and the Falcons won 8-7.
On Torrey Pines' first possession, a fumble on the Falcon 7 gave the Wildcats a priceless opportunity which they capitalized on to take an early 7-0 lead. For three quarters, neither team could move the ball. Finally, in the fourth quarter, El Camino drove from their 27 to the Torrey Pines 20, went for it on fourth down and turned the ball over to an unyielding Falcon defense. With three minutes left in the game, a Falcon defender tipped a pass near midfield, Connor Munoz grabbed it and ran it back to the Wildcat 25.
Then ensued the Falcons' only real offense of the game, but it was enough for the win. Ryan Cesari carried 8 yards and Peter Nelson carried another 8 for first and goal at the 9-yard line. A double handoff to Nelson moved it to the 4 with one minute remaining. Quarterback Chris Temby passed to Alexander Simsiman for a touchdown, and then to Cesari for the two-point conversion to put Torrey Pines ahead.
With half a minute left a desperate comeback attempt was thwarted when the Wildcats completed a long pass to the Falcon 23, only to have the ball taken away by Jack Nelson.
The Falcon defense stopped El Camino drives with pass coverage by Temby and Peter Nelson, tackles by Louis Bickett, Parker Williams, and No. 58, fumbles recovered by Williams and Jack Nelson, as well as Munoz's interception, and overwhelmingly an entire team effort. Special teams contributed, including Tanner Wyandt's punts and kickoffs, and returns.
The 4-4 Falcons next travel to Mt. Carmel to take on the 5-3 Sundevils.
---
Get the Del Mar Times in your inbox
Top stories from Carmel Valley, Del Mar and Solana Beach every Friday for free.
You may occasionally receive promotional content from the Del Mar Times.