Young local golfer wins European Championship in Scotland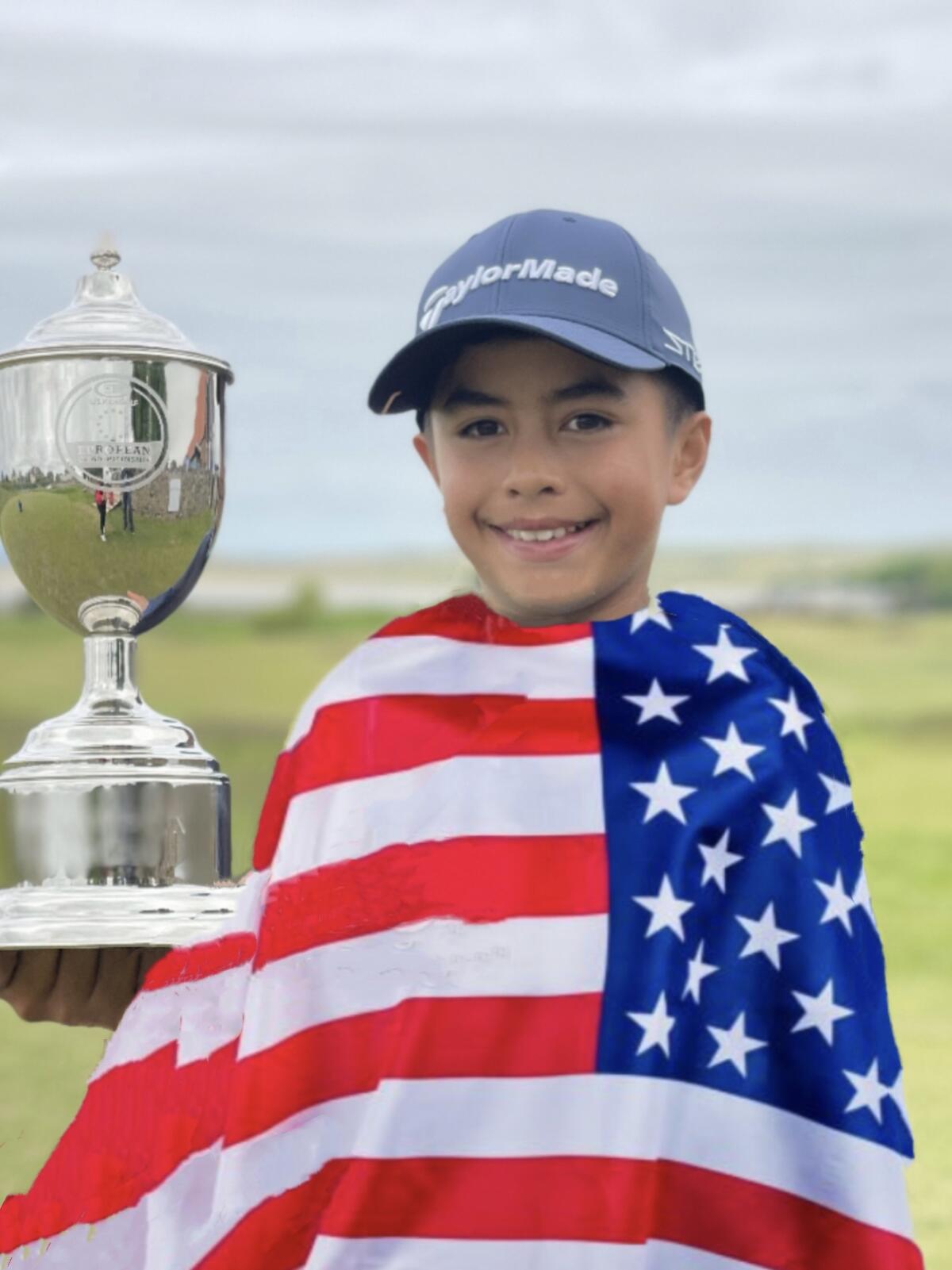 Kai Molina, an 11-year-old golfer from Carmel Valley, recently won the 2023 U.S. Kids Golf European Championship in Edinburgh, Scotland. By taking home the European Cup, Kai ended America's six-year drought for the boys 11-12-year-old age group.
The tournament proved to be a true test of Kai's physical and mental toughness, his first time playing a tournament on a links course.
"I was happy," said Kai. "I won by three strokes so I was really happy."
Kai qualified to compete in the European Championship after winning the U.S. Kids Golf Caribbean Championship in Punta Cana, Dominican Republic in November. A sixth grader at Ocean Air Elementary School, he had to make the tough choice between missing his last two weeks of school and his graduation or going to Scotland, the birthplace of golf, to compete for the championship.
On his trip, he had the opportunity to play the first golf course ever made in the world, The Old Course at St. Andrews, where he parred "the hardest par 4 in the world" and then went onto Edinburgh where he competed at Craigielaw Golf Club against some of the best junior golfers in Europe.
On June 1, when his classmates were getting ready to promote to middle school, Kai was hoisting the Euro Cup with the American flag draped around his shoulders.
After spending five days in London and Edinburgh sightseeing with his family, Kai was able to get in at the historic St. Andrews, playing 18 holes at both Old Course and Carnoustie on the same day.
"St. Andrews was a really challenging course with all of the pothole bunkers," said Kai of the bunkers, some nearly eight feet deep. You have to hit straight up and down to get out to not lose a stroke and sometimes you even need to hit backward. Watching him play, mom Mei-fong Dai couldn't help but worry: "It looked like it was impossible to get out, it was nerve-racking."
"It's a lot windier and every single shot is on the ocean," Kai said. "And the greens are as hard as a rock."
Kai arrived early to Craigelaw, where he had a couple of days to prep for the tournament. As it doesn't get dark until 10:30 p.m., he stayed late practicing until he could no longer see.
"Craigielaw Golf Course is a very tough course that demands absolute mental concentration, precision drives, high-level rescue shots from knee-high roughs, pothole bunkers and rock walls, as well as good imagination to read the angulating greens," he said.
During the tournament, Kai made many "unbelievable" long putts and finished the second day with 67 (-5) which was the tournament's lowest round in all age groups.
"I was confident," Kai said of his play.
He had a three-stroke lead on the third day of the tournament when he arrived at the very challenging 16th hole. He hit the ball right down the middle of the fairway, but it took a bad bounce and rolled into a knee-deep rough. Despite everyone looking for several minutes, no one could find the ball so he had to re-tee and lost a stroke.
"I thought that was it," he said, feeling like he had lost the championship. But with some encouragement from his parents, he was able to get back in the zone.
"If you have a bad shot, you get angry but you need to come back," Kai said. When he gets down like that, Kai said he just tells himself he will do better at the next hole and tries to keep a happy attitude.
Even with the double bogey, his competitor had a similar stroke of bad luck and Kai was able to come away with the victory.
Kai is making a name for himself locally in the San Diego Junior Golf Association. Last year he made history by being the first player to ever make a season sweep, winning every tournament that he entered in 2022. This year after he moved up to the boys age 11-12 group, he has placed top three in all three of the events and is first in the point standings.
Kai plays golf nearly every day. He honed his game at the Del Mar Golf Center and Torrey Pines, where kids play for free on weekday afternoons. The family just recently became members at Fairbanks Ranch Country Club and Kai is always itching to get out to the course and play.
When he's not practicing, he's watching PGA Golf on his iPad. Among his favorite players are Phil Mickelson, Rickie Fowler and Collin Morikawa. He has been able to meet most of his favorites at the Farmer's Insurance Open at Torrey Pines where he scored Dustin Johnson's gloves and a signed ball from Bryson DeChambeau.
In his young career, Kai has already made 11 holes in one—two were made in the same nine-hole round at the Oaks North Golf Course in Poway.
Kai has earned sponsorships with TaylorMade and Adidas Golf, providing his clubs, balls, hats, shoes and other accessories. His mom and dad serve as his coaches—they have found teaching videos on YouTube, read books by the pros and mom Mei-feng makes videos of his swing so they can compare to his favorite pro players side by side to spot the differences and what to change.
Kai is getting ready to kick off the San Diego Junior Golf tournament season, leading up to July's IMG Academy Junior World Championships at Morgan Run Club & Resort in Rancho Santa Fe. This summer he will also head to Pinehurst in North Carolina to play in the U.S. Kids Golf World Championships.
Junior golf is extremely competitive and since moving up an age group, Kai is playing against kids who are almost 13. The big difference is in the drive distance against his older competitors— some players are able to drive it 300 yards to Kai's 230.
"I'm working on my approach shots," Kai said. "I have to win with accuracy because I can't drive as long."
He also wants to strengthen his iron game like his idol Morikawa.
Even at his young age, Kai is willing to put in the work— it's a grind that he loves.
Follow Kai's progress on Instagram at @kai.s.worldoffun.

Get the Del Mar Times in your inbox
Top stories from Carmel Valley, Del Mar and Solana Beach every Friday for free.
You may occasionally receive promotional content from the Del Mar Times.