Carmel Valley students win multiple medals at 4th Pan American KungFu Championships
Three Carmel Valley students recently won numerous medals in the 4th Pan American KungFu Championships, an international Wushu Kungfu competition with 757 athletes from 11 countries. The competition was held last month in Markham, Ontario, Canada.
The group of three: sisters Kate and Audrey Zhao from Canyon Crest Academy and Pacific Trails Middle School, and Teresa Tian from Mesa Verde Middle School attained a total of one gold, two silver and four bronze medals for the US team at this event.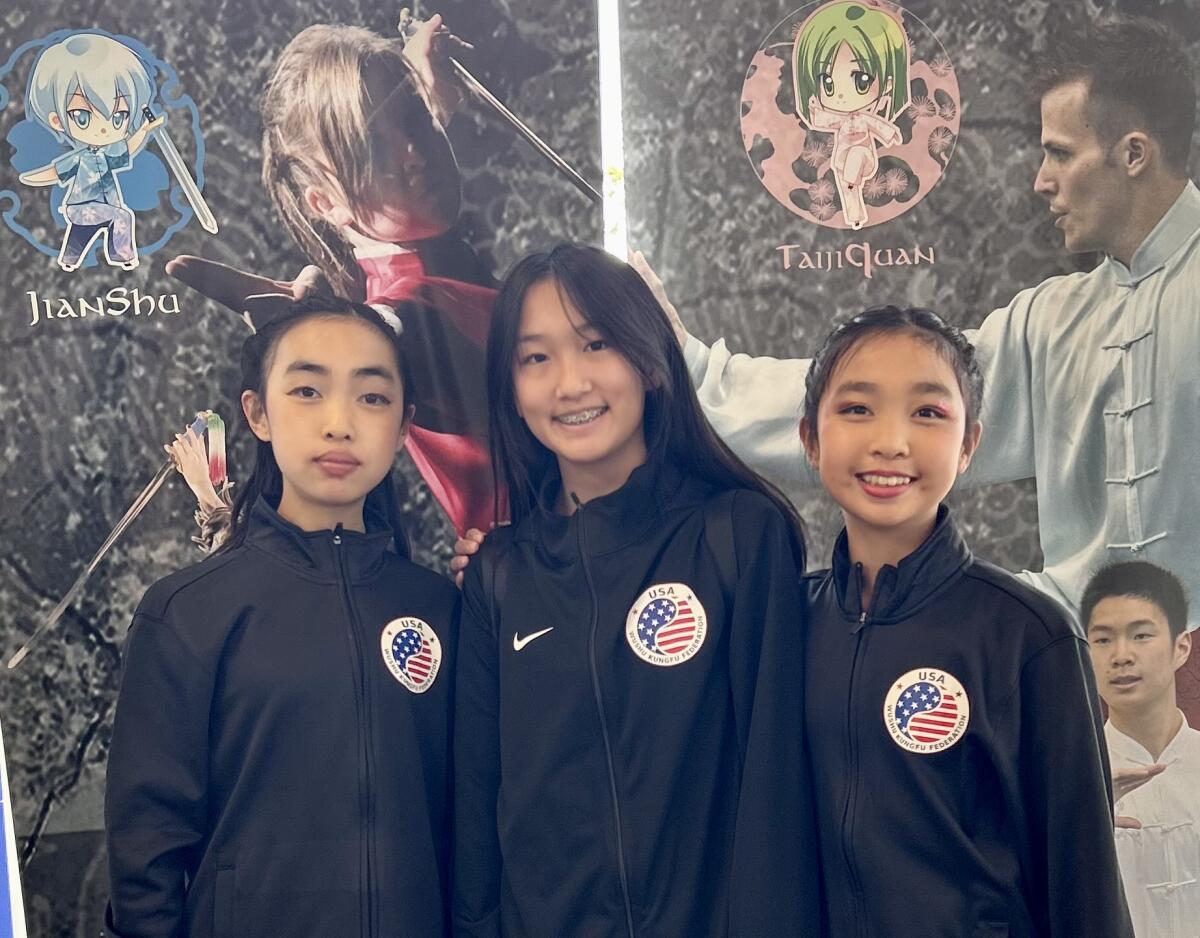 Kate, Audrey and Teresa were first qualified to represent the US in the championships after competing in the Junior US Team Trials held in Lubbock, Texas in 2022, which placed them among the top of the list of eligible athletes. After partaking in the 13th Pan American Wushu Championships and winning a gold and bronze medals in Brazil, in the summer of 2022, these three young athletes were ready to compete and bring home more medals and, more importantly, honor for the US.
"I was so excited to compete with the top athletes and make new friends," says Teresa Tian.
"These three girls have been practicing Kungfu at Hong Wu Kung Fu Taiji Academy since they were 6 years old. As their coach, I am very proud of them. They push themselves very hard for excellence. Though they participate in individual competitions, they help and support each other as a close team. Practicing KungFu helps build a strong body and a strong mind," said their coach Qin Huang.
After an intense few months of preparation, these three wushu students traveled to Markham, Ontario, Canada, in August, and were met with America's top athletes.
"The competition was a refreshing reminder of the competition we faced in the world of wushu, and dedication and hard work that we would need to put into our practice," Kate Zhao, the gold medalist, said.
Just turned 12, Audrey is among the youngest in her age group (12-14) at the competition. "I was so excited to bring home a silver and bronze medal for the US team. I want to thank my coach Huang and coach Willis for helping me to excel," says Audrey.
Their achievements from the recent championships encourage the young students' passion in wushu, and they are determined to continue to work hard and progress at the sport, and engage in future competitions.
-- Kate Zhao is a freshman at Canyon Crest Academy, member of Girl Scout Troop 4245, and associated with SoCal Martial Heart.

Get the Del Mar Times in your inbox
Top stories from Carmel Valley, Del Mar and Solana Beach every Friday for free.
You may occasionally receive promotional content from the Del Mar Times.